Family Tradition – From left to right are Dave, John, and Dan Hurst, representing 57 years of Indiana racing.
Hidden Heroes – The Extended Version
It's an unusually mild Saturday in the middle of January, a momentary reprieve from the harsh reality of Indiana winter when a balmy 52 degrees feels more like 80. Bathing in the blinding sunlight and breathing such fresh air offered some undeniable optimism, assuring that springtime and the Hoosier sprint car opener were just around the bend.
I truly needed to spend this particular afternoon in the office finalizing 2014 figures and readying for audit, but while other hardcore fans were inhaling fumes in the alphabet soup finale to Tulsa's Chili Bowl, I didn't feel at all like crunching numbers. Instead, I selfishly toured two hours south to Salem, Indiana, home to the harrowing high-banked half-mile oval and Hurst Brothers Racing. With a list of questions and some fresh batteries for my digital recorder, over two hours of legendary tales were captured. Narrowed to 860 words, the abridged Hurst history can be found in the April 2015 edition of Flat Out magazine (to get your subscription, visit this site: https://www.threewidemedia.com/subtoday.html. For the unedited Q&A crammed full of colorful anecdotes, please proceed with this blog.
Unless you've been around this local scene for the last several decades, you probably aren't familiar with the Hursts, nor will you be able to comprehend their contributions to this sport. Family patriarch Dave has tooled around Southern Indiana dirt tracks since 1959, first as the owner of a 1933 Ford Model A coupe propelled by a stroker flathead, frequently squeezing contests at Paragon, Brownstown, West Baden, and Mitchell into one hyperactive weekend. Quickly coming to the conclusion that he was more adept at turning wrenches rather than turning a steering wheel, by 1964 Hurst hooked up with supermodified owner Red McCorte and driver Orval Yeadon, winning very early at Terre Haute and cementing his need for speed. Constructing his own machine with driver Bud Holmes for the 1965 season, once Bud's wife demanded a new set of kitchen cabinets and a built-in range, Dave donated the essential items and became sole owner.
Now 77 years young, Hurst is one of the last survivors of the coupe to supermodifed to sprint car transition, joined by sons Dan and John in this exciting and adventure-filled endeavor. Aside from a few seasons when he was wrenching on someone else's sprinter (Maude Smith or Bob Papoy), a UMRA TQ, or a stock car for Tony Moore and son Dan, he has always fielded a sprint car from his modest two car garage located within earshot of those famous banks. If all those seasons were consecutive sprint car campaigns, 2015 would be the 51st for the Hursts. All told, this will be their 57th season of motoring madness, offering a traditional 410 for Bradley Sterrett and assisting with a winged 305 Racesaver for newcomer Erik "Chief" Spaulding.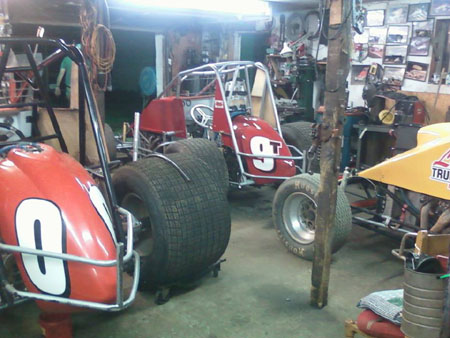 Sprint Car Central – Filled to the brim with a fleet of Hurst Brothers sprinters, if only this garage could speak.
It's a little known fact that Dave's sprint car ownership pre-dates any Hoosier that's still active, including northern Indiana icon Paul Hazen. Much like Hazen, the Hursts have thrived and survived on savvy and mechanical abilities, as aside from small, local sponsorship from Terrell Automotive Machine, Larry's Truck Service, Stewart Automotive & Transmission, and Terry Cummings Racing Engines, they've never had a big-time backer, enjoying the freedom of coming and going whenever and wherever they please. The ultimate low-buck racers who have always flown beneath the radar, after all these years they're still competitive and have that same desire to defeat their competition on a fraction of the funds. More importantly, they're still having fun, which is the ultimate name of this game. As they say, the family that plays together, stays together, as each Hurst family member bubbled with enthusiasm while recalling the past. I have to admit, their attitude was quite contagious on this sunny Saturday, as it further justified my insane desire to chase tail tanks all across this state.
The elder Hurst credited Roy Robbins and Galen Fox as his mechanical influences but never satisfied to follow, Dave preferred to innovate, as his machine was one of the first in the region to feature cross-torsion tubes. And, long before the store-bought era when instant speed could be acquired with the swipe of a credit card, he creatively set the 1968 featherweight standard by constructing a 1,400 pound car, some 500 lighter than the norm. These days, the Hursts are still tinkering, experimenting with Buick-style cylinder heads atop their Chevrolet small block.
Back in his barnstorming stock car days, Dave befriended a similarly-aged man named Karl Kinser, eventually influencing his entry into sprint car competition. That friendship eventually paid huge dividends, as Karl's success and extreme generosity kept the Hursts in the game, supplying tires and trick parts at bargain-basement pricing. Often serving as the unofficial research and development arm of Kinser Racing, Dave and his boys are still bartering with the hall-of-famer, recently trading 32 year-old red oak lumber for braking components. Speaking of hall of fame mechanics and friendship, Mitchell's Dizz Wilson was another offering significant aid and expertise to the Hursts. Both Kinser and Wilson are the source of countless side-splitting stories, adding even more entertainment throughout the two hour recap.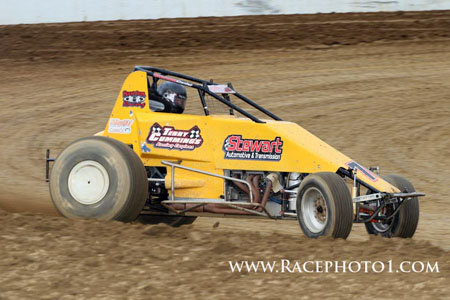 Pushing the Cushion – Ethan Barrow is on the gas at the 2013 No Way Out 40 in Brownstown.
Neither father nor sons were able to venture a guess as to just how many have strapped into Hurst-mobiles. A quick estimate is anywhere from 50 to 100, but the expansive list of chauffeurs includes a wide assortment of names like Calvin Gilstrap, Ray Kenens, Sr., Butch Wilkerson, Keith Ford, Allen Barr, Mark Cummins, Randy Kinser, Rick Ungar, Larry Bland, Kevin Briscoe, Troy Link, Wil Newlin, Aaron Mosley, J.T. Stapp, Bobby Stines, Jonathan Vennard, Kent Christian, and most recently, Hud Cone. Consistently taking chances on relative newcomers like Jason Knoke, Mitch Cunningham, Bub Cummings, Ethan Barrow, Jordan Kinser, and Devin Gilpin, several father and son combinations have graced their roster, namely Sheldon Kinser (Sr. and Jr.), Dick and Dickie Gaines, Leon and Donnie Gentry, Bob and Danny Thoman, and Pete and Drew Abel. Two drivers who inquired about a Hurst ride but were unable to secure a seat include Jon Stanbrough and a young TQ graduate named Tony Stewart. Staying true to their roots, they remain one of the few teams in this state that hire strictly on talent and desire, offering opportunities to such a large sample of the Indiana sprint car population.
Back when gas was affordable for ten mile per gallon tow vehicles, a Hurst number nine could be found as far away as Farmington, Benton, Jacksonville, Knoxville, Devil's Bowl, Chillicothe, Heidelberg, Reading, Rome, and Woodstock, but these days it is most often identified in Bloomington, Brownstown, Putnamville, and Haubstadt. Clinching the 1969 Kokomo track championship with Mike Johnson, they also notched titles with Cummins (unable to nail down the exact year at Haubstadt) and Sheldon Jr. (Paragon '94 and Lawrenceburg '98), calling a 9-win 1991 season with Randy Kinser as their best. Nominated by famed car owner, engine builder, and mechanic Glen Niebel, they were 1993 Hoosier Auto Racing Fan Club Mechanical Achievement Award winners.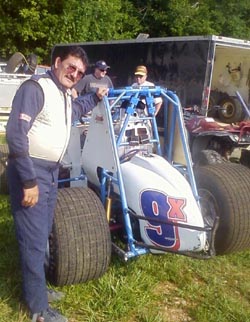 Reunited - Having the longest tenure of all Hurst Brothers Racing drivers, Sheldon Kinser, Jr. reunited with his former team for the June of 2010 Sheldon Kinser Memorial.
Soft-spoken are Dave and John, while Dan serves as the polar opposite with his extremely outgoing personality. Mix all three in the same room while rehashing the last fifty years and what you'll end up with is an extremely enjoyable trip down memory lane. Clearly there are racers from this area who have earned more wins, championships, cash, and notoriety, but considering their ability to laugh uncontrollably at the good times and bad, you would be hard pressed to find anyone who has gotten more bang for the buck than these three humble men, sharing an indescribable passion that continues to burn bright.
After the interview was over, I chose a slightly more scenic route back to Indianapolis via state roads 60 and 37, hard to imagine that anything else was able to spring from those limestone laden hills that were heavily quarried for landmarks like the Empire State Building, Pentagon, and Yankee Stadium. However, it can easily be deduced that this 59 mile stretch that links Salem and Bloomington is perhaps the most fertile ground for sprint car excellence. Signs pointing to Mitchell, Bedford, Oolitic, Heltonville, Smithville, and Bloomington echo such influential names as Wilson, Briscoe, Gaines, Beavers, Miller, Gerkin, Tate, Fox, and Kinser (and that's leaving out so many others).
When attempting to process and acknowledge the abundance of talent tucked away in those Hoosier hills, naturally there are a few hidden heroes who might have been overlooked with regard to their impact on the sport. No purer example exists than the Hursts, outlasting nearly every one of those aforementioned as ambassadors for this time-honored Indiana tradition.
A special thank you is extended to photographer Chris Pedersen, as he willingly donated a number of recent photos to add even more color to this already colorful piece. A diehard racer who comes from a hardcore racing family like the Hursts, Chris's motto is: "If it races, I'll shoot it." For more information regarding his extensive collection of photographs and services available, log on to www.racephoto1.com, shoot him an e-mail at racephoto1@racephoto1.com, or give him a ring at 317-787-1589.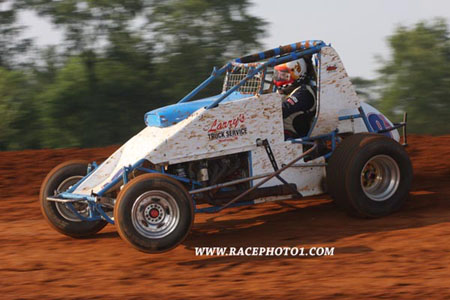 Rim Rider – Sheldon Junior tests the limits of adhesion with Bloomington's famous red clay.
So, here is the blow-by-blow account of that fun-filled Saturday afternoon of January 17, 2015.
KO: Dave – does the Hurst Brothers Racing name imply that you had a brother? Or, does it simply refer to your sons?
Dave: Dan and John are the Hurst Brothers. I have a quiet part of it.
KO: So it's always been known as Hurst Brothers Racing? Or, when you started racing, was it simply Hurst Racing?
Dave: Right. Just Hurst Racing.
KO: I just wondered if you had a brother who was involved. So are you a lifelong resident of Salem?
Dave: This area.
KO: So where did you grow up specifically?
Dave: Borden.
KO: I know where that is, right along the Monon Railroad. So how old were you when you first got the racing bug?
Dave: I would have been about 24. The old coupe I showed you, it belonged to my uncle Clevey. I had admired it and thought it would make a good jalopy and so I bought it from him for $35 and bought another one from Boge Alexander – an old wrecked jalopy and I took the cage out of it. And then big Sonny and I went to Roy Robbins's junk yard, over by Scottsburg and bought a $28 Ford flathead and that was our first racecar.
(According to Dan, Clevey's full name was Grover Cleveland "Charles" Steven Hoke and he was the Daisy Hill, Indiana barber.)
KO: Did you go to races before you knew about that car?
Dave: Yes. The tracks that were running back then…on Friday we'd go to Paragon, Saturday was Brownstown, Sunday afternoon was West Baden, and Sunday night was Mitchell. They had four tracks that we'd go to.
KO: I didn't even know West Baden had anything. What kind of track was that?
Dave: It was a dust bowl!
KO: Was it a quarter-mile or a half?
Dave: Quarter-mile, right where the Kimball's office is now. They bought the property. "Stovepipe" Brown and Clyde Wilson were a couple of the names from West Baden.
Dan: Stovepipe had enough kids that he could spell out S-T-O-V-E-P-I-P-E and give a letter to each one of his kids. Ha ha!
Dave: He ran a '33 Plymouth sedan with the back doors off of it. As he went by, you could look right through the car. (Laughing). He flipped it at Mitchell one night and he just had his helmet sitting on his head and his helmet went rolling down the racetrack and everybody was screaming and yelling. They thought he was decapitated. (Everyone laughs…)
But before I started racing, I went to the Sportsdrome in Jeffersonville. I went to Lawrenceburg some, Mitchell, Bloomington, and Paragon some.
KO: Was the Sportsdrome always paved?
Dave: Yes. Ember Link ran there, Troy's dad.
KO: You told me at Haubstadt last fall that you started owning sprint cars in 1965.
Dave: Yes, 1965. I changed to the sprint cars in 1964. Red McCorte had a car and him and Dick Gaines had been racing and they got into an argument. Red told me if I could find a driver, I could run that car. Orval Yeadon had torn his up so I got Orval to drive it and we won a few races. I won my first sprint feature at Terre Haute.
KO: Wow! With Orval in the car?
Dave: Yes. 1964.
KO: Was that USAC or IMCA?
Dave: This was some outfit out of Illinois.
Dan: I was 3 years old.
John: It was before my time.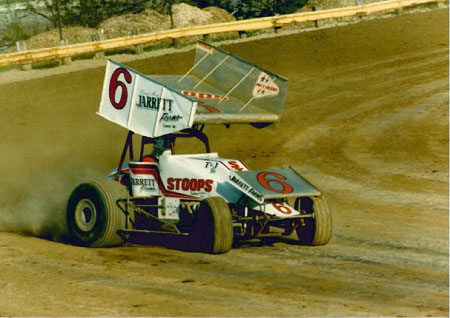 Winging It – Jonathan Vennard plays huggy pole at Bloomington, finessing the Hurst number 9 Big Max underneath long-time Hurst chauffeur Bobby Stines.
KO: 2014 would have been your 50th year then…so 2015 will be number 51. Have you owned a sprint car for 50 consecutive years, or were there any breaks?
Dave: Through the early '70s, I helped Bob Papoy on the white 5.
Dan: That was the car that Dick Briscoe bought for his first car.
Dave: I helped him in the early '70s. And then me and Calvin ran one year, about '74 or '75.
KO: Was that the Maude Smith car?
Dave: Yes. And from then on to now, we've had sprints.
John: In '79, we had the stock car. In '83 we bought another sprint car and we've had one ever since.
KO: I was trying to make the comparison to Paul Hazen. He got involved in racing in 1957 but he first got a sprint car in 1968. Everyone knows he's been racing since '57, but it hasn't always been sprint cars. But it's kind of similar as Paul started in stock cars, wrenched on other people's cars, and even got out of the sport for a year or so.
Dave: 1964 was when I got started in sprint cars. Except for a couple of years in the late '70s when he (Dan) got old enough to drive…he'd broken his ankle and had a cast on it. I told him, "It's a shame you've got that cast on your foot, because you could drive this weekend." Well, he got a saw and sawed that cast off.
Dan: He was going to put John Gilstrap in the car. And I was like "Nooooooooooooo….he's not driving my racecar!"
Dave: We went to Chandler, and that was his first race – in the stock car.
KO: At Haubstadt last fall, I think you told me that you started driving jalopies in '59.
Dave: No…it was Bob Brown and I. I was the owner and Bob Brown drove. He worked for UPS and didn't get off until late. We'd go to Paragon on Friday night and I'd qualify the car and maybe run the heat race and of course I would be the slowest qualifier there. They inverted the full field and he got to start on the pole. Larry Miller, Jim Adams, Mack Pace and all those fast guys, they all got mad (everyone laughs) and Vandeventer – he was the pit steward – he wouldn't let me do it anymore. He said, "We'll let it sit until Brown gets here."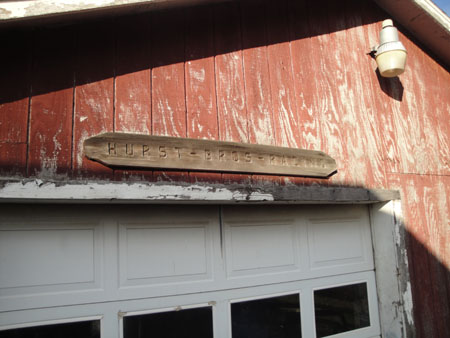 Wood Is Good - Built in the early '80s from lumber obtained from Salem's airport runway extension, the Hurst Brothers Garage is home to so many entertaining stories.
KO: So you never really had the desire to drive? Or did you try it and you just felt like you weren't going to cut it?
Dave: One night I was going to drive and Brown wasn't going to be there. I went to back the thing off the trailer and it slipped off and busted the radiator. So there went my driving days. But I had ran a few heat races.
KO: While helping McCorte with the sprint car in '64, what convinced you that you needed to buy one of your own? Did you buy McCorte's car?
Dave: No, we built our own car – Bud Holmes and I – in the winter of '64 and raced in '65 and '66. Then in '67, I bought his half out. His wife wanted new kitchen cabinets and a used stove – built-in range/oven – so I traded that for his half of the car.
Dan: Holmes was the promoter at Lawrenceburg in '68, '69, '70, in that range.
KO: So I imagine they called them supermodifieds back then. Did you ever want to get in that thing to see what it felt like?
Dave: Just up and down the road, starting it.
KO: Tell me about that first car that you built. Was it a deal where you laid out some square tubing on the garage floor and decided to weld it up? Or was it more advanced?
Dave: The very first car was a Billy Earl frame – a new one that I bought from Mike Smith. And then we assembled it. We went around and bought enough parts – rear end, front end.
The engine was a 327. The first set of injectors came off of Andy Hampton's pavement car and Harry Hyde's engine. It was the first set of injectors I had. The local Chevrolet garage – we would buy a short block from them and put our heads on it. They were like $380 or something like that. Back then, that was a racing engine.
KO: I imagine $380 was a lot of money for a set of heads.
Dan: The guy at the parts counter, Jerry Stout, sold it to him for cost.
KO: You're always getting a deal on something!
Dan: Ha ha! You've got to!
Dave: Yeah, you've got to!
KO: So tell me, who was your biggest influence to get you involved in racing?
Dave: The biggest influence was going to the races and seeing people that you knew that raced, like Calvin and Ember Link. So, I decided I was smart enough, or I thought I was, to start.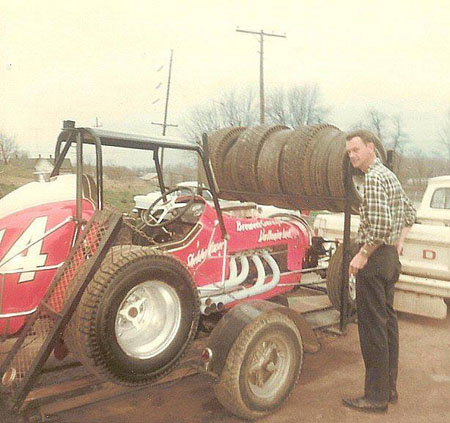 Welding Work – Wearing Sheldon Kinser's name, Pete Brewer's Cadillac powered sprint car sported a roll cage welded by Dave Hurst.
KO: You mentioned the first driver in your car was Bud Holmes, correct?
Dave: Well, for my stock car, it was Bob Brown. For the supermodified, in 1965 Bud Holmes drove for me. He was half owner of the car and then I traded the cabinets, the oven, and the burners for his half.
KO: I know you're still trading today. You mentioned that you traded some red oak lumber that came from the lengthening of Salem's airport runway back in 1982, for some braking components to Karl Kinser.
Dave: Yeah. This building is built out of that lumber.
KO: Wow! All from the extension of that runway?
Dave: Yes.
KO: Do you have any idea of the number of drivers who have piloted your cars?
Dave: Noooooooo…
John: We had a list one time.
KO: Do you have a wild-ass guess?
Dan: A WAG!
KO: Is it like 50?
Dan: No, it would be more than that.
KO: Somewhere between 50 and 100?
Dan: Yeah!
John: Yeah.
Dan: At the HARF banquet, Gary Lee and Larry Rice, said, "Well, we don't really know you guys that well. Who's all driven for you?" I looked over and said, "Well, you might ask the guys sitting out there to stand up if they've driven for us." There must have been 25 guys that stood up. Everybody but Willy T. Ribbs stood up. Ha ha!
KO: Willy T. McRib!
Dan: Yeah! Ha ha! Well, he didn't stand up but hell, he could have driven for us if he'd asked!
KO: That's awesome! So what's the longest run you've had with one driver? Are you thinking Sheldon Kinser, Jr.?
Dave: Probably Bobby Stines or Sheldon Kinser, Jr.
John: Sheldon and Stines…
Dan: I don't know, what about Randy?
John: He just drove the one year.
Dave: Yeah. Gil Flipper – he drove for us a couple of two or three years in different cars.
KO: In a side note, I later asked Dan who Gil Flipper was and Dan's response was: "That was his nickname for Calvin Gilstrap. It seems Gil Hess and Calvin were in a fracas one night at Lawrenceburg with Calvin turning over. Someone asked who was involved. Somebody else said, 'Gil Hess and Gil Flipper'. So it stuck…"
John: Probably Sheldon Jr. He drove four or five years, through the years.
Dan: Yeah, you'd get rid of him, and the next thing you know…
John: Get him back!
Dan: Where is he?
John: You'd try someone else, then we'd call him back.
Dave: There were several father/son drivers. Dickie and Dick (Gaines). Sheldon and Sheldon (Kinser). Bob and Danny Thoman – that we can remember.
Dan: If I'd put Cody Gentry in it, we'd have three: Leon, Donnie and Cody.
John: The whole Gentry clan!
KO: Wow! I do remember when Donnie drove that one time at North Vernon – it was like a season opener and he almost won the feature.
Dan: I had gout so bad. I showed up over there, and I couldn't hardly walk and I was supposed to drive it. And here comes Donnie - "Hey, what are you doing Dan?" I said, "There you go – get in that thing!" And he goes out there and outruns Hewitt in the dag-gone heat race. He did alright! So he led it, led it, led it, but then got tired. He'll swear to this day that he didn't get tired, but he did.
Donnie said afterwards, "That right rear tire give out!"
John: "The tire sealed over…"
Dan: But he'd gotten hurt at work and had been laying around for three, four, or five months and that was the first time he'd driven since then.
KO: Well, I do remember that night. I was there!
As far as the most success with one driver – feature wins – who do you think that was?
Dave: Probably Randy (Kinser).
KO: What year was that?
John: I think that was '90 or '91. 1991.
Dave: Late in the summer we had bought a new Gambler frame. A '91 Gambler frame.
Dan: It was a holdover. He didn't like that. "Them cars don't work. I don't want to drive that!"
KO: So he didn't like that Gambler so you went to Karl's to get another one?
John: Well, that's when Sheldon started driving for us.
Dave: Junior. Sheldon Senior – the first time he drove for us was in '65 down at Haubstadt one night. He had crashed and we had this old car and Bud went and talked him into driving it in the semi-feature. And he went out and won it, came in, and I asked him if he wanted to drive it in the feature. And he said, "I wouldn't drive that thing again for a million dollars." (The whole garage erupts in roaring laughter!)
That was our first time with Sheldon.
KO: Wow! But did he drive it again? Did he go back on his word?
Dave: Not that time, but we ran one night at the Eldora – the 500 lapper – one of those. We got him for a relief driver. He tore Pete Brewer's engine up.
KO: Was that the Cadillac?
Dave: Yes.
KO: So as far as the best season, was it that year with Randy Kinser?
Dave: Probably so. Yeah.
John: Tony (Moore) won a few races with us. We started out really good with Bobby Stines.
Dave: Bobby Stines ran good. Allen Barr ran good in our car. Bob Thoman.
John: For most wins, it was Randy.
KO: And we are saying that was '91? I remember that blue and red Gambler that looked like it was one of Karl's old cars from the Coors Light era.
Dan: He won 9 one summer. 1990/1991.
KO: How about your biggest feature win? Before we started taping, you talked about winning the Kokomo track championship in the last race of the year with Mike Johnson – back in '69.
Dave: Probably Paragon. Was it an All Star show, John, when we passed Chuck Amati?
John: It may have been.
Dan: I don't know. That one where we ran side by side with Danny Smith for 40 laps over at Lawrenceburg was a good win.
Dave: Yeah, that was our best! Randy and Danny Smith, over at Lawrenceburg in a winged show, when they ran side by side the whole feature.
Dan: And then finally, Randy set a pick with somebody on Smitty.
Dave: And rubbed Smitty off on a pick.
John: And then we went to Haubstadt the next night and burned every piston in the thing. The car wouldn't even start!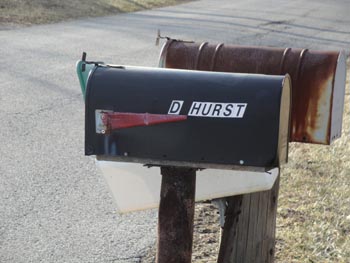 Home Base – Dating back to 1965, this Salem, Indiana mailbox signifies the home base of Indiana's longest running sprint car owner.
KO: He ran the hell out of it at Lawrenceburg!
John: Yeah! Reamed it out!
Dave: Thirty laps wide open!
KO: That's great! Did you say that Lawrenceburg race was an All Star show or just a big winged show?
John: It was a big winged show.
Dave: Right – it was a big winged show of some kind. I don't remember.
Dan: Sheldon Jr. won one of those over at Bloomington one night. Van May was trying to sell us one of those things that squares the snout on the rear end. And we were sitting on that old open trailer and Van goes, "They're calling you for the consy." Dad looked at him and said, "Hell, we're starting on the pole of the feature. We ain't in no consy!" Van said, "Oh, well you guys are fast!" (Everyone erupts in laughter again.)
KO: Do you have any idea on the number of feature wins you and your sons have had over the years?
Dave: Aww….we never kept track of that!
Dan: I don't want to make nothing up. We never kept track of that. Just cash the check and go!
KO: That seems to be a common theme with sprint car racing, especially local tracks in Indiana. The recordkeeping is virtually nonexistent. People go from year to year and they just want to race, not keep track of things.
Dan: There's years, like with that yellow number 70, we won two or three features with different guys, but that's fresh, you can remember that. I don't remember how many races we won with Barr. We've got pictures of him winning in that old Competition Welding car but I don't know how many that was. I don't know how many Stines won.
When Stines lapped the field at Putnamville one night…well, he didn't lap Putz, but he was on the same straightaway as Puterbaugh. And of course Puterbaugh said, "Aww, my motor wasn't running good!"
But we lapped up to second in a 25-lap feature. He started 14th! Yeah, that's something you would remember!
KO: Bobby is a pretty good shoe. He never got the credit he deserved.
Dan: I believe he was my favorite. As far as the personality, getting along with him good, nothing ever fazed him. He'd show up and just drive and it was just great.
Dave: My favorite was probably Ray Kenens, Sr. He drove for us some back in the '70s, back when I was helping Papoy. His theory was: "Dave, you get it to the racetrack and I'll take it from there!" (Everyone laughs AGAIN!)
There were no arguments or anything. He was great to have driving for you.
KO: Who was the hardest guy to work with?
Dave: Calvin Gilstrap.
KO: And why was that?
Dan: We hot lapped and he wanted to change everything on the racecar. Well, on a greasy track, how are you going to know?
Dave: It was 100 degrees at Bloomington one night when we got there. We changed gears twice that I know of, before he ever ran a lap. And so the third time, this boy who was helping me (Jim Brown), said, "Let me tell you something mister. We're going to change this gear one more time and then we're changing drivers!"
That stopped the gear changing!
KO: It's always nice to have work.
Dave: Yes…
KO: How about track championships? I know you said Kokomo in '69, but what about any others? Did you really make a run for any?
John: We had Paragon. Sheldon Jr. won Paragon. Sheldon won one at Lawrenceburg – 1998.
Junior - Sheldon Kinser, Jr. returned to race the Hurst Brothers 9 for the first time in over a decade at the 2010 Sheldon Kinser Memorial
KO: With a wing?
Dan: I've got a picture with him and Staab, shaking hands. Staab was promoting it, so whatever he ran.
John: I think we won Haubstadt with Mark Cummins.
KO: Mark Cummins drove for you? Wow!
Dan: Like I said, name somebody!
Dave: Hardtop there, Tony Moore, won a track championship, at Brownstown.
KO: I remember you mentioning his name beforehand.
Dan: He was about to run us off because we were a bad influence on him. We were in a bar at Charlestown when we ran down there and he was standing up on the bandstand, mooning the whole bar. And we were bad influences on him?
Usually guys who are hard to get along with don't last too long. If we have them driving for us for a while, then they're alright. See, we get a lot of guys on the slide down. Ok? It's always our equipment. You know? You get 'em upset with themselves and then they start barking at you, and then you get fired.
KO: We all you know you've raced at the normal places in Indiana like Bloomington, Paragon, Haubstadt, and Lawrenceburg. What were some of the places that would surprise people to know that the Hurst Brothers were there? Obviously, that picture on the wall of the Hurst Brothers name at Ascot would definitely surprise people (Hurst Brothers Racing West). Did you say Jimmy Oskie was driving that car?
Dan: Yeah. Jimmy Oskie.
John: We used to go out to Farmington, Missouri. Benton, Missouri. Different places. Jacksonville, Illinois.
Dan: Back when you could afford gas. Woodstock, Georgia.
John: Yep, we went to Woodstock.
KO: One of those pictures you have, with the red and white walls; that almost looks like Woodstock.
John: It could be, that old 9.
Dan: Well if it is, that would be Bland in it.
John: No, that's Bob Thoman. We went to Georgia.
Dan: You know, it is! Because these old mufflers, we didn't have any mufflers! We went down and bought some old cherry bombs and welded it on there. That's where that is at.
KO: And who was driving it?
Dave: Bob Thoman. And then we went back down there later on with Larry Bland and went to Woodstock and Rome, Georgia. Rome was the fastest place we were ever at.
KO: Sticky red clay?
Dave: Yeah.
John: Big high-banked track.
Dave: Those big high-banks, they would scare you to death out there. And Bland, in hot laps, after the first lap he had the brakes a-glowing.
Dan: (Imitating Bland's voice): "Damn, this place is fast..."
John: Damn, you don't need brakes!
Dan: Nooooo.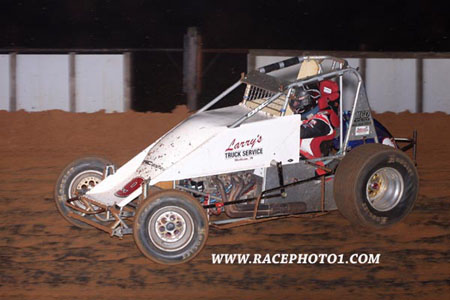 JV – Jonathan Vennard sweeps through Bloomington's south end in the Hurst Brothers DRC
KO: I saw a picture on your wall from the Devil's Bowl and that was with Rick Ungar?
Dave: Yes. Heidelberg, Pennsylvania was another place we went.
Dan: Hell, we've been to Reading too.
Dave: With Orval Yeadon, back years ago.
John: Yeah, we used to travel a lot. We'd go out to Illinois, Missouri….
Dave: We ran one summer, pretty well, at Chillicothe and the little track around there.
Dan: Skyline.
KO: Well, you guys have been up and down the road for sure.
Dave: That was when gas was cheap.
KO: You mentioned about getting drivers on the downslide. However, you've also helped quite a few up and comers get their feet wet. Dig through your memory bank and give me some names of people who you had some influence on early in their careers.
Dave: Bub Cummings – we moved him up from street stocks to sprints. Jason Knoke out of the TQs. Devin Gilpin out of the modifieds has ran a few times. Kent Christian drove for us years and years ago. Sheldon Junior.
KO: Had Sheldon Junior driven a sprinter before having a ride with you guys?
Dave: He had an old sprint car.
John: He got his first win at Paragon in our car.
Dave: Jason Knoke got a couple of wins at Lawrenceburg and a win at Bloomington when he first started.
Dan: Then we had Brandon Mattox. He had won a feature over at Clay County but he'd been kind of so-so. Next thing you know, he's driving our car and last year, he was running pretty good with that MSCS bunch. I was pretty proud of him.
KO: What about any guys in the '70s?
Dan: In the way-back machine…well let's see, Keith Ford.
Dave: Keith Ford drove a few times for us.
KO: That's what I'm talking about!
John: I can't remember the guy we took to Eldora. Danny…
Dave: (Drawing a blank)
John: It scared him to death about that drop off in one and two.
Dan: He went out and qualified about third quick or something. He'd never driven a sprint car before. Then Barr and Wilkerson asked him, "Hey, you know how far it is down off of one and two? Hell, it's way down!"
So he'd go through three and four wide open, then go through one and two right around the bottom! (Laughing)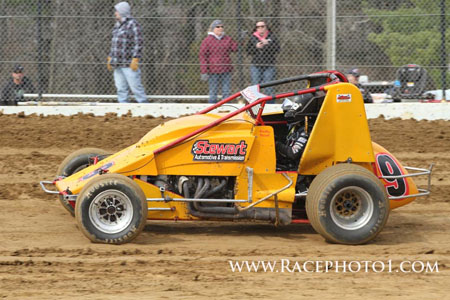 Maiden Voyage – Bradley Sterrett prepares to take his first hot laps in the Hurst Brothers sprinter at the 2015 Indiana opener in Brownstown.
KO: Was it Danny Teegarden?
Dave: No, we had him drive for us too at Lawrenceburg.
KO: I was just trying to help you guys out. If you think of it, please let me know! (Weeks after the interview was over, it was determined that the driver's name was Donnie Baker – and not the one from the Bob and Tom Show!)
John: Talking about going to Farmington, Bob Thoman lives over in Missouri.
Dan: Higginsville.
John: We went there on opening night and we won the feature. The next week we go back, we won the feature. Third night, by God they were laying on us! (Garage erupts in laughter.) Tore every wheel we had off! I've never seen nothing like it.
Dave: Fifi…and the old coal miner…
John: Tubby Black
Dave: We hit Tubby one night and it wiped the front end out of our car and that old car of Tubby's kind of shuddered – kept on going. About like Troy's car…
KO: What about Troy Link? Did he ever drive for you?
Dave, Dan, and John: (In unison): Yeah!
John: One night at Putnamville.
KO: Who is one driver who you wanted in your car but couldn't get?
John: Well, Stanbrough called and wanted to drive, but that's been years ago.
Dan: Tony Stewart called! Tony Stewart called and wanted to do some winged racing. Dad turned around and I go, "What the hell's he done? Oh, he's driven some TQs". Dad said, "F*** him. I don't want to settle for some TQ driver." Next thing you know, well look what he's accomplished!
KO: Stewart and Stanbrough – that's very interesting! (In walks Erik "Chief" Spaulding and his girlfriend to join the conversation.)
Next question: in your opinion, what driver of yours had the rawest talent?
Dave: (Taking a very long pause to ponder the question) Randy or Bobby Stines or Kevin Briscoe.
KO: What did you think when Sheldon Senior drove for you? Was he still pretty raw?
Dave: Yes, he was a good driver. He drove several times. I don't remember when, but we ran with him at Paragon and won with him at Bloomington.
KO: Would you say Calvin falls into this category as well?
Dave: Yes, he was talented. Bob Papoy – he was another good one, but he absolutely could not run Bloomington. Rosey and those guys outran him at Bloomington.
KO: Like Dennis Rose?
Dan and John: No, Leon! The dad!
KO: Ok!
Dave: We'd go to Lawrenceburg, and he could win. Chillicothe and Terre Haute, Eldora, he ran good at all those tracks.
KO: But Bloomington just didn't suit him?
Dave: Yeah. He was good at Lima too.
Dan: I'd seen him win a 50-lapper in Pete's old car over there one night. It looked like he was just about to melt. He was holding the flag up to get his picture taken (imitating a hunched over Papoy with one lame arm).
KO: Of course that was long before power steering.
Dan: Oh yeah! And they had that Cadillac motor up on top of the wheels.
Dave: Heavy!
KO: I could be wrong, but from everything I have read, the rules were pretty laid back for supermodifieds and sprint cars in the '60s and '70s. In those early years, who was your biggest mechanical influence on what your cars looked like and how they ran?
Dave: In those early years, it was probably Roy Robbins and Galen Fox.
Dan: Galen always had pretty racecars.
Dave: Some of those guys…
Dan: Lawrence Fox – wasn't that his uncle?
Dave: Yeah, Lawrence Fox was his uncle.
Dan: Lawrence's cars that Bob Kinser drove – those were nice looking racecars!
Dave: Orval Yeadon – he was a good mechanic and he influenced me.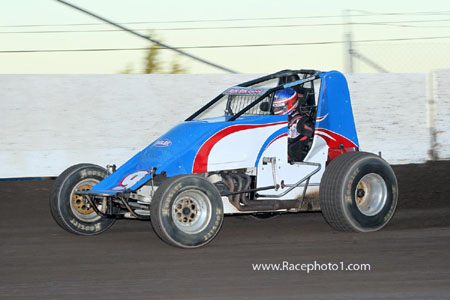 Mr. Pretty from Oakland City – Hud Cone benefits from Buick headed Hurst horsepower at Haubstadt in September of 2014.
KO: Later on, you developed a relationship with Karl Kinser. Did you pick his brain on a lot of stuff? I'll have more questions about Karl.
Dave: Yeah!
John: He'd tell you anything, whether he knew it or not.
Dan: Exactly!
Dave: He always had an answer.
Dan: That's right. He always had an answer but you always had to pick it apart. The thing of it is, Karl – when he had his own cars, he'd be intent on figuring out why the oil pressure was flickering. And if I walked in the door, I wasn't even there. Then I'd say, "Karl…"
Karl would say, "Oh, let air pressure out of the left front tire. That will unhook the right rear."
Well, that sounded stupid at the time but then you start thinking about it. Now, that would be right. Anything you do to the left front would affect the right rear. But he wasn't really paying attention to what I was asking.
KO: What about Dizz Wilson?
John: Oh, you haven't even said anything about him.
KO: As far as a mechanical influence – did he have any on you?
Dave: Yeah, in building stuff. Building wheels and things like that.
John: He about broke your hand with the lathe.
Dave: One night, the big old lathe - we were putting a center in a steel wheel. And I had my fingers behind it…between it and the face plate. Dizz was pushing on the other side and about broke all of my fingers.
KO: I've heard numerous stories told of him being a real hard ass when it came to firing drivers.
Dave: Nawww!
KO: So what's your memories of him?
Dave: We never had any trouble with Dizz.
Dan: He always treated me great. I bought an old Mallory mag off of him one time. I went over there one time and said, "Dizz, I need an old mag." So he grabs an old Mallory mag out from under the bench there. He puts it in the vice and twists it and of course it didn't fire. So he takes a pocket knife and scratches the points. "Oh there, now it's working!"
"Well, what do you want for that?"
He said, "$100." So I had a $100 bill and gave it to him. I brought it home, put it in the racecar, tried starting it, and it wouldn't go. We pushed it two or three times. I said, "I'm going to get my money back." My brother: "Good luck with that!"
So I went back over there. I walked up and Dizz was standing there. Dizz said, "That old mag didn't work?"
"Nope."
"I suppose you want your money back?"
"Well, yeah, that would be nice."
"Well, I hadn't spent it yet."
He gave me my $100 back.
John: We were at the Arby's drive-thru in Mitchell. Dizz seen us. He came running out the door. "Hey, come on over to the house. I've got some stuff I want to give you."
It was a bunch of old crankshafts. I guess he had sold out by then but he had some parts left over.
Dave: He gave all those old parts to us. He treated us pretty good. One night at Lawrenceburg, I had a flat piece of metal on the car with a lip that turned up two or three inches. Dizz went over to the people that ran the track and said I had a wing on the front. They made me take it off.
Dan: Something like Troy Link – what he's got on the back.
Dave: That's the way Dizz was. You just had to take him one way or another.
I was at Springfield one time. Dizz asked me which way I came over there. He told me, "Oh, follow me home. I know a shortcut."
So, about halfway home, we went to going down alleys and back streets in this one town. Later on when we got home I asked him what we were doing there.
"Well, I wanted to show you Hector Honore's garage. I thought you'd want to know where it was at." (Everyone bursts out laughing again.)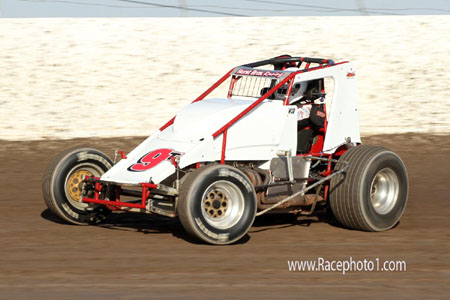 Clean and Pristine – Void of sponsorship, the Hurst Brothers Twister is tested by Hud Cone at Haubstadt in June of 2014.
KO: Oh yeah – Pana, Illinois!
Dave: Yes. That was Dizz.
John: Where were they at when they hit his toolbox?
Dave: Danville!
John: You pitted in the infield. (Chuckling) This old stock car was like a freight train coming down through the pits, knocking trailers and stuff out of the way. It hit Dizz's toolbox. Tools went every direction and emptied his whole box! Of course he let out with a string of profanities.
Another good Dizz story – we were at Bloomington one night and both of his cars were in the trophy dash. Dick was driving one and Smitty (Mike) was driving the other. One of them won it and the other finished a close second. Well, as soon as the checkered flew they wouldn't stop running. They kept racing. There was Dizz at the edge of the racetrack, waving a hammer at them!
Another night – this is a good one about Smitty. They wouldn't let him have his fuel truck at the racetrack. So he had it parked up at the corner at that gas station.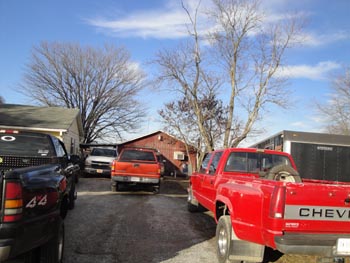 One Track Mind – With all of the pickups and trailers in this Salem, Indiana driveway, one can tell what is most important to the Hursts.
KO: At Bloomington?
Dave: Yes. And Dizz turned the corner and rolled the window down: "Smitty, you're fired!"
After he got done selling fuel, Smitty came to the track. Sure enough, he had somebody else in the racecar!
Dan: It was drivers mostly. Terry Cummings – he left him in Florida one time because the old truck quit. And Terry went down there with him. Dizz got a ride with someone else and told him, "Well, bring it on home!" He didn't leave him any gas money or anything. Terry had to put a timing chain in the old truck before he could get up the road in it.
Dave: That's the way Dizz was.
Dan: Some more Dizz stories…you always had to pit in the infield at Haubstadt. I was sitting there and we had blown the engine Saturday night. We were up to second or third in the points with Barr. He was wanting to win the points because he had never won the points down there. Me and John stayed up all night one night. All we had was a stock 400 with dish pistons. So we stayed up all night and put this old motor together to go down there to run. Well, we get in the trophy dash with this thing. We're out there and we're leading this trophy dash and I'm standing there, laughing my ass off because we're outrunning Blackie Fortune's car with Rickey Hood in it. With this old motor, we went around Rickey Hood! Putting that motor together in this garage, we're like, "Yeah, yeah, here's some bearings…"
So Dizz goes, "What the hell's wrong with you boy? Are you CRAZY?"
"No Dizz. You couldn't even believe what we did and what that engine is."
So Barr came in and I said, "That old motor seems like it's running alright."
And he goes, "Yeah, but towards the end of the straightaway, the steering gets about this big around."
Well, those 400's are externally balanced but with a sprint car, you don't have a flywheel. So, it was out of balance so bad that the steering wheel was getting about that big around.
So he led the feature for about 20 laps until it finally expired.
I always liked to pit next to Dizz, because his helpers would help you. Dizz would stand on the tires like this all night long…
But another story – this wall of water came over the backstretch. And I mean, it must have dumped an inch and a half of rain in about 15 minutes. There were tires floating around in there. So, Dizz jumped in the truck and he had two boys who were helping him. Well, those boys were sloshing around and were muddy as hell. I think Mike Johnson was driving the car.
Dave: He had two of 'em there. The 70 and 71.
Dan: Dick was in one too…but Mike scooped up a five gallon bucket of water and Dick went over there to open the door up and Mike just threw that bucket of muddy water in there on Dizz!
John: "YOU SON OF A…!" (Everybody roars in laughter!)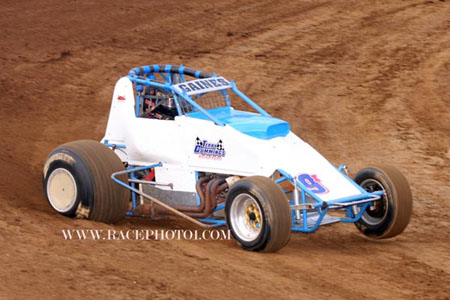 Dig It – Dickie Gaines folds his right rear at North Vernon in March 2012.
KO: A lot of people learned a lot of things from Dizz over the years. I have to wonder, given that Dick Briscoe was also from Mitchell, was Dick a Dizz Wilson protégé?
Dave: Well, there's a good story in there.
Dan: Dick loaned Dizz a wing for some winged show somewhere. He never brought it back. So Richard, after about three or four or five weeks, he went over there to get that wing back.
And Dizz said, "Well, you gave me that wing!"
Richard said, "No I didn't. I didn't give you that wing. I said you could borrow it."
And Dizz said, "Well, I'm not giving it back! We don't need people like you in racing!"
John: "…giving shit and come back wanting it!"
Dave: What about that story about Karl's shed?
Dan: Yeah. He went over to Karl's one time. He asked Karl if he had a front bumper. And Karl – behind his building is a ditch down there. And he used to put frames and bumpers and body parts down in that ditch until he hauled them off. And he goes, "Yeah, there's probably something down in that ditch. Go down there and see what you can find."
So Karl went back to work and paid no mind that he was even there. About that time, he heard this "Choo, ka-choo, ka-choo, ka-choo". He looked out there and there was Dizz in that old green truck and he had two frames, bumpers, bodies – everything he could load in that truck, taking off out of there with it.
Dizz said, "Well, you said to see if there was something down there I could use. I can use all of that stuff!"
KO: Does he have anything left in the ditch?
Dan: I don't think so. I think it's cleaned out.
KO: Did Dizz clean it out for good?
Dave: I imagine Karl made him give it back.
But that's the type of person Dizz was. His daughter was the court recorder.
Dan: Yes - Carla. Down in Lawrence County. She was the court recorder. Well, what was it? The city was suing Dizz?
Dave: No, Dizz sold someone an engine and that person was suing him.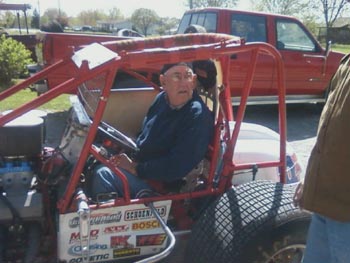 Official Starter – Preferring to turn wrenches rather than a steering wheel, Hurst Brothers patriarch Dave is often the team's official starter away from the racetrack.
KO: Was it like that mag you bought?
Dan: Well, he didn't give them their money back. He figured I was so close to home that I might bust a window out.
Dave: He came to court and had Zel, his wife, in a wheelchair and he pushed her in. She was a reference for him.
John: I remember up at Paragon, he got pissed off and he left Zel there and drove off.
Dave: That was that one night when Mike Johnson was setting fast time in our car. Mike Smith brought me a double diamond and it was cherry. So Dizz said, "What the hell are you putting that thing on there for?"
We went out and cut fast time and maybe we won our heat. In the feature, we ran second behind "Eyeball" Gene Henson, in that big Buick. Well, the last lap, Mike snuck up and passed him going down the backstretch. And of course, he came to life and blew our doors off before we got to the flag stand.
And in all of this, Dizz's two cars were parked next to us and we were running that good on that old diamond. So Dizz got mad and went off and left Zel at the races. Big Sonny Gilstrap, he was there and he took Zel home.
Dan: She lettered all those cars. All of Dizz's cars, Zel lettered them.
KO: That's really cool.
So getting back to Karl Kinser, how did you get to know Karl?
Dave: When I ran the jalopy at Mitchell, Karl used to come to the races before he ever got started. The first time I met him, he lived in Bloomington, over there pretty close to the racetrack. Me and Mike Johnson went over there and used his welder one night. I think that's the first time I ever became acquainted with him.
John: That's what he told Butch….when I was a kid…
Dan: Karl would say, "When I was a kid, I used to go and watch Dave's car run."
Well, they're the same age! (Everyone laughs.)
KO: So you've known him for a long time…you probably would have been in your twenties…
Dave: Yeah – early twenties.
KO: I know you forged a special relationship with him. I believe the rumor was that you had a key to his shop.
Dan: He never locked the door!
Dave: Steve's mechanic, Scott Gerkin, worked for Karl back then. He was usually in the shop and Diane was in the house, and you could go get parts and tell them what you got. And when Karl came home, you could go pay him for them.
Dan: You wanted to pay him if it was off a big weekend with like three feature wins. If they blew motors, just wait 'till the next week!
KO: The prices were different?
Dan: Yeah, yeah! There was a different price range there, depending on his state of mind.
We couldn't have raced if it wasn't for Karl. He gave us stuff. He sold us all kinds of stuff. Well see, because I have a job and work, my price is a little higher than his (Dave). He'll walk in there and say that I need a whole front end. Karl will be putting hubs and axles and steering arms and stuff in a pile. Dave will ask, "What do I owe you for that?"
Karl will say, "$165."
I'm like: "Good lord! You got another one?" He puts it all together. "What do I owe you?"
"$300."
"Okay…"
John: Goodyear used to give him experimental tires and we'd go up to Karl's shop and he'd ask us to take them. He'd say, "If they work, call me. If they don't, just throw them away."
KO: So you were kind of the R&D team for Karl Kinser?
Dave: Yeah, yeah. The testing team.
John: Every once in a while you'd get one that worked really good. The rest would be junk.
KO: Were there any other things you tried out for Karl – chassis configurations – anything like that?
Dan: Well, he had some titanium rotors that were .02 (oh-two) thin. He wouldn't run 'em. He'd say, "Hey, no faster than you guys run, take these titanium rotors and you run 'em."
Well, Wil Newlin goes off into the corner at Bloomington and jams the brakes on and just wads the rotor up in the caliper.
John: It locked the whole wheel up!
Dan: So, those didn't work!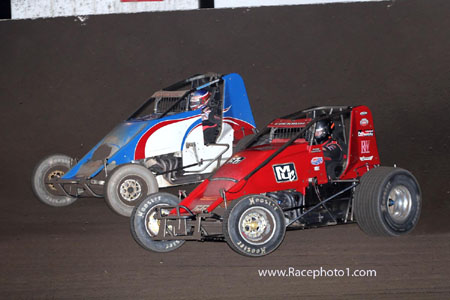 High Side Heroics – Still decked out in Jeff Walker colors, Hud Cone takes the high road around Shane Cockrum at Haubstadt's Hustler in September of 2014.
KO: Oh-too-thin!
Dave: Back to the Lawrenceburg deal – back in their first days, they'd throw the yellow flag and that meant something was on the racetrack – to keep racing.
KO: I remember those lights that they had strung across the top of the track, reminded me of a string of Christmas lights.
Dan: Yes – hard to see.
Dave: Ok, Karl's car quit, and Larry Miller was driving it. It was down on the edge of the racetrack. Well, they finally did throw the red and yellow, whatever they did. Karl ran over there and there was an old push truck – a Chevy – like a '49 and the key was in it. So he jumps in, fires her up, and goes out there and pushes his car off the racetrack. Well, the old guy with the truck took offense. He and Karl got to arguing and this guy was standing back by the bed of the truck. He reaches in there and gets a log chain and starts swinging it over the top of Karl's head.
Dan: And of course, you know that little feisty guy, he's barking the whole time…
Dave: So big Mickey, his brother, was standing there. He reached up and grabbed the chain and took it away from that guy.
John: "You're going to hurt somebody…"
Dave: He said, "You better put that up before you hurt somebody."
KO: I heard some stories about Karl being pretty accurate with his rock throwing abilities. I was told that they were at some racetrack out west and Karl had some people harassing him about this and that. Anyway, he had this uncanny ability to nail a guy from pretty far away with one of those rocks!
Dan: I tried to hit your buddy A.J. Felker a dozen times one night, but I could never hit him after he wadded our car up.
KO: I know you still do some trading with Karl. Last year you traded some 32 year-old red oak lumber that came from Salem's airport runway expansion back in 1982.
Dave: We traded that to him for…what was it?
KO: Did you get some Red Devil brakes?
Dan: Well, he couldn't find that rotor. But he's supposed to be looking for it.
Dave: We were going to trade him the lumber for some brakes.
John: He tried to give us money. "No, just keep your money."
KO: So you're still on the barter system with him?
Dan: Oh yeah. We've taken him stuff before. At an auction I found three old Halibrand wheels – like new. But they were early '60s Halibrand wheels. It looked like it came off a champ car up at the speedway or something. I wrote "Lloyd Ruby" on them (chuckling). So I took them in there.
He goes, "What do you want for them wheels?"
I said, "I want $300 apiece for them wheels."
He said, "Well, I ain't giving you that much."
I said, "Well, figure out what you want, and just go ahead and take 'em." They're still sitting in the corner over there.
Another time, we were buying a kingpin reamer. Dad trips over an old Harley motor laying there in the dark. So there's two or three of them there. I said to that old boy, "What do you want for them?"
"Ahhh, just take 'em," he said.
One of them was an 80 flathead, probably a '39 or '40. The other was a '45 side valve, off an old servicar. They were just lying there on the floor and I took them up to Kinser's. He asked me if I ever see any old Harley parts that he'd be interested in that.
So I had 'em laying there and he's looking at 'em. I said, "Ok, just like you, I'll ask you, what do you think they're worth?" So he gets a $50 bill out and hands it to me.
I said, "I thought they were worth more than that, but go ahead!" I took the money and gave it to the old farmer that I got the stuff off of. I said, "Here's what I got for your two old Harley motors."
"Okay!"
There was an old boy down the road that had some stylized scooter from the '50s, early '50s.
KO: Vespa?
Dan: No, it wasn't a Vespa, but it was something else.
Dave: Was it a Sears and Roebuck?
Dan: I believe it was. It looked like a little Harley Davidson. Well, I told that and Mark (Kinser) couldn't stand it. He went down the road and bought it off those people and came by, blowing the horn.
KO: So he's into old stuff too?
Dan: Oh my gosh, yes. Him and the old man, that's what they do.
KO: Mark – is he helping Karl on any of those old cars? I think I read that they rode out to Knoxville for Mark's induction into the Hall of Fame in one of Karl's old cars.
Dan: Well, Mark tries.
KO: So I'm guessing he's not the mechanic…
Dan: No, and Karl is a perfectionist. So if you ain't doing it the way he wants you to do it, then you might as well not do it.
KO: So just stay in the house – don't go out in the shop!
What about your race car number? I've seen a lot of nines in your photos. I've seen 99. I've seen 19. Recently as a tribute to Dizz, you even ran 70. I'm guessing 9 was the most common number?
Dave: Yes.
John: He (Dan) was number 76 back in the day.
Dan: That was 97 to begin with, off of Edwin Starr's dad's car. Mr. MagTech. Ed's dad Bill, lived over in Medora. So dad outlined his numbers. Since Bill was already 97, he made it 76.
But Calvin, he was my hero. He deviled the tar out of me when I was a little kid. He drove Leo McCoskey's car. Leo lived over here and he had a number 9. Calvin was 9. We put that number on our car. They quit racing and nobody else was 9. Now, there's 15 nines.
Dave: The 9T…that came from…
John: I worked for a guy named Les Terrell who had a machine shop. Terrell Automotive Machine. We had that on the wing right next to the 9. So people started calling it the 9T.
Dan: Well, with Sheldon, I told him the "T" was for the trainer. Because up at the Speedway, the backup cars always had a T behind the number. So that was the trainer car. I told Sheldon it was for the trainer.
KO: On that Devil's Bowl picture with Ungar, I saw the Terrell Automotive decal on that '91 Gambler. Was that a reverse tube car?
John: It was.
Dan: I couldn't ever drive it.
John: It was still new when we took it to Randy and he switched it around.
Dan: It was reverse tube but that's the reason it was a holdover. Nobody else wanted it. And then that old orange 9, that was a Stealth that was once Joey Saldana's. It was reverse tube and I tried driving it. It would get so tight on the right rear that I run over Leon Thickstun one night at Paragon. Well, if I'm running over Leon, that's a problem. So I swapped it around and changed it and after that, it was MUCH nicer.
But, Donnie Gentry, he won a feature in it up there at Paragon and thought it was the world's greatest thing. I went to Texas and they slipped it out because their car wasn't running. So mine was setting over here. "Well, hell, we'll just take his!"
John: It had a brand new right rear tire on it. We burned it off.
Dan: They burned it off and left it on there. So when I got back from Texas, I was like, "Good Lord, there ain't nothing left but cords on there!" They had this big Paragon sprint car feature winner sticker on the side there.
(Looking through some pictures hanging on the wall…) We still hold the track record at Danville, Illinois with that car right there. Donnie held 'er wide open! He broke Bubby Jones's 1972 track record.
KO: Was that with the Stealth?
Dan: No, it was a Maxim, one we got from Karl. He would get done with 'em and they'd be setting out there. They would be in the $100 to $600 range. It just depended on how much money he made with it. If it was a good one…
John: (Speaking in Karl's tone) "That one won Knoxville…"
Dan: (Also speaking in Karl's tone) "That one won Knoxville. I'll have to have $600 for it!"
Well hell, I've got seats around here that have won Knoxville!
John: Yeah, it's an old Steve Kinser seat.
KO: Really?
Dan: It's on an old '75 Margay go-kart. That seat has won Knoxville.
KO: How much do you want for that?
Dan: It's just a seat. Well, if you want it, I'll give it to you. But you'll have to wait until the grandson quits riding the go-kart.
KO: Ha! That's great! I'll just have to wait for that day.
Dave – what do you think is the best thing to happen with the sport of sprint car racing in your 50 years of having a car? What one thing are you happy about?
Dave: I would say safety. Some of those cars we had back in the early days weren't very good racecars like the one I told you about with Sheldon.
KO: What was the thing about that car that he didn't like so much?
Dave: Handling.
John: It had been crashed and bent around and straightened back.
Dave: Yeah.
Dan: They went to Springfield, Little Springfield. Him and Bud. The damned pitman arm came off of it. And Bud flipped and flipped and flipped. The old man had more of it in the back of the station wagon. The engine was in the back of the station wagon when they were coming home. Bud was back there, laying off to the side and said, "Don't hit them brakes too fast there Dave. That motor will get me!"
Well, after they got home he patched it back together. But, Bud couldn't drive because he has hurt. Broken ribs and stuff. So he put Sheldon in it down there and obviously something was bound up.
Dave: We put it together with a porta-power.
KO: So what do you think is the worst thing to happen to the sport? Is it the cost?
Dave: Right. Yeah.
KO: You've been around. You've seen it all. Is there anything else?
Dan: People trying to save us money. That's the worst thing. They're making their own deal. Like French Grimes making his own deal with these Racesaver engines. They're padding their own pocket.
John: Hoosier Tires.
Dan: Hoosier Tires – getting everyone to run their tire at one track. You know, that's a monopoly. No free enterprise there, where you could make a deal with a McCreary guy or a Firestone guy or a Goodyear guy. No, you've got to run this tire. Everybody taking their big piece of the pie and leaving us out. Their attitude is, "By God if they want to race, they're going to have to buy our tires."
Dave: Years ago, when Karl was racing, we'd go to Karl and give him a $100 for the whole stack of tires.
John: You couldn't pick and choose.
Dave: You couldn't pick and choose, you had to take the whole stack.
When you came to get 'em, Diane would watch you to make sure you loaded them all.
Dan: (Speaking in Diane's tone) "You didn't get that one!"
Dave: That's what ruined racing: tires.
Dan: Everybody trying to monopolize a piece of it.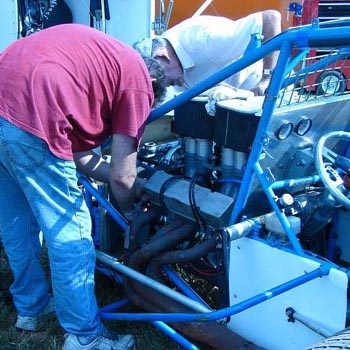 Focused – John and Dave Hurst are intent on solving an under the hood issue at Bloomington.
KO: If you could change one thing about the sport, would it be opening up the tire deal or would it be something else?
Dan: Yeah – open up the tire deal. Just get a little bit more free enterprise. Just because Hoosier gives you $500 for your point fund, now you mandate that I have to run Hoosier Tires all year because you took $500 from Hoosier or $1,000 or whatever.
Dave: There are USAC teams, like Jeff Walker, that uses a tire one time and he'd be able to sell them to us.
KO: I know you got that Maxim from Jeff Walker. Was there any special trading going on there?
John: He gave us a pretty good deal. His dad and my dad raced together years ago.
KO: You mentioned Don Walker's name in that 1969 points race at Kokomo. And he used to sell fuel a lot during the '80s.
Dave: He used to sell Hoosier re-caps that we would buy from him.
Dan: Yeah, that's what happened to Sheldon in that 500-lap race. The old cap came off the right rear and started beating his arm. As he was coming around, it was beating the tar out of his arm. He couldn't get it in far enough.
KO: I read on Dan's Facebook page that you recently took a trip up north to get a set of heads…
Dan: Fargo, North Dakota.
KO: Were they another set of Buick heads?
Dan: No, these were GB 2000 - what everybody else says you have to have. We finally got on the bandwagon.
KO: But you were running some Buick heads last year, right?
Dave: Yes.
John: Well, they were Brodix.
Dan: Earl Gaerte developed them for Buick. They're Buick that fit on Chevys.
KO: I've only seen a few people run something like that, as I can vividly recall Don Schilling having a set on a pavement sprint car for Doug Kalitta back in the early '90s. But those heads were from Dart.
Dan: A lot of midget guys have run them.
Erik: They're a lot like a Ford head.
John: With the even spread of exhaust and intake.
Dave: We'll be running them again this summer.
KO: Do they work in certain types of track surface or weather conditions better?
Dan: They just work really good.
John: Everybody that's drove it has bragged on it, said it's really good.
KO: What are some of the other things you've experimented with? I know you guys are tinkerers by nature. Building cars back then, the rules were much more open and you could certainly try more things.
Dave: Those old cars of ours had cross torsion on them and most everybody else were parallel cars or spring front. We were one of the first around here to have stuff like that.
Dan: Lightweight was another thing.
KO: Did that come from the Karl Kinser influence?
Dan: Well, it was before Karl. Dad built one – that one with the wing on it weighed 1408 pounds. Now, the current car weighs 1275 ready to race, but that was unheard of back in those days. Everybody weighed 1900 to 2000 pounds. That's the one that Mike Johnson set fast time with at Paragon there.
KO: Was that in the early '70s?
Dan: No, that was 1968!
KO: Holy cow! Down to 1,400 pounds!
Dave: We took it to the Columbus Fairgrounds half-mile and unloaded it. Mike made one lap, hot-lapping, and just drove it back up on the trailer, because it was too light to run that rough, old track. And, Whisky Jim was there with several racecars and Mike got in one of them. They had a big crash, and all three of Whisky Jim's cars were involved.
Dan: Did you ever know Whisky Jim?
KO: That was long before I knew what sprint car racing was, unfortunately. What was his last name?
John: Wells?
Dan: No…but if you just say Whisky Jim, people will know who we're talking about. He bought the Bertha car from Karl – the old 22.
KO: The big block car?
Dave: No, it was one of them like Dick got hurt in, one of those lightweight cars.
Dan: Oh it was? I told you wrong.
Dave: So Whisky Jim bought one of those cars, but Karl bought it back, didn't he?
Dan: Diane said, "Well, you were winning with that one, why don't you go and see if you can buy it back?" So he went over there and bought it back.
KO: It sounds like she had a lot of influence on Karl.
Dan: Oh my…
John: Yeah!
Dan: So about that lumber, I called over there and of course she has the home phone ported to her cell phone. Well, she answers the phone every time. I called her up and said I was bringing that red oak lumber over there. She said, "WHAT? WHAT LUMBER? What are you doing with that?"
I said I'll be there in about an hour. So when I got there, Karl asked, "Which one of you called and let her in on this lumber deal? She's come out here and just rode my ass, up one side and down the other!"
But yeah, she's a pretty good influence on Karl. You'll be standing there talking to him, and at her coffee time, or whatever…I always swore she owned this one little diner that they always went to. Because at the same time, 7:40 every night, she would come, pull in the driveway, and he'd say, "Boys, I gotta go!" Karl would get in the car with her and away they went. She just left us standing there. We turned the lights off and shut the door on the way out.
KO: Getting back to that 1,400 pound car, what things did you to go get down to 1,400?
Dave: The lighter rear end. The lighter frame. The lighter front end. Steering…
John: What's-his-name made you the steering.
Dave: Walt Flynn made us the steering. Mike and him were friends and we got to test his steering.
Dan: There's something we tested! Walt and his wife didn't have any children. So when they both passed away, they heired the machine shop to Mike.
John: Enterprise Machine – in Indianapolis.
Dan: They heired it to Mike.
KO: Were there things you wanted to try on cars but never had the chance? I don't know if anyone around here did four-wheel independent suspension or anything crazy like that.
Dan: Karl.
Dave: Karl!
Dan: We called it the wobbly-wheeled car. He took it Florida one time and Steve said, "That's a pile of shit. I won't drive it!" That's all he had to drive so they put a regular sprint car together and he won everything with it. The wobbly-wheeled car came back.
Dave: It was just sitting in the corner, but we bought a bunch of parts off of it.
Dan: It had to have special wheels. He just started parting it out.
John: But yeah, we've had some wild ideas that we've thought of. We've played with Jacobs ladders and suspension and all of that. We pretty much just go back to the standard deal.
KO: I know for a while there you were running the Stealth 2K4 coil-front cars.
Dan: Flexible Flyers! They'd work about four or five nights. That's why we have this jig in here. After running those, we'd chain it down to that. We'd jack up the front corner. Two inches of travel with a 13 and ˝ inch arm on the right front – it's 325 pounds of spring pressure. So we'd jack that corner up with it tied down, and it's got to at least go past 325. If it starts twisting the frame before that, that means that big torsion bar, that's running from front to rear, is too soft for what we want to do with it. That Maxim we have now is good, but we've had some…
Dave: We've had to change the braces and put an X in it to get it rigid enough.
KO: For it to be consistent?
Dave: Yes.
Dan: That old 2K4 Stealth…
John: We bought some of those Steve Kinser cars that had the split right here where they would twist (pointing to front cross member in the frame).
Dan: Of course with the wing, it does not matter what the front end is doing because you're driving it off that wing. But this car, non-wing, that can't be. You've got to have left rear drive and you're not going to get that with the frame twisting.
KO: So I don't know if we've covered everything with things you've tried on chassis…
Dan: Well, I don't want to give you everything! Because there's guys that don't know what we know. If I'd tell you, then they might read it and say, "Well, I haven't thought about that!" I don't want them to be as fast as us because we have to out-think them, because we don't have any money. So guys like Hank Byram that have lots of money, he might be like, "Oh, well Hell!"
That will spread us out a lot further.
John: We always got the most out of the least money. We always tried to do that.
Dave: Next to the Gentrys, we were probably the greatest low buck racers.
John: They're real low buck!
KO: That was one of my next questions. Between the three of you, have you always been the underdogs? Then again, winning a track championship at Kokomo and winning a bunch of races with Randy Kinser, you guys weren't always the underdog. But, people probably thought you were.
Dan: Well, that's ok, if they think I'm the underdog. "Well, there's them guys, we can outrun them." That just makes it that much sweeter when you outrun them. But I've never towed a racecar to a racetrack where I didn't think I could win that night. We'd just stay home. We've run World of Outlaws shows down at Haubstadt and run 5th, 6th, and 7th, you know, with them guys. I guess if I got to the point where we thought we were going to run for 5th, we'd quit. There's still a thought in the back of my mind that we're going to the racetrack and we're going to win tonight.
KO: When I used the term underdog, it was more about the money aspect. So, it's always been a low budget deal Dave?
Dave: Yeah.
Dan: See, when you ask for a sponsorship, you release your complete control. You have to share with them. "You're going to race here. You're going to go race there." And you think, "Well, I don't want to go race there." So you have to give up ownership. But, if you do it on your own, you call the shots and you do whatever. But yeah, it would be nice to have the money.
John: With the engines, we have to build our own and piece them together.
Dan: But we've got engine builders – Terry Cummings. And Jimmy Ruddick over at Seymour, he does our machine work.
Dave: Jones.
KO: Sam and Jeff Jones are still in business down in Washington, Indiana?
Dan: Yes. John Davis does our balancing. But we assemble it and we get our camshafts from a guy up in Pennsylvania. That's kind of one of them things that you don't tell everybody.
KO: With everything that could drive people away from racing, cost, deaths of close friends, politics, what has kept you in the sport for so long? All three of you can answer. It must still be fun. There must still be some rewards. But it's expensive as hell.
Dave: Like you said…you answered the question! We still have fun.
John: We still have fun. There's nights we get pissed off. Damn, we didn't run worth a shit…or broke something. We think about quitting and next week, we're back again.
Dan: A short memory is a good attribute in racing. Because if you let it eat you up, you'd be mad all of the time. Then, what else would we do?
KO: That's a good point!
Dan: What else would we do?
John: That's all Dan and I have done our whole lives.
Dan: I get out of high school and we built a damned race car and that's all we've ever done. Even when I was in the Marine Corps out in California, I'm helping Bill Hicks out there. Bill was from Ohio and he was in the Marine Corps too. He got out there and was in Vietnam – got his finger shot off. I always accused him of doing this (pointing a gun at his finger) with an M-16, but he'd get mad as hell.
Brad Marvel went out to California and drove for him a little bit. Marvel – he clues us in on Hicks. But Hicks passed away. He moved back to Ohio and passed away.
KO: That was Hurst Brothers Racing West.
Dan: Yes, that was West! I went down to Glenn Howard's So-Cal Performance and I said, "Glenn, I'd like to help somebody." He said, "Well, this old Marine here, you can go help him."
Well, there were other guys I wished he'd turned me on to, but Jimmy Oskie drove for him. Oskie and Aggie Junior were like this. They were buds. I always accused them of rigging the deal. CRA inverted 8 each night and we had the pole of the feature every night. I know he was writing Oskie's name down as 8th and then letting everybody like Shuman and McSpadden – just putting them around him. Hicks's car had a Barnes-headed engine and Mr. Barnes would come to the races. If we needed something – a rocker arm or whatever – he'd give it to us. He's a good man.
KO: I remember his midget engines in the Bondio car.
Dan: Wasn't that his grandson?
KO: They're all tied in together?
Dan: I think so!
Anyway, they had this 18-second club at Ascot, and we were turning 19.006. I said, "Bill, let me put about four degrees more timing in that old motor." The chief mechanic's name was right underneath the driver's name on that 18-second club billboard. I said, "Can't we put a little more timing in it? I want my name up there on that billboard!"
Bill said, "Noooo, nooo! Don't fool with that!"
So after that, I got to thinking, we're 8th quick every night. Of course old Oskie, he was in his mid-50s then. I guess he's still alive…
KO: Yep! He drove this tribute car that Jon Stanbrough built. He drove it out at Perris.
Dan: (Laughing) I figured it out – it was a 25-lap feature and he'd go 22 laps, just eight car lengths out ahead of them. Then, here comes Shuman, McSpadden, Rip Williams – all of 'em (making sound effects as they blow past Oskie). I'm like, "Damn, he's getting tired three laps from the end! I want to win one of these!"
On Indiana Open Wheel, when they had that picture of Oskie's old car on there, I wrote: "Did he have to buy him a new right rear?" Oskie would not get in that car unless you bought him a brand NEW right rear – EVERY NIGHT. It had to be new from the Firestone guy, with fresh grooves.
One night, he was starting on the pole of the heat race. They always took four. So I went down there and I was going to take that new tire off. Oskie starts unbuckling. I said, "Where the hell are you going?" He goes, "You put that tire on there, or I'm quitting right now!"
"Alright!"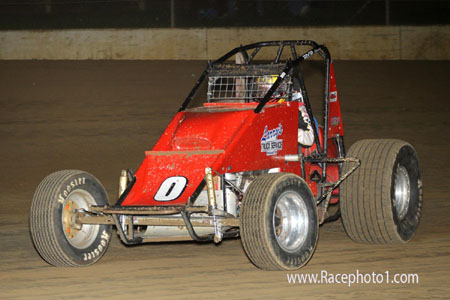 First Ride – Three-time UMP national modified champion Devin Gilpin takes his first sprint car ride in Dan Hurst's 0 at Brownstown's 2013 Funfest.
KO: That sounds like a good time out there.
Dan: It was pretty fun.
John: Oskie had that old Hank Henry car…
Dan: One night that had that old car down there – what was the name of that old man who won a half-dozen CRA championships?
Cowboy Bob…Bob Hogle!
KO: I think he drove the Tamale Wagon.
Dan: Yeah, yeah! He was a pretty good feller too…the Tamale Wagon guy.
But anyway, Oskie brought that old Hank Henry car there. They pushed it off and it was popping and cracking. I said, "Damn, that's embarrassing Jimmy. Let me pull the damned nozzles out of it and clean it up to where it hits on all eight of 'em."
Oskie said, "Oh hell no! Hogle will drive it WAY too fast and turn it over if it's running good! Let him go out there, popping and cracking. It's good enough for him."
KO: Dave, you've outlasted a lot of people in the sport. Do you know of anyone who has been involved for as long as you have? We mentioned Ember Link. I know he passed away recently, but I don't know if he still came to the races with Troy or not in those later years.
Dan: Yeah…he did. It was the anniversary of the Normandy invasion. Me and Ember were walking through the pits and I looked over at him and said, "Ember, I bet you're the only man here that actually went into Normandy on this day." He goes, "Yeah, I probably am."
Dave: That old man with the 57 car – Hazen.
Dan: How long has Leon Thickstun been doing this? He's still got a car.
John: The Gentry boys probably go back to the '60s.
KO: I was just thinking, for someone who has owned a sprint/supermodified as far back as '65, I just can't think of anyone else.
Dan: Just Hazen.
KO: Like I said, he drove stock cars. He got out of the seat and he bought a sprint car in '68. So even he hasn't been involved in sprint car racing as long as you, Dave.
Dan: Galen…he still helps the boys, but he still has a champ car.
KO: So there's a few, but not many.
We've been talking about a lot of great memories. What's your favorite memory? Is it that deal at Kokomo where it came down to the last race to get the championship? Is it something else? You talked about the back alleys of Pana, Illinois, finding Hector Honore's garage. But do you have a favorite memory, or two or three? Or, is it just too many?
Dave: Just too many over the years…winning the $4,000 to win at Paragon on the last lap, beating Chuck Amati on the last lap. He came over and said, "Do you guys got to win ALL the races?"
One night, we won another big one over there. We passed Joey Saldana.
John: Where were we at when we were holding the money for Randy? You were so nervous, you couldn't count.
Dave: Haubstadt. We'd won a couple of races…
John: That old guy that had come with us, dad gave the money to him.
Dave: I attempted to count Randy's portion out. I think we were 6th or 7th at Haubstadt in a World of Outlaws race. We won about $1,600 and we'd won a couple more races and had five or six thousand. I was so nervous I couldn't count.
KO: You've got this Maxim frame here and you said that you were going to take it down to get sandblasted before the day is over. Do you have a driver for next year? Is it going to be Hud Cone again?
Dave: No.
Dan: He's retired.
KO: Are you going to get Bobby Stines to come back?
Dan: Would love to, but he's trying to build his business up. He's got an engineering business and he's really good. Plus, he's got two or three little boys.
John: Bradley Sterrett is going to drive for us.
Dave: He runs good at the tracks we want to run at. Haubstadt, Bloomington, Brownstown – places like that – he's driven modifieds.
KO: He drove the hell out of those modifieds, that's for sure!
Dan: He's impressed me over the years. Of course I see him when he passes our car. But then I have also just watched him and thought, "Well, yeah, he runs good here!" He runs good at Bloomington. Everywhere we go, he runs good. He called me up, wanting to drive. I said, "Wellllll, I'll have to ask those two guys there. I'm just the truck driver, welder, and stuff like that."
When it comes to human relations, I'm not the HR department.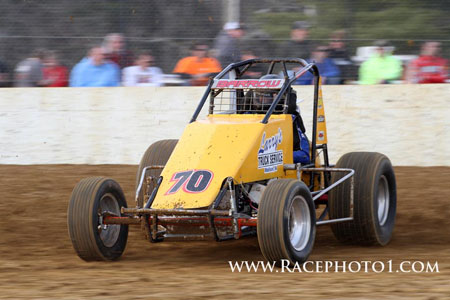 Dizz Tribute – For 2013, the Hurst Brothers paid homage to Dizz Wilson with this yellow number 70, driven at Brownstown by Ethan Barrow.
KO: Obviously you want to win – you told me earlier that you still feel like you have a shot every time you tow to the track. But, what goals do you have for '15?
Dan: Well, I want to get "Chief" going in his car.
John: He's wanting to race the 305s.
Dan: "Chief's" name is Erik Spaulding. We've called him that for years. He's got one of our old cars and he's wanting to put a 305 in it and run Bloomington. I was going to help him out on that. (Pointing to a picture on the wall) That's him over at Clay County, in my old car.
KO: Obviously, you (Dan) have driven. Was it a number 0 car?
Dan: Oh yeah, it's out in the trailer.
KO: Was that always yours?
Dan: Well, I wanted a single digit number and zero was the only one nobody wants to be. That's mine. I get it out occasionally when I want to, and when someone decides there's something wrong with the racecar, I'll put my seat in it, take it somewhere, and see what this major problem is! Yeah, I've still got a suit and a helmet, but as far as a driver, I never was a driver. I was the guy with a suit and a helmet.
KO: John, what about you with the driving?
John: I've never drove. I've had mechanic's races that I've run. I ran a couple at Paragon.
Dan: Leon Rose lapped him.
John: He lapped me (everybody bursts out laughing)! I thought I was flying around there.
KO: I've been there, getting lapped in a mechanic's race, and thinking I was flying!
John: Bob Kinser said, "Alright John, we'll have to clean them plugs, now that you've got them all fouled up!"
When Sheldon Jr. drove, I always picked and gave him hell all the time. He'd be out there racing and I would run out there with my foot, pointing at it, telling him to get on the gas!
In that mechanic's race, here comes Sheldon out there, pointing at his foot! We had a lot of fun racing with Sheldon.
KO: So how long have you been at this house and this garage to run your operation?
Dan: Since 1964.
Dave: Yeah.
KO: So the sprint car stuff has always happened here?
Dave: Right!
John: We built this garage in the early '80s.
KO: And was this the same red oak lumber you traded for those parts with Karl Kinser?
Dan: Well, it's poplar. There was poplar too. Poplar is a lot lighter than that red oak. There's a couple or three rafters up there that are made out of red oak. Between me and John, he was up there and was going to nail it. So he puts me on the ground with it, and he goes, "Alright, get it up here." And I'm like "Geeze! I'm going to have to have a little help. I can't pick that up myself."
KO: So what about the track that's just down the road – Salem Speedway. I know Steven Stewart had a winged sprint car that raced there and you guys had a sponsorship from him.
John: I work for Steven.
KO: Did you guys run any pavement races at Salem?
John: Yes, years ago. Dan, he got to drive.
Dave: He got to realize his dream to run there with one of our dirt cars.
Dan: It was a HOSS race. They're always short on cars there. Salem pays pretty good.
John: Richard Deaton, he begged us. "Bring a car over! Just bring anything."
Dan: We took an old car we were running.
Dave: We put floor pans in it.
Dan: A full diaper underneath it – all that. Well, of course it was late. They were already over there hot lapping. We could hear them. So we towed over there and they were done hot lapping. Richard said, "Alright, go out there and you can have a few hot laps."
So I go out there and I'm warming the engine up and the damned flagman is waving the yellow flag. I'm supposed to get hot laps, so when I am going to get a green flag?
So I went down the front straightaway and went off into the corner and the frame rail hit the ground. It bounced up and there's a big hole – I found this out – I was coming off of two and I hit it just right and all of a sudden, I'm looking straight ahead into the backstretch wall! "Oh shit, I ain't running 45 miles per hour and I'm going to crash!"
I got it straightened up and said, "Note to self: don't put no steering input into it!"
I was out there and it was about halfway done. Of course, it doesn't take but ten minutes to run thirty laps wide open around Salem. So about halfway through, the leaders come by me on the front stretch and about twisted my helmet around on my head. So I thought, "Well, I'm in their way." So I pulled in and just as soon as I pulled in, here comes Hank Lower and Blake's old car and about four or five other cars and I thought, "Man, I made 13th out of that. If I would have made two more laps, I would have been in the top-ten!" (Again, everyone bursts into laughter.)
Honest to God, that's the most fun I've ever had in a sprint car, because you could see. This was no dim lit place where you go, "Well, I wonder what's there around the corner." You can see where you are going.
Dave: We used to run with Calvin over here. He was good on the pavement.
John: ASA - they had a sprint car series back then.
KO: Did you have any involvement in the SCIRA back then?
Dave: Yes.
KO: Were you a board member or anything?
Dave: No, but Karl Kinser was.
KO: That series was a big deal back in the day.
John: They had that deal up at Galen's a couple of years ago.
KO: Yes, I was there. Nobody on the panel seemed to have many memories of the SCIRA.
John: No. Bob Kinser – you couldn't hear him talk.
Dan: Well, they stuck Wolfgang and Smitty up there and as soon as they handed Smitty a mike, it was over with! There were old guys back there that had stories. If they would have gotten Red (Bledsoe) up there, Frank Hollingsworth, and the rest of the boys that ran that series, them old guys could have told you more about it.
KO: It still remains a mystery.
John: Allen Barr, and all those guys, hell, they couldn't remember.
Dan: Jim Bob (Luebbert). That was good. Jim Bob – he was sitting next to me. He goes, "Who's that sumbitch up there talking."
Who's that old guy that lives down in Princeton and works at Engler's and has the oxygen tank?
KO: Richard Jackson?
Dan: Yeah, Richard Jackson. Richard was up there contradicting everything that Butch was saying. And Jim Bob said, "Who is that sumbitch up there saying all of that?"
I said, "It's Richard Jackson."
He said, "I'm going to go up there and kick his ass."
I said, "Good call! A guy with an oxygen tank and one leg." I believe he could take him! (Once again, everyone is roaring in laughter!)
KO: One question I meant to ask Dave, with all of the traveling you did and in the early days of racing four times in one week, did you have the same job or did you work for yourself? What was your job that allowed you to race as much as you did?
Dave: Back in the early days, I worked for my father-in-law's construction company. I could take off – like go to Knoxville and places like that. Mike and I went two or three times to Knoxville.
KO: Did you run your car out at Knoxville then?
Dave: Oh yeah!
KO: That's one of the places we didn't mention earlier.
Dave: I've been to Knoxville!
Then later on, I went to work for Sears and Roebuck as a contractor and I could take off then.
KO: Doing home repairs through them?
Dave: Right. Heating and refrigeration man. Then, they got to paying me too much on contract. I was making too much money, so they put me on the payroll. And then, I didn't get to go as much racing. I had to use days off and vacation time to race.
KO: Dan – are you going to help Andrew Prather with an engine this coming year, or are you just going to help Chief and hang around this deal?
Dan: No - I'll probably just help Chief and hang around this deal. I'm not mad at Andrew, but here's the jist of the story. Andrew's a good boy. He runs his own business and he likes things a certain way. And of course, I'm the other way around, everything is going to be my way. So there's a conflict of interest there.
It's Tuesday and I go to the doctor and he says that he has to put another stent in my heart. I'm like, "Alright. Give me a couple of weeks." And he goes, "No, no! You may be dead in a couple of weeks, so we're going to do it Thursday!" I get out Friday and ask if I can go to the races this weekend. "Why no, you can't go to the races this weekend!"
Well, I already told Andrew that we were going to Putnamville. He loaded up and took it up there. Well, it dropped a valve hot lapping. He didn't know anything about engines. He was pitted next to Kent Christian and Kelly, the guy that comes with Kent, saw that it was popping back through the intake. He went out and ran a heat race with it – started 9th and ran 2nd on seven cylinders. So he drew the pole of the feature. But while he got lined up, a piece of that valve and crap got in the oil pump and locked it up – sheared the gear off. Well, that turned the crank and rods blue. So, he brings it back and he asked what we were going to do next year. I thought: "Well, I don't know! We'll see how much we can afford next year."
Like I said, he's a good boy. Everybody that's driven for us, they might have left that night pissed off at us, but I haven't ever known of anyone hating us or wanting to bring a gun and shoot us. They get over it. It's racing. It's one of those things.
KO: Short memory!
Dan: Yes – a short memory is a virtue in auto racing!
KO: Ok guys – is there one place you miss racing at that's no longer around?
Dave: (In unison with Dan and John) Lawrenceburg – the old track. I really miss that. That was a lot of fun. We won several races over there. I miss going to Eldora. We used to run good over there, but we haven't had enough help to go to Eldora with. I miss going to the places we used to out in Missouri. Now that gas is getting cheap, maybe we can go again. These old trucks, ten miles to the gallon would be really good. The high price of gasoline put that traveling to rest.
Dan: That's the reason we don't go to Kokomo on Sunday nights. They've gotten better about getting the show done for guys like us that are 150 miles away. But you can still get home late. Of course, I work for the phone company and I can manage the next day ok. John works at Steven's up there and he's dragged ass for half a day on Monday a lot of times. And Dad, he's retired.
Chief: I go to work on Sunday nights.
Dan: Chief – we can drop him off at Seymour as we're coming through. But I mean, I always like racing Kokomo, but we haven't run up there since they reconfigured it.
John: In the old days, it was around the bottom. You might get brave on that flat track and put it up on top.
KO: They usually need cars on Sunday nights, but I looked at their schedule and they don't have a ton of local races.
John: That's the way Lawrenceburg is.
KO: And I noticed Bloomington's local schedule was really shaved back.
John: Haubstadt is that way too.
Dan: Local racing…ok, Tom Helfrich makes money at Haubstadt. And that's how he runs. He doesn't run a weekly show. So, if everybody would get on board with that mentality, especially Lawrenceburg – that motor eatin' and tire eatin' place – it's not economical to run there.
John: We tried to run there the first of the year last year.
Dave: With Jordan Kinser.
John: It just gets tires and motors.
Dan: You run sixth or eighth up there for $250. Well yeah, he does pay the best, but you've done burned off $250 in tires and that ain't your tow bill and everything else, especially if you pay a driver 40 percent.
Dave: And then there's stopping at the restaurant on the way home…
Dan: It's coming out of our pocket to race over there. That kind of takes some of the fun factor out of it.
KO: So you think special shows is the way for these local tracks to survive – to do it smart?
Dan: Yes – to do it smart. You can't run at places like Lawrenceburg every week. You can run at Paragon every week. And Putnamville too. At Paragon, you can run any tire you want to. The hardest thing you've got is probably the best, because you're going to burn it off. You don't run good tires there. And Putnamville, you're competitive up there. It's a little bullring. No excessive speed. You aren't wearing your tires out. It's easy on the engine. But Paragon, I'd just assume not go there. Not anything against Keith Ford, as Mr. and Mrs. Keith Ford are fine people. That's a good place to learn how to race, and then go ahead and move on.
KO: That's what Ethan Barrow did.
John: He drove for us.
KO: Yeah, that's another guy! He's got that Sheldon Kinser connection.
Dan: Ethan wanted to drive for us but he had his own car. That's kind of like us and the sponsorship thing. He wanted to call the shots. He wanted to race where he wanted to race, so that's fine. Whereas with Sterrett, he's like, "I don't care where you race. You give me my pit pass money – that's fine with me. I have a good job. I make enough money. I'm not racing for the money." For us to give a guy 40 percent, if you have a bad night and only make $100 for running third in the consy – if you have a guy standing there wanting $40 of it, then it's like, "Damn, I've got that in the gas tank pulling over here." If he wins the feature, hell, 40 percent, I'm good with that.
KO: Have you ever paid more than 40 percent?
Dave: No, that's all.
KO: Has it always been 40?
Dave: No. Different guys didn't want as much. Like if you won, you'd give him 40.
Dan: Hud, he wouldn't take any money. Kent Christian – he never really took any either. If you won the feature, he'd be like, "Give me a couple hundred dollars Dave." It wasn't 40 percent.
Dave: Randy was pretty much like – if you ran good, he wanted 40 percent. Now Allen Barr, he wanted 40 percent of ten dollars!
KO: Pretty tight, huh!
Dave: Yeah!
Dan: They used to pay heat race money over at the old Lawrenceburg. It was $40, $30, $20, $10. He'd run fourth in the heat race – a big deal. Well, the feature got rained out. The next week, he's standing there. I said, "What do you want?"
He said, "I want my four dollars."
I said, "What the hell are you talking about? Four dollars?"
Well, 40 percent of $10 is four dollars. Geeze Louise!
I mean, this was about 1985. Four dollars was not that much money in 1985 either.
John: Remember that night you let Butch drive?
Dave: There's a good one!
Dan: It was North Vernon, before they put the walls up. Well, Barr had been driving our old car and had been doing pretty good. So Butch, he was wanting to drive. He hit me up. He goes, "I'll give you $100 if you let me drive that car."
It was one of those races at the end of the season where the promoters jump on. "Oh, nobody else is racing so we'll get all the cars!"
So, he goes out there and of course in those old cars, you could run them wide open around North Vernon back in those days with a wing on it. There goes Butch, flying off of turn one into the hobby car pits. And I'm listening, and he never lifted. He came back through the pits and came back out in three – back onto the racetrack – and just kept on going.
Mike Smith is standing next to me. He goes, "Who the hell is that idiot you've got in your damned racecar?"
I said, "Look at the helmet when he comes by." He had the old leather mask and the open face helmet on.
Mike watched him go by and he looked at me and said, "You're a crazy sonofabitch!"
It dropped a valve in the heat race. So he came in and was standing around as we're loading up the racecar. I can't lose him. He's worse than my shadow. Finally, I turn around and say, "Butch, what do you want?"
He said, "Well, since I didn't get to drive, can I get my hundred dollars back?"
I said, "HELL NO! YOU BLEW THE ENGINE UP! NO, you can't have your hundred dollars back!"
He said, "Well, at least half of it! Come on man!"
So I thought, "Alright, you can have half of it back. So I gave him $50."
KO: Who is the one driver who you had the most fun racing with?
John: Oh, probably Sheldon. Little Sheldon.
Dave: And his dad, too, was a lot of fun.
KO: So what made Sheldon Junior so much fun to be around?
John: Just the silliness.
Dan: Just the silly shit he'd do. He'd take a can of silly string out with him before hot laps. He went by Pete Abel one time and was shooting him with silly string. Just ignorant stuff like that.
John: He liked to drink beer after the races. We were up at Paragon one night and hell, it was two or three hours after the races and we were still standing there drinking beer.
Dan: Drinking his Sunday beer.
John: We hooting and hollering around. Finally, Keith Ford was up on the hill and yelled, "Get the HELL out of here!"
KO: That's an aspect of racing that rarely happens anymore.
Dan: I'd like to hang around with the kids but you go down there to Haubstadt, and of course they are an hour behind us. It's a Sunday night usually. And of course there's the tractor show. One more hot dog…let's run all these other classes in here. You get done down there and it's 11:00 his time. That's midnight our time. It's another three hours to get home and I have to get up at 5 to go to work. There isn't no hanging around and BS-ing with people. We've got a lot of friends down in that area, because Cummins drove for us. Hud's drove for us. Roger Carey. Engler. Sam and Jeff Jones. I'd like to stand and talk to 'em but I've got to go home.
KO: Is there something I missed in all of my questions?
Dave: Just our plans for this year – we'll run this car with Sterrett and Dan's car is out in the trailer and he's got to get Chief going. So you're liable to see us anywhere. Kokomo included. Don't you live up that way?
KO: I live north of Indy. I'm about 45 minutes from Kokomo.
Dan: Down here, we're 100 miles from Haubstadt. 100 miles from Lawrenceburg. 100 miles from Paragon. 60 miles from Bloomington. So that's why in this area, running those tracks makes sense.
John: We used to go to Gas City once in a while. Man, that's a long drive. I never cared much for that place. We went to the first race they had back in the '80s. It was about like a plowed field.
Dan: They called me when I was out in California. I said, "Hey, I seen you guys ran at Gas City. What kind of place is that?"
He goes, "Just push it off in the cornfield behind our house. It's about the same."
But we haven't been going up there because all those Indianapolis guys, they have plenty of cars. Here lately, with picking and choosing, plus Hud living in Oakland City – getting to Gas City was out of the question.
Dave: We used to go about every week and Troy used to go about every week.
John: I don't know what those guys are going to do up there.
KO: The people from Kokomo are going to operate it for six races. But yeah, the local scene is kind of dwindling. I remember in the early '90s, it kind of got that way once Bloomington went to special shows, plus running the winged cars started getting expensive and car counts were dropping.
Dan: Going back to Helfrich, whoever sponsors Helfrich pays the nose. So if it's ten thousand to win, that's what the sponsor pays. So, you get a regular show on back. Touting that ten thousand to win isn't going to draw people in there, because here comes Ballou, Stanbrough, Dave Darland, and all them boys for ten grand. Once again, it's that I'm already beaten before I get there. It's – hey, we can go there and run 8th or 9th or 10th, or we can go up to Putnamville and outrun Shuman and win the damned feature for $1,400.
Dave: Which is more logical?
KO: The economics of sprint car racing. There you go! You never knew you were an economist, did you?
Dan: Exactly!
And I've heard the discussions about why nobody wants to go out to Nebraska and run with USAC. I'd go, because they're short on cars. They've got 360s that are filling the field. I'd go, but by the time the tow bill and tire bill is done and feeding everybody and all that, you might as well have stayed home and run Putnamville for $1,400.
KO: A trip like that would infringe on your racing schedule for the rest of the year.
Dan: Fans are fans. It's different. From a fan's perspective, racing is completely different. "Why doesn't he do this or why doesn't he do that?"
Chief can relate to this, when you're just going and buying a program in the stands, you get pretty wise to the fan's perspective. But then you get over on the other side of owning the damned thing and it's like "Holy cow! I didn't know you had to do this. I didn't know you had to do that."
There's stuff they don't know. That's why I don't ever get on Indiana Open Wheel and lambast those guys. I just let 'em talk. There's a reason racers like me and Steve Fox don't ever answer their questions on there.
Chief: There's a lot of times I just go and sit in the grandstands by myself. There's people that love to talk and say "He's done this and he's done that." And I'm like, "How do you know? You're sitting in the grandstand!"
Dan: From the fan's part of it, I appreciate that they come to the races and they're happy. But if they see a bad show because it's dusty, look at it from my perspective. Hell, I ran 12th and burned four tires off. It was a bad show for me too!
Dave: Burned thirty gallons of fuel and burned up your tires.
Dan: Troy – he's bad about saying – it costs so much and this and that.
And I look at him and say, "Troy, what else would you do?" He's never been married. His mom and dad have passed away. He's there by himself. And that's all he does – he's got his racecar and the trucking company, hauling sand and coal. So again I said, "Troy, what else would you do? You don't do anything else. Just shut up and go!"
I think it finally must have sunk in because he finally got to Paragon and had a good time. He bought him a new car. He brought it up to my house for his "changes". He couldn't leave well enough alone. I'm like, "Troy, why are we doing this?" He's like, "Well, I've got to put this weight box down here." I said, "What the HELL? That Ford weighs 500 pounds more than my Chevy does. Why do you want to put more weight on there?"
But, I just let it go.
Dave: He's set in his ways.
John: He's got his trick little things.
(As we all head for the garage door, while standing next to their Maxim chassis the stories continue as we attempt to end our epic afternoon session of storytelling. I feel like I'm missing another opportunity to capture another nugget of Southern Indiana sprint car racing folklore, so I turn on my digital recorder one last time.)
Dave: Our car was chasing Keith Ford. Keith was walking across there.
John: Our car got up on the back tires and was doing donuts, heading right for my brand new truck sitting on the back stretch.
Dan: On the back stretch, Kevin Briscoe was stopping because of the red and he (Bob Thoman) hit Kevin Briscoe and got the engine killed.
John: He was knocked out cold.
Dan: Johnny Johnson came over there and said, "You better go talk to your driver. He's talking some weird stuff."
Dave: He got out of it and said, "How bad did we hurt ol' Dave's racecar?"
Dan: It was one of them 50 lappers…one of those Edd Sheppard races at Paragon.
John: Those were 100 lappers!
Dan: It was an old Gambler, of course it was one of Karl's cars. When they come, they were 174 pounds. And Karl weighed them and said they were too heavy, so he sent somebody, probably Bud Barrett, with all of 'em back to Gambler and told them to lighten them up. Well, that's alright. It's back when they had the full steering box. Well, this (pointing to the piece of the frame that holds the steering gear) broke out and that's your gas foot too, so he's got his knee against the steering, holding the steering in place, and gassing the thing.
Dave: He finished third in the 100 lap feature, holding the steering box in!
KO: Bob Thoman?
Dan: Yes!
John: He couldn't get out of the car. "Boys, I'm going to have to sit here awhile."
Dan: He said, "I haven't been driving for a year and a half. "Then Dave asked me to do something like that!"
KO: That's a good one.
Dan: Then Sheldon one night, in one of those 100 lappers, he made 99 and three-quarters laps before he parked it off of three. And the poor guy, he came in and was actually crying. It hurt his feelings so bad that he was crying. He had worked his ass off and got to third, passed Randy Kinser and some good cars. He had worked his way up to third and then done that. That hole going into three – he missed it for 98 laps.
John: Well, we ran fifth, because there were only 5 cars on the lead lap.
Dan: My brother is beating him on top of the helmet. "You dumb son-of-a…."
Sheldon has tears in his eyes because he hated what happened. Another guy who came to the races with us started in on him. Finally I talked to him and said, "Just leave him alone. He knows what he did. Calm down."
Dave: Smitty won it in Galen Fox's car. Bob was second in Steve's car. And Sheldon was third – we were really proud of him.
Dan: Then, all of a sudden – whoop! It killed the motor. Ahhhh…..
And so ends another lengthy Q&A session with some of Indiana's most entertaining storytellers – the Hurst Brothers. Time permitting, there will be more of these to come. Thanks for making it all the way to the end!