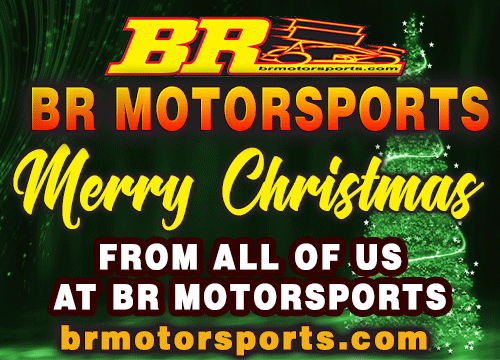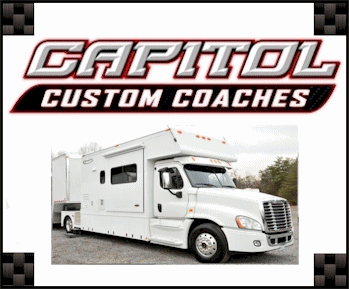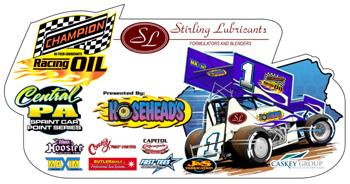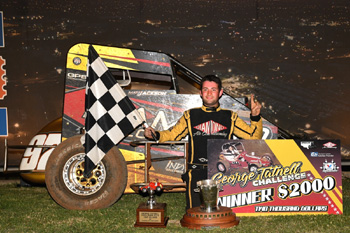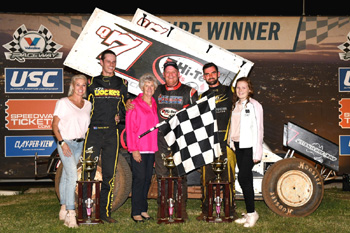 Matt Jackson won the George Tatnell Challenge for Speedcars at Valvoline Raceway on 8 December, defeating Nathan Smee and Matt Smith. Robbie Farr (centre) won the 410 sprintcar A Main at Valvoline Raceway's Pink Night to raise money for Breast Cancer research. Second was Sam Walsh (left) with Alex Orr (right) in third. Also shown are members of the Tatnell family. Gary Reid photos
Latest News and Race Results
If you don't see it here yet, check the Message Board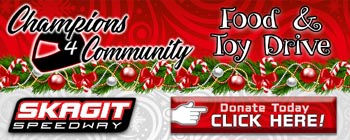 Tuesday December 11th

We all fall off the wagon. It's only one day; it's not the rest of your life. Pick yourself up and go again. Nikki Sixx
10:45pm
PRESS....
Monday December 10th

I don't understand how somebody wouldn't have a sense of humor about themselves. John Malkovich
11:45pm
PRESS....
2:00pm
PRESS....
Sunday December 9th

The learning process continues until the day you die. Kirk Douglas
11:50pm
PRESS....
East Bay Raceway Park FL)Q AUTO & INJURY ATTORNEYS SPRINTS Feature: Frank Beck (89), Bryan Eckley (12B), Dylan Colding (23D), Justin Webster (21), Tim George (1*), Billy Bridges (21A), Kurt Taylor (55), Guy Bos (3K), Johnnie Alexander (1L), Andrew Griffin (32), Bruce Durden (17), Mike Steinruck (44A), Aileen Collins-Love (17c), Luke Hill (41) 12/9

4-17 Southern Speedway FL)SSSS...1 #11 Joey Aguilar 2 #22 Johnny Gilbertson 3 #18 Shane Butler 4 #59X John Inman 5 #88 Sport Allen 6 #5 Mickey Kempgens 7 #67 Scotty Adema 8 #55 Tommy Nichols 9 #79 Jason Kimball 10 #8 Dylan Reynolds 11 #J1 Michael Tharp 12 #42 Phil Hadoad 13 #8X Garrett Green 14 #18B Daniel Miller 15 #44 Gary Wiggins 16 #4 Travis Bliiemeister 12/9

Sprintcar All Stars AU)SA44 Dan Evans in the Evans Transport Maxim won his second 360 South Australian Title Saturday night at Sunline Speedway for RD 4 of the Mainline DynoLog Dynamometers All Star Series. At only 22 years of age Daniel has won two out of the last three S.A Title's. At such a young age to be recording these results shows the talent Evans has. It was also Evans second Series feature win for the season after locking in RD 1 at Timmis Speedway.Race Results12/9
PRESS....
Saturday December 8th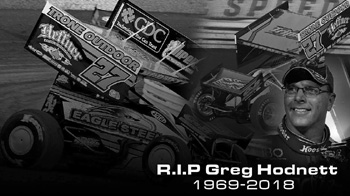 Whoever controls the media, controls the mind. Jim Morrison
4:50pm
RESULTS....
Western Springs Speedway NZ)1 #2USA Shane Stewart 2 #35AUS Jamie Veal 3 #2NZ Michael Pickens 4 #11USA Kyle Hirst 5 #78C Matthew Leversedge 6 #82P Jamie Larsen 7 #78A Daniel Eggleton 8 #1NZ Kerry Brocas 9 #71A Jamie McDonald 10 #88M Keaton Dahm 11 #12A Dean Shadbolt 12 #62A Dave Witton 13 #73K Brian Edwards 14 #3NZ James Dahm 15 #59A Mike Wheeler 16 #10A Glen Torpey 17 #26A Paul Sands 18 #84P Dean Cooper 19 #51M Rodney Wood 20 #29A Jeremy Halpin 21 #22A Dean Brindle 22 #76A Steve Smith 12/8

Western Springs Speedway NZ)midgets...1 #14A Brad Mosen 2 #3NZ Michael Pickens 3 #27A Hayden Williams 4 #91A Hayden Guptill 5 #4A Taylor Clarke 6 #2NZ Zach Daum 7 #5A Brock Maskovich 8 #24A Breyton Davison 9 #33A James Cossey 10 #96A Chris McCutcheon 11 #87A Leon Burgess 12 #98A Caleb Antonio-Rooney 13 #63A Jayden Worthington 14 #39A Peter Hunnibell 15 #97A Thomas McLean 16 #41A Ricky McGough 17 #22A James Earl 18 #11A Shayne Alach 19 #79A Max Guildford 20 #25A Scott Buckley 12/8

Archerfield Speedway AU)1 #17 Luke Oldfield 2 #36 Mitchell Gee 3 #23 Lachlan McHugh 4 #NQ42 Brent Aprile 5 #25 Andrew Scheuerle 6 #54 Randy Morgan 7 #90 Anthony Lambert 8 #28 Allan Woods 9 #78 Andrew Corbet 10 #Q42 Kristy Bonsey 11 #Q2 Brent Kratzmann 12 #8 Brock Dean 13 #32 Mitch Gowland 14 #44 Dan Murray 15 #59 Kevin Titman 16 #84 Steve Greer 17 #64 Paul Rooks 18 #72 Anthony Vanderreyden 19 #96 Steven Johnson 12/8

Archerfield Speedway AU)midgets...1 #6 Darren Vine 2 #Q89 Rusty Whittaker 3 #67 Riki Harrison 4 #11 Charlie Brown 5 #3 Mitchell Rooke 6 #77 Bodie Smith 7 #51 Tim Farrell 8 #36 Cal Whatmore 9 #27 Audie Malt 10 #95 Gavin McDowell 11 #18 Nathan Mathers 12 #45 Tom Clauss 13 #26 Chris Singleton 12/8

Sunshine Speedway AU)360 sprints...1 #SA44 Daniel Evans 2 #SA96 Brendan Guerin 3 #SA90 Michael Lovegrove 4 #S8 Terry Pitt 5 #SA95 Jarman Dalitz 6 #SA42 Jamie Hendry 7 #V4 Phil Lock 8 #V16 James Wren 9 #SA33 Mark Caruso 10 #SA69 Cody Atkins 11 #S91 Mike Fox 12 #VA2 Boyd Harris 13 #W30 James Landrigan 14 #V29 Michael Tancredi 15 #SA98 Cheian Perrett 12/8

Kingaroy Speedway AU)wingless sprints...1 #NX71 David Eggins 2 #Q49 Cody O'Çonnell 3 #Q30 Joshua Dreaver 4 #Q4 Dan Moes 5 #T24 Scott Thomsen 6 #Q54 Brandt Chandler 7 #Q9 Ryan Harris 8 #Q2 Bradley Keiler 9 #Q28 Paul Robinson 10 #NX36 Michael Butcher 11 #NX34 Mason Cattell 12 #Q11 Rob Hamilton 13 #Q82 Andrew Robinson 14 #NX13 Ben Hull 15 #NX83 Matthew Wright 16 #NX77 Mick Reid 17 #Q97 Brendan Webber 18 #Q59 Dan Welke 12/8

Valvoline Raceway AU)1 #Q7 Robbie Farr 2 #N43 Alex Orr 3 #N39 Jeremy Cross 4 #N54 Grant Tunks 5 #N22 James Thompson 6 #N16 Daniel Sayre 7 #N32 Warren Ferguson 8 #N48 Jackson Delamont 9 #NS15 Daniel Cassidy 10 #NQ5 Danny Reidy 11 #N47 Marcus Dumesny 12 #D2 Ben Atkinson 13 #N79 Peter Bourke 14 #NS4 Max Johnston 15 #N53 Jessie Attard 16 #NS57 Brendan Scorgie 17 #D3 Ben Atkinson Jnr 18 #N75 Ayden Elliott 19 #N92 Sam Walsh 20 #N78 Andrew Wright 21 #N10 Luke Stirton 22 #NS21 Jordyn Brazier 23 #NS6 Matt Geering 24 #N57 Matt Dumesny 12/8

Speedway Tasmania AU)1#T 25 Jamie Bricknell 2 #T 22 Jock Goodyer 3 #T 14 Mark House 4 #T 3 Chris Gallagher 5 #T 62 Tate Frost 6 #T 48 Nick Penno 7 #T 16 Adam Alexander 8 #T 12 Adrian Redpath 9 #T 36 Terry Watson 10 #T 29 Jason Dawkins 11 #T 2 Scott Bissett 12 #T 8 Curt Smith 13 #T 45 Kurt Luttrell 14 #T 9 Chris Johns 15 #T 35 Bruce Pitt 12/8

Valvoline Raceway AU)Speedcars...1 #N97 Matthew Jackson 2 #N14 Nathan Smee 3 #N13 Matt Smith 4 #N78 Troy Jenkins 5 #N3 Darren Jenkins 6 #N89 Braydan Willmington 7 #N43 Glen Arnold 8 #N71 Brett Morris 9 #N82 Jason Bell 10 #N57 Harley Smee 11 #N6 Michael Jordan 12 #N42 Gary Rooke 13 #N28 Dean Meadows 14 #N36 Stephen Birkett 15 #N15 DJ Raw 16 #N34 Jeffrey Burns 17 #N50 Brett Davies 18 #N41 Jordan Mackay 19 #N66 Ben Morgan 20 #N62 Dan Biner 21 #N26 Jamie Hall 22 #N87 Kieran Macklyn 23 #N54 Alan Day 24 #N9 Rod Francis 12/8

Wangaratta Speedway AU)1 #VA71 Corey McCullagh 2 #V83 Chris Solomon 3 #V73 Charles Hunter 4 #V77 Brayden Parr 5 #V68 Brett Milburn 6 #V60 Jordyn Charge 7 #V28 Andrew Hughes 8 #V7 Paul Solomon 9 #V8 Bobby Daly 10 #V17 Dennis Jones 11 #V19 Sam Wren 12 #V22 Terry Rankin 13 #V2 Domain Ramsay 14 #D22 Leigh Mugavin 15 #VA4 Carly Walsh 16 #V34 Brenten Farrer 17 #N30 Darren Salliard 18 #V78 Chris Campbell 12/8

Perth Motorplex AU)Speedcars....1 #USA38 Jason Mcdougal 2 #USA7 Tucker Klaasmeyer 3 #Q29 Adam Clarke 4 #17 Daniel Golding 5 #47 Dene McAllan 6 #S83 Brett Ireland 7 #23 Glen Mears 8 #10 David Perry 9 #15 Rob Golding 10 #9 Vaughan Manders 11 #S57 Robert Heard 12 #51 Beau Doyle 13 #52 Lee Redmond 14 #26 Keenan Fleming 15 #V15 Andy Pearce 16 #75 Steve Doyle 17 #24 Dayne Kingshott 18 #USA4 Alex Bright 19 #32 Stuart Yates 20 #19 Steven Henderson 12/8

Perth Motorplex AU)Kerry Madsen started his tenure with Krikke Motorsport in the best possible fashion on Saturday night by winning the WA Sprintcar Championship at the Perth Motorplex. The 'Mad Man' only jetted into WA from the United States the day before the race meeting and while he was with a new team - and in a new car - he picked up the pace immediately and showed he was going to be the one to beat when it came to the feature race. Race Results 12/8
PRESS....
Friday December 7th

"Yesterday, December 7, 1941 — a date which will live in infamy — the United States of America was suddenly and deliberately attacked by naval and air forces of the Empire of Japan." Franklin D. Roosevelt
11:50pm
PRESS....
USAC)Kevin Thomas, Jr. has rejoined Petry Motorsports to take on the full USAC NOS Energy Drink USAC Midget National Championship schedule in 2019. The Cullman, Ala. driver competed for Petry to conclude the 2017 season and began the 2018 campaign for the team, finishing 13th in the 2017 "Turkey Night Grand Prix" at Ventura (Calif.) Raceway, then started 2018 with a 15th at the "Shamrock Classic" in Du Quoin, Ill. and a 10th at the "Kokomo Grand Prix" in Kokomo, Ind. USAC 12/7

Rudeen Racing)We are thrilled to be running Tony Stewart's, Ollies All Star Circuit of Champions Series and competing for a championship with Cory Eliason behind the wheel in 2019! 12/7

Knoxville Raceway IA)The Race Track Business Conference has awarded the Knoxville (Iowa) Raceway the "Outstanding Facility of the Year" award. The plaque was presented by National Speedway Directory and Track Guide at the Performance Racing Industry Trade Show. Press Releases12/7

KWS NARC)The 60th Anniversary King of the West-NARC Fujitsu Sprint Car Series schedule was announced today and features 19 racing events at ten different dirt tracks in 2019. The 410 winged campaign is slated to award more than $500,000 in prize money and will kick off at the Stockton Dirt Track on March 2nd. The season will conclude in Stockton eight-months later on November 2nd with the $5000 to win Tribute to Gary Patterson. A new 60th Anniversary series logo will debut soon. King of the West/NARC 12/7

ASCS Lucas Oil)Continuing the partnership of bringing some of dirt track racing's best drivers and events to the masses, the MAVTV Motorsports Network will feature the Lucas Oil American Sprint Car Series presented by Sawblade.com 13 times in 2019. Taking the MAVTV Motorsports Network to Pennsylvania, the "Battle of the Groves" at Williams Grove Speedway (May 3, 2019) and Selinsgrove Speedway (May 4, 2019) will kick off the 13-race lineup. Moving from east to west, the very popular $15,000 to win Jim Raper Memorial Dirt Cup at Skagit Speedway (June 20-22, 2019) again makes its way to the lineup.ASCS 12/7
Thursday December 6th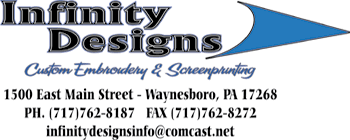 A lot of people are afraid of heights. Not me, I'm afraid of widths. Steven Wright
1:50pm
PRESS....
Wednesday December 5th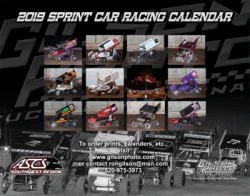 The way to get started is to quit talking and begin doing. Walt Disney
9:30pm
PRESS....
Tuesday December 4th
Your part can be the king, but unless people are treating you like royalty, you ain't no king, man. Jeff Bridges
10:00pm
PRESS....
Harli White)Progress is the best word to describe the 2018 season for Harli White. White surpassed her Lucas Oil ASCS National Tour presented by SawBlade.com marks from last season when she became only the third woman to ever complete a full season on the road with the series. Her two top fives and 10 top 10s in ASCS National Tour competition this year were both career bests. She also recorded a career-best runner-up result with the series. Press Releases12/4

Kristy Bonsey)Continuing to make gains in 410 Sprintcars throughout the 2018-19 season, Kristy Bonsey reached new heights last Saturday night at Brisbane's Archerfield Speedway, coming one spot shy of the podium in fourth. Achieving a major milestone back in July when she clinched her maiden feature-race podium at Cairns International Speedway, the next step for Bonsey was building on her consistency in order to work towards the pointy-end of the field at Archerfield Speedway, where each race meeting generally attracts the state's leading racers. Press Releases12/4

Inside Line Promotions is partnering with K1 RaceGear by Ryan Bowers Motorsports to offer a limited number of special edition driver suits. The custom suits, which are SFI 5 Nomex, will be offered at a discounted rate and a special press release package with free PR will be included for any driver selected to take advantage of the opportunity. The driver suit will showcase the ILP logo, but also has earmarked areas for a driver's primary marketing partners on each suit. Press Releases12/4

Indy Race Parts)We are less than 5 miles from the Convention Center, stop by and see us if you are in town for the PRI Show! We specialize in sprint cars, midgets, and outlaw karts with the best prices and customers around. Will be open on Wed, 9AM-6PM, Thur noon-6PM, Friday 3PM-6PM, Sat 9AM-1PM, and Sunday from 9AM-1PM. Cannot make those hours? Call my cell or the shop (317.244.9437) ahead of time and we will try to see if we can meet you, so you can shop! Our shop location is, 361 Gasoline Alley Indianapolis, IN 46222. Be sure to follow us on Twitter as well, @indyraceparts! 12/4

Column)Article from Richard Golardi: "Conner Morrell's Year as a Traveling Sprint Car Racer"Florida Open Wheel12/4

Column)Pat & Bruce Eckel have notes from Gateway Dirt NationalsA Typical Weekend 12/4

Hoseheads Open Wheel Video)New videos have been added to Hoseheads Open Wheel Video. June 10, 2003 - Bedford Speedway; 410 Sprints, February 9, 1995 - Volusia County Speedway; All-Stars, April 1, 1994 - Williams Grove Speedway; Season Opener https://vimeo.com/12/4

Greg Hodnett)....CHRISTMAS IS COMING! New Greg Hodnett merchandise now available! The new GH27FOREVER distressed sweatshirt, the 5 time PA Speedweek champion tshirt and the Port Royal Living Legends tshirt are now available for purchase. The Speedweek and Legends tees will be ready next week (week of Dec 10th) but available online now. The sweatshirts are available now either online or for pickup. For those local to the Central PA area, shirts will be available for pickup at several locations beginning Dec 15 thru Christmas. Locations will include Leach's Automotive in Lemoyne, PA my place in Etters, PA and Hodnett and Co. in West York, PA. Dates and times to be announced next week.. Anyone outside of these locations can purchase online now. **Both tees will not be shipped until at least December 13th.** Email BVores@aol.com if you are interested in preordering for local pickup or visit www.greghodnettmotorsports.com to order. Of course, the Greg Hodnett Tribute shirt and decals are also available online and for pickup. Please let anyone you know that might be interested that these are items are available now.12/4

ESS)On Saturday night, December 1, a sold out Hambletonian Room at the luxurious Vernon Downs Casino and Hotel honored Quebec's Steve Poirier as he captured the Lucas Oil Empire Super Sprints (ESS) 35th Anniversary Tour championship. The title was his eighth of his ESS career and now tied him with Mike Woodring for the most championships in the sprint car organizations history. Poirier took home $9,398 from the $90,417 payout which included a record $60.125 in cash. A total of 24 different drivers took home from the point fund after a very successful 2018 season. Press Releases12/4

FAST)Gibsonburg, Ohio's Craig Mintz wrapped up his third All Pro Aluminum Cylinder Heads FAST 410 Championship Series Presented by Ohio Logistics while Fremont, Ohio's Jamie Miller concluded a dominating performance with his first ever JLH General Contractor FAST 305 Championship Presented by Engine Pro. Press Releases12/4

USAC)USAC's 63rd "Night of Champions" National Awards Dinner is scheduled for Friday night, December 7, at the Indiana Roof Ballroom in downtown Indianapolis, Ind. Champions of USAC's 2018 racing series will be honored during the gala evening. USAC 12/4

Justyn Cox)Ending the 2018 season on a very high note that featured him aiding Josh Bates to the Sprint Car Challenge Tour Owners Title as well as a myriad of podium finishes, Justyn Cox has been hired to pilot the Mike Phulps Motorsports No. 56 for the 2019 season. Press Releases12/4

Tanner Carrick)The third installment of the Gateway Dirt Nationals at America's Center in St. Louis, MO expanded to a Midget race, and getting the invite for the inaugural event Tanner Carrick would pocket a 14th place finish during Saturday night's feature event. Press Releases12/4

World of Outlaws)With great excitement, the World of Outlaws Craftsman Sprint Car Series announces its 2019 schedule that will see The Greatest Show on Dirt invade 25 different states and compete 92 times at 53 different facilities throughout the season. The full 2019 World of Outlaws Craftsman Sprint Car Series schedule can be viewed here."We are looking forward to another great season of World of Outlaws racing in 2019," longtime Series Director Carlton Reimers said. "On the strength of our excellent relationships with tracks and promoters, we are eager to get the season started with our determined teams for our dedicated fans."DIRT/World of Outlaws 12/4

USAC)It didn't take long for Chris Windom, one of the most coveted free agents in USAC racing this offseason, to find two new full-time rides for the 2019 season in the Silver Crown and AMSOIL National Sprint Car divisions. The Canton, Illinois native will compete on the full USAC Silver Crown tour aboard the Goodnight/Byrd Racing No. 17 in the coming season. He will have crew chief Scott Benic on the wrenches along with sponsors Jonathan Byrd's Racing, The Pallet Builders and NOS Energy Drink on board for the campaign on both the dirt and the pavement as he aims for a second Silver Crown title. Matt Goodnight, who finished eighth in points in 2018, will compete in a second car for the team alongside Windom. USAC 12/4
Monday December 3rd

It's all part of my journey - I've done a lot of stupid things, but you learn by your mistakes. Ozzy Osbourne
10:30pm
PRESS....
Saturday December 1st

There's a thin line between to laugh with and to laugh at. Richard Pryor
11:45pm
RESULTS....
Top Gun)East Bay Raceway Park FL...results from Top Gun East Bay wingless Don Rehm Classic. Feature Finish 3A AJ Maddox 21 Justin Webster 19 Keith Butler 82 Garrett Green 8 Johnny Alexander 55 Kurt Taylor 44A Mike Steinruck 41 Luke Hill 13 John Kahl 3K Guy Bos 96 Nikole Voisey 2 Kerry Gilbert 12B Bryan Eckley 11B Billy Bridges 88 Sport Allen G6 Brandon Grubaugh 89 Frank Beck 32 Andrew Griffin 00 Harley Zimmerman 5 Hayden Campbell 23D Dylan Colding 4 DQ 12/1

Gateway Dirt Nationals)St Louis MO...Midgets...12/1...Feature 1 #21 Christopher Bell 2 #17w Shane Golobic 3 #97K Rico Abreu 4 #5D Zach Daum 5 #5 Chris Windom 6 #55 Cj Leary 7 #27 Tucker Klaasmeyer 8 #25 Jerry Coons Jr. 9 #84 Chad Boat 10 #15 Jason McDougal 11 #76m Brady Bacon 12 #72 Sam Johnson 13 #39BC Zeb Wise 14 #71k Tanner Carrick 15 #52 Blake Hahn 16 #67 Logan Seavey 17 #01 Kyle Larson 18 #4A Justin Grant 19 #7BC Tyler Courtney 20 #3c Tanner Thorson 12/1
PRESS....
USCS)The United Sprint Car Series Outlaw Thunder Tour presented by K&N Filters winged sprint cars are set to kick off their 2019 and 23rdi racing season with the 2nd annual USCS Winter Heat Series that consists of ten races at six different venues in three Southern states from Friday, January 25th through Saturday, March 9th. The mini-series wil include stops at four tracks that return from the 2018 inaugural Winter Heat Series schedule of six races. This season the USCS Winter Heat schedule expands on each end with two new venues for the USCS. USCS 12/1

CRASH PAD)Indoor races always seem to claim few broken backs every year. Don't let it be you. It doesn't hurt if you have the BEST method to Reduce Spinal Compression Forces in your seat. The CRASH PAD is designed absorb back breaking impact. We specialize in it. If there was something better, we'd use it... period. Other seat stuff and pour-ins won't do the job. Easy order and FREE Shipping at www.802solutions.com/crash-pad-products/ 12/1
1:30pm
RESULTS....
Bunbury Speedway AU)Brad Maiolo claimed round four of the Maddington Toyota Sprintcar Series - the Auto 1 Sprintcar Grand Slam feature race at Make Smoking History Bunbury Speedway on Saturday night. He won the 30-lap feature race from Mitchell Wormall and Jamie Maiolo in a drama-filled race that took a couple of attempts to get underway. The first attempt saw the cautions come on when Jason Pryde spun in the first turn and restarted from the rear, albeit with a damaged front wing. Race Results 12/1

Archerfield Speedway AU)360...1 #25 Andrew Scheuerle 2 #59 Kevin Titman 3 #5 Peter Lack 4 #42 Kristy Bonsey 5 #8 Brock Dean 6 #53 Jessie Attard 7 #90 Anthony Lambert 8 #Q2 Brent Kratzmann 9 #36 Mitchell Gee 10 #Q69 Mick Sauer 11 #44 Dan Murray 12 #4 David Whell 13 #54 Randy Morgan 14 #28 Allan Woods 15 #81 Kris Jennings 16 #NQ69 Jason King 17 #NQ2 Andrew Baumber 18 #3 Clem Hoffmans 12/1

Murray Bridge Speedway AU)1 #S97 Matt Egel 2 #Q7 Robbie Farr 3 #S81 Luke Dillon 4 #Q83 Steven Lines 5 #S27 Daniel Pestka 6 #V25 Jack Lee 7 #S78 Keke Falland 8 #S44 Daniel Evans 9 #S19 Brad Keller 10 #S10 Steven Caruso 11 #S24 Ricky Maiolo 12 #Q23 Lachlan McHugh 13 #S7 Hayden Pitt 14 #S14 Brendan Quinn 15 #S33 Mark Caruso 16 #S4 Lisa Walker 17 #S96 Brendan Guerin 18 #S20 Glen Sutherland 19 #W17 James McFadden 20 #S63 Ryan Jones 12/1

Valvoline Speedway AU)Races were rained out. 12/1
2:00am
RESULTS....
Gateway Dirt Nationals)St Louis MO...Midgets...11/30...Feature 1 #21 Christopher Bell 2 #5D Zach Daum 3 #67 Logan Seavey 4 #17w Shane Golobic 5 #27 Tucker Klaasmeyer 6 #52 Blake Hahn 7 #72 Sam Johnson 8 #76m Brady Bacon 9 #1st Caleb Armstrong 10 #84 Chad Boat 11 #4J Tim Crawley 12 #88 Terry Babb 13 #85 Frankie Guerrini 14 #7B Austin Brown 15 #25 Jerry Coons Jr. 16 #71 Ryan. Robinson 17 #1s Landon Simon 18 #17BC Ricky Stenhouse Jr 19 #21ks Karter Sarff 20 #8j Jonathan Beason Feature 2...1 #7BC Tyler Courtney 2 #01 Kyle Larson 3 #3c Tanner Thorson 4 #15 Jason McDougal 5 #71k Tanner Carrick 6 #55 CJ Leary 7 #97K Rico Abreu 8 #57 Andrew Felker 9 #39BC Zeb Wise 10 #87 Colby Copeland 11 #91t Tyler Thomas 12 #5 Chris Windom 13 #67k Holly Shelton 14 #97 Spencer Bayston 15 #77P Billy Pauch 16 #77 Alex Bright 17 #9 Tim McCreadie 18 #36 Dave Darland 19 #35 Maria Cofer 20 #4A Justin Grant 12/1

Photos)Gateway Dirt Nationals photos by Jim DenHamer are in SpeedShotz12/1
PRESS....