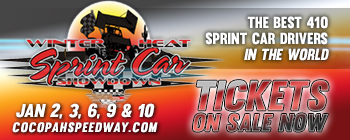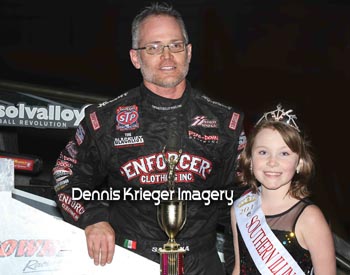 Joey Saldana won the 40 Lap Battle of the Barn at DuQuion Illinois Dec. 20th while getting some tune up time for the Chili Bowl in 2015 Dennis Krieger Imagery

Latest News and Race Results
If you don't see it here yet, check the Message Board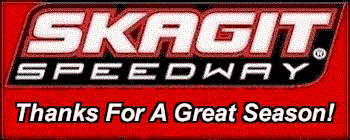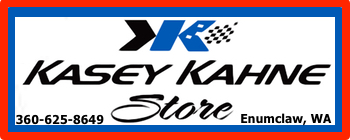 Monday December 22nd 2014

The only difference between me and my fellow actors is that I've spent more time in jail. Robert Mitchum
1:50pm
PRESS...
Drivers/Sanctions
Sunday December 21st 2014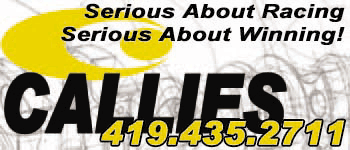 Usually, terrible things that are done with the excuse that progress requires them are not really progress at all, but just terrible things. Russell Baker
11:40pm
RESULTS...
POWRi)Joey Saldana of Brownsburg, Indiana led the final five laps in the Shannon Saldana-owned Esslinger-powered Spike Chassis, cruising to victory in the non-points event organized by the POWRi Lucas Oil National Midget Series on the 1/6 "Mini-Magic Mile" at the Southern Illinois Center at the Du Quoin State Fair Grounds. Bryan Clauson of Noblesville, Indiana started on the outside front row in the Rusty Kunz Racing/Curb-Agajanian, Esslinger-powered Spike Chassis and lurched into the lead at the drop of the green flag with 2013 POWRi Lucas Oil National Midget Series Rookie of the Year, Parker Price-Miller in tow. Race Results 12/21
Battle of Trenton)Buffalo, N.Y. driver Andy Jankowiak started up front and finished there at the end of the 40-lap Battle Of Trenton TQ Midget feature Saturday night in Sun National Bank Center. Jankowiak was challenged by any number of racers who made it as far as second place only to be taken out by accidents or mechanical problems. Ryan Flores of Mooresville, N.C., was the eventual runner-up in the Len Sammons Motorsports Productions (LSRP) event. Race Results 12/21
PRESS...
Tracks/Drivers/Sanctions
1:20am
PRESS...
Tracks/Drivers/Sanctions
Greg Wilson)First and foremost the GWR team would like to wish all the race fans a Merry Christmas and a Happy New Year. It is you the fans that makes sprint car racing so popular. The 2014 race season for GWR has been one of challenges, changes and good success both on and off the track. Racing for a living definitely has its ups and downs as Greg has experienced over his 20-plus years of racing.Press Releases12/21
Premier Speedway AU)Steven Lines and Dylan Willsher were the big winners on a night of high drama and excitement as Sungold Stadium, Premier Speedway, Warrnambool played host to Round 4 of the Eureka Garages and Sheds Sprintcar Series as well as the prestigious Jack Willsher Cup for Formula 500's as presented by Warrnambool Rapid Mix Concrete. Press Releases12/21
Cole Wood Racing)The Cole Wood Racing team has announced a four-driver midget team for the Chili Bowl. The 29th Annual Lucas Oil Chili Bowl Nationals presented by General Tire will be held January 13-17, 2015 at the River Spirit Expo Center in Tulsa, Oklahoma. Returning with the team will be Cole Wood of Auburn, California in the #17w, Dominic Scelzi of Fresno, California in the #17s, and Chase Johnson of Penngrove, California in the #17J. Joining the team in 2015 will be the "Lil' Shu", Casey Shuman. The Rattlesnake Bend, Arizona driver will pilot the #17c. All Cole Wood Racing midgets will be Spike Chassis powered by Esslinger, and sponsored by Elk Grove Ford and Fuel Safe. Press Releases12/21
Lucas Oil Chili Bowl)For the past couple years, the entry list for the Lucas Oil Chili Bowl Nationals has flirted with the 300 mark. Once again, the number of teams registering for the indoor Midget event is nearing the three century mark with 285 entries received for the 29th annual Lucas Oil Chili Bowl Nationals presented by General Tire, happening Tuesday, January 13, 2015 through Saturday, January 17, 2015. Of the 290 received in 2014, 281 made the call to match the Chili Bowl record set in 2009. ASCS12/21
Perris Auto Speedway CA)For the second time in less than two weeks, the Southern California sprint car community was rocked by the death of one of its longest serving members. First it was Evelyn Pratt who passed away in Texas and now Steve Howard who passed away at his home in Norwalk in his sleep on Monday. Unlike many others, when he retired, Howard stayed in constant contact with the sport and will be missed by many far and wide. On Thursday, Perris Auto Speedway promoter Don Kazarian commented on the loss. Press Releases12/21
Stockton Dirt Track CA)Entering its third season of operation in 2015 the San Joaquin County Fairgrounds located Stockton Dirt Track has released its preliminary slate of events for the upcoming year, placing a focus on touring groups and special events. The season kicks off with the first ever two-night World of Outlaws STP Sprint Car Series event at the Stockton Dirt Track on Saturday & Sunday March 21 & 22. The FVP Western Spring Shootout will be the third straight year that the Greatest Show on Dirt has competed at the track. Previous WOO winners at Stockton include Elk Grove's Kyle Larson and most recently Australian Kerry Madsen, who won out in a photo finish last year with eventual series champion Donny Schatz. Press Releases12/21
The Eagle Jet Top Gun Sprints is very pleased to announce their season opener for the 2015 will be Friday and Saturday nights, January 30 & 31, as part of SpeedWeeks at East Bay Raceway Park. Both nights will be complete shows paying $1000.00 to win. Then on Saturday night and Sunday afternoon, February 14 and 15, Eagle Jet Top Gun Sprints will make their first appearance at Golden Isles Speedway in Waynesville, GA. Both of these events will be complete shows paying $2000.00 to win. 12/21
Darren Hagen)Two days ago Darren Hagen boarded a plane and "The Hawk" flew 14 hours to New Zealand, where he's gearing up to finish his 2014 racing season and begin his 2015 season. Darren is very excited to be driving for Vernon & Vazey Motorsports again and is looking forward to a successful trip that will hopefully allow him to represent the United States and his partners in victory lane. Press Releases12/21
Waynesfield Raceway Park OH)Any Ohio dirt race fan will tell you that the number one place to be on Independence Day Weekend is at Waynesfield Raceway Park in Waynesfield, Ohio for the highly talked about Bob Reynolds Memorial. Since the shows infancy, promoter Ron Hammons has continued to up the ante each and every year putting on the best race possible for the fans. For the 2015 edition of the famed race, Hammons has done just that. In an announcement just before the holidays, Hammons revealed the addition of the Fremont/Attica Sprint Title (F.A.S.T) 305 Championship Series to the agenda of the Independence evening race. Press Releases12/21
Friday December 19th 2014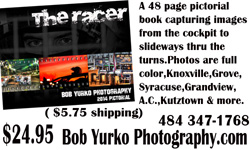 If I get into a car on a circuit, I drive as fast as I can; that's it! James Hunt
4:00pm
PRESS...
Tracks/Drivers/Sanctions
URC)After nine seasons as a corporate entity, the United Racing Company will cease operation in December 2014. Low car count, a diminishing number of shows, the rising cost of operating a 360 sprint car and less fan appeal make it difficult for promoters to see a positive financial impact when adding this division as an event at their race track. As a result, many race teams have turned to other options as well, like the forever popular 410 sprints with other teams going to the more affordable route of the 305 sprints, where they may compete locally to avoid the travel cost. URC 12/19
National Sprint League)The National Sprint League is proud to announce that Bell Helmets will be the sponsor of their "Bell Helmets Hard Luck Award" in 2015! Bell Racing USA, LLC, located in Champaign, Illinois, is the world's premier auto racing helmet company. For starters, each NSL member driver will receive a 15% discount on a Bell helmet just for signing up with the series. In addition, each race night will feature the "Bell Helmets Hard Luck Award". The driver chosen will receive a $50 gift certificate from Bell Racing USA. National Sprint League 12/19
Westline Speedway AU)Following the successful 360ci Sprintcar event in early October the Westline Speedway at Whyalla (SA) will step up to host a 410ci Sprintcar show on February 28, 2015. The event, to be known as the 410 Sprintcar Challenge, will be the first ever official open Sprintcar event to be staged at Whyalla and it is hoped that it will become an annual event of the South Australian Sprintcar calendar. Press Releases12/19
National Sprint Car Museum)Scott Butler of Willits, California, is the lucky grand prize winner of the National Sprint Car Museum's sprint car raffle. The winning raffle ticket-buyer will receive a state-of-the-art Maxim chassis with a new Rider Racing Engines-built 410-cubic-inch racing engine. When first contacted by phone by museum special events coordinator David Herrmann and told that his one raffle ticket was drawn in the non-profit foundation's tenth biennial sprint car raffle, Butler exclaimed, "Holy cow, are you kidding me?! " Press Releases12/19
Rumble Series)Veteran Russ Gamester and rising star Justin Peck, who drove into the record books a year ago, head the preliminary entry list announced Friday for the 17th annual "Rumble in Fort Wayne." The defending winners are among nearly 40 national midget drivers entered for the expanded, three-day indoor racing classic at the Memorial Coliseum Expo Center. The event is Friday, Saturday and Sunday, Dec. 26-28, with a matinee the final day. Winged and non-winged outlaw midgets (600cc), karts and quarter midgets also are part of the program. Press Releases12/19
Aaron Reutzel)If the 2014 racing season didn't qualify under the vague category of "breakout" year for Aaron Reutzel, it was darn near close. The Clute, TX, racer made his way to victory lane aboard the BC Fundz/Wren Motorsports No. 87 Triple X Sprint Car on nine different occasions, including first wins in both ASCS National action and wingless competition, while also ranking among the top-ten in ASCS National points. Press Releases12/19
FAST 305)For the first time in series history, the JLH General Contractors Fremont/Attica Sprint Title (F.A.S.T.) '305' Championship Series presented by Engine Pro will travel to the Waynesfield Raceway Park near Waynesfield, Ohio to take part in the annual 'Bob Reynolds Memorial.' The 2015 edition of the 'Bob Reynolds Memorial' will take shape during the 'Fourth of July' holiday weekend, Saturday evening, July 4th, and will feature the '360' sprint cars and the F.A.S.T. '305' sprint cars in a true holiday weekend dirt fest. The F.A.S.T. '305' sprinters will compete for a $1,000 pay day during the July 4th program; with $150 being awarded to each feature starter, and $75 being awarded to each non transfer. Not only is this a first-time appearance for the F.A.S.T. '305' sprinters at Waynesfield Raceway Park, but this is a series-first venture outside of the normal F.A.S.T. sanctioning area. Press Releases12/19
Ohsweken Speedway ONT)Merry Christmas, Happy Holidays, and best wishes for 2015, from everyone at Ohsweken Speedway! Please note the speedway office will be closed for the holidays from December 20, 2014 to January 4, 2015. Tickets for the inaugural Triple Crown Showdown on Tuesday, June 30 will remain available for online purchase at http://ohswekenspeedway.ticketforce.com while the office is closed for the holidays, but will not be available by phone. Press Releases12/19
Champion Oil)Champion Oil, a globally recognized leader in top-tier racing motor oils, announced this week that AutoRep Sales from Birmingham, MI has been named their 2014 Rep Firm of the Year. "Walt Siklich, President of AutoRep Sales, has grown-up around performance and racing. His passion is the driving force behind AutoRep Sales", stated Karl Dedolph, Champion Director of Racing & Performance. "AutoRep Sales is driven to succeed for companies like Champion utilizing their contacts, knowledge, expertise, and Walt's love of this exciting industry." http://www.autorepsales.com Press Releases12/19
6:50am
PRESS...
Tracks/Drivers/Sanctions
Spartan Speedway MI)Spartan Speedway officials are pleased to release a tentative 2015 schedule for the Spartan Sprints. Nine race dates will bring the wingless sprint cars to the quick 1/4 mile facility an average of twice each month. "The Track the Stars Call Home" will officially open their gates on Saturday, April 18th and Sunday, April 19th for a test and tune sessions. While the track will begin racing the following Friday night on April 24, the Spartan Sprint Cars will open their season on Friday, May 1st. The track will again host the sprint cars in an every other race event format, alternating with the modifieds. The season championship will take place on Friday, August 28th. Press Releases12/19
Winged 410 Power Rankings)Donny Schatz enjoyed a stellar 2014 season that landed him atop the STIDA Winged 410 Sprint Car Power Rankings for the second year in a row. Schatz reeled off 26 feature wins in World of Outlaws competition en route to another WoO crown and took the top STIDA Power Ranking by a comfortable 257 point margin over Daryn Pittman. Schatz and Pittman finished 1-2 in 2013 as well with Schatz just 164 points ahead in the previous year. Press Releases12/19
National Sprint League)The National Sprint League is pleased to welcome KSE Racing Products, Inc. on as their "Hard-charger Award" representative. KSE Racing Products is an industry leader in sprint car power steering systems and has been manufacturing premium oval track products for the racing community for over 35 years. KSE is dedicated to product innovation in the motorsports industry and will continue to provide the highest quality racing products at the fairest prices. National Sprint League 12/19
Cocopah Speedway AZ)Cocopah Speedway and the surrounding community has established an entertaining schedule throughout the inaugural Winter Heat Sprint Car Showdown. Parties, bands, concessions and socials highlight the entertainment off the dirt track, which will host more than 50 sprint car drivers on Jan. 2-3, Jan. 6 and Jan. 9-10. Press Releases12/19
Racin Boys)With the holidays in full swing now is the perfect time to purchase live Pay-Per-View video of the Speedway Motors Tulsa Shootout and the Lucas Oil Chili Bowl Nationals. RacinBoys will broadcast both events from Tulsa Expo Raceway to kick off 2015. The price for the four-day Tulsa Shootout - Dec. 31 to Jan. 3 - is $64.99 ($54.99 for premium RacinBoys members) or $19.99 per day. A deal for the five-day Chili Bowl - Jan. 13-17 - is $99.99 ($89.99 for premium RacinBoys members) or $25 per day. Press Releases12/19
Steve Howard)Funeral services for 1970's and 80's CRA Sprint Car Star Steve Howard will take place at Forest Lawn Memorial Park in Cypress at 11:30 AM January 23rd. The announcement was made by Howard's longtime friend Mike English on Wednesday evening. Howard, who won five main events in his racing career, passed away in his sleep on Monday night. His last appearance at the races was at the Turkey Night Grand Prix on Thanksgiving. Steve Howard on the throttle in the famous Morales Brothers Tamale Wagon at Speedway 117 in Chula Vista, California in 1980. Media please feel free to publish this photo and please give photo credit to Scott Daloisio. After his racing career ended, Howard remained active in the sport working with his late father Glenn at So. Cal Performance in Downey. In addition to supplying racers with parts, competitors always looked to the longtime driver for helps on setups as well. Over the past decade, he was instrumental in getting the Louie Vermeil Classic off the ground at the Calistoga Speedway in Northern California and he raised thousands of dollars every year for the Glenn Howard Memorial race, which was named after his father. Howard was also a noted authority on the history sprint car racing in Southern California and his vast knowledge was considered second to none. In addition to his funeral, a celebration of his life is planned. Details including the time and place will be released within the next few days. The Forest Lawn Memorial Park in Cypress is located at 4471 Lincoln Avenue. 12/19
Rumble Series)A familiar face will be absent when the 17th annual "Rumble in Fort Wayne" unfolds Dec. 26-28 at the Memorial Coliseum Expo Center. David Lesiecki, 47, a longtime race official and coordinator of the quarter midget division, died unexpectedly in March at his Lorain, Ohio, home. He will be remembered with the creation of the David Lesiecki Award, which will be presented annually to a Rumble driver who best exemplifies the spirit and dedication to racing that was his trademark. Press Releases12/19
USAC)USAC's preliminary 2015 National racing schedules were distributed at the annual Performance Racing Industry trade show in Indianapolis, Ind. and continue to be formulated for what promises to be a spectacular 60th season of USAC competiton. The Silver Crown, AMSOIL National Sprint Car and Honda National Midget schedules are projected to include more than 75 total events in 15 states, beginning with six "Winter Dirt Games" Sprint races in Florida. USAC's 2015 National calendar will conclude with the November 26 "Turkey Night Grand Prix" Midget race at Perris, Calif. USAC 12/19
Joey Saldana)As Joey Saldana visited California and the Tarlton family to purchase an RV, conversation about the Chili Bowl arose, and at the end of that conversation Saldana had landed Tarlton and Son Inc. as the title sponsor of his midget. "I was in the right place at the right time, and could not be more thankful for everyone at Tarlton and Son Inc.," Saldana said. "Tommy and myself got to talking about the Chili Bowl, and soon enough the Tarlton and Son Inc. No. 21 midget was born." Press Releases12/19
Trenton NJ)The transformation of the stark concrete slab that is the floor of Trenton. N.J.'s Sun National Bank Center into a highly competitive tenth-of-a-mile speedway began Wednesday, December 17 and is nearing completion as of Thursday afternoon, December 18. Press Releases12/19
Ohsweken Speedway ONT)Following their big announcement of the Triple Crown Showdown, Ohsweken Speedway officials are excited to announce another addition to the 20th anniversary schedule. The first bricks will be laid in the Ohsweken Speedway Wall of Fame next season as the track celebrates the past, and looks forward to the future. Press Releases12/19
Robbie Farr)Robbie Farr and the ECP Racing Team turn their attention to home soil this Saturday as they compete at Premier Speedway Warrnambool fresh off a dominating performance in New Zealand over the last two weeks. Farr wound up the ECP Team's blitzkrieg run at Western Springs and Palmerston North Speedways in the Porter Hire International Series with the overall team win for Australia (pairing with James McFadden) and the Man of the Series award. Press Releases12/19
Wednesday December 17th 2014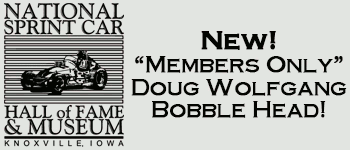 If God wanted us to fly, He would have given us tickets. Mel Brooks
11:45pm
PRESS...
Tracks/Manufacturers
Column)"Jack's Place – A Saturday in December in Florida " by Richard Golardi Florida Open Wheel 12/17
Lucas Oil Chili Bowl)Construction of the Tulsa Expo Raceway is underway with the 30th annual Speedway Motors Tulsa Shootout just over two weeks away. Happening December 31, 2014 through January 3, 2015, the entry list has grown to over 800 in the last week. A marque event event for rising stars, the event that gave birth to the Chili Bowl has become a vital test session for several Golden Driller Hopefuls. ASCS12/17
Tulare Thunderbowl Raceway CA)The always exciting Tulare Thunderbowl Raceway has officially released its 2015 schedule of events, highlighted by 11 total nights of racing on eight different weekend's this coming season. As usual the year begins with a two-night show featuring the World of Outlaws STP Sprint Car Series on Friday & Saturday March 13 & 14. To add more lure this season is the fact that the event will be co-sanctioned by the King of the West 410 Sprint Car Series, which guarantees an outstanding field of Winged 410 Sprint Cars during the weekend. Also competing both nights will be the always entertaining USAC West Coast Wingless 360 Sprint Car Series. Press Releases12/17
Trenton NJ)A tight, action-packed time schedule will govern the running of The Battle Of Trenton II Indoor Races, set for this weekend, Friday and Saturday, December 19 and 20. The Len Sammons Motorsports Productions produced program racing events currently list 68 TQ Midgets, and 24 Slingshots and Champ Karts each - full fields - for the two days of action. Press Releases12/17
CRASH PAD) Sit on THIS... and take the shock out of a Sudden Impact. A quick stop of your car can Break your Back but at quick stop at www.802solutions.com can Reduce your Risk of Spinal Injury. Order a CRASH PAD online or find a list of dealers at the website.12/17
4:45pm
PRESS...
Tracks/Manufacturers/Drivers
NSCHOF)The winning ticket for the brand-new, state-of-the-art 410-cubic-inch Rider-powered, Maxim sprint car number 10, to be raffled off by the non-profit National Sprint Car Hall of Fame & Museum Foundation, Inc., will be drawn by museum board member Mike Husted on Friday, December 19, at the museum in Knoxville. The lucky grand prize winner will be phoned immediately and his/her name will be released to the public shortly thereafter in a press release, on www.sprintcarhof.com and via Facebook and Twitter. Press Releases12/17
Team ILP)Inside Line Promotions is offering a unique opportunity during the 2015 racing season. The public relations company will sponsor press releases for one motor sports competitor throughout the season. The free package also includes advice about marketing, sponsorship, social media and media relations. Press Releases12/17
Trey Starks)Trey Starks has big plans for 2015. Starks will kick off the year by racing approximately a dozen times in Australia this December and January. It will mark his second straight year with a visit to the country. "I will be in my own equipment in Australia so the only thing to adjust to will be the tracks," he said. "I learned a lot a year ago when I went there so I'm looking forward to applying that knowledge this winter." Press Releases12/17
Christopher Bell)After finishing off his asphalt season in strong form in the recent Snowflake 100, Christopher Bell is set to finish off a fast-paced 2014 with Saturday night's POWRi Midget "Battle at the Center" in Du Quoin, IL. Saturday's fifth annual event at the Southern Illinois Center will mark Bell's 108th event of a year in which he has already racked up 27 feature wins. Press Releases12/17
Champion Oil)Champion Oil, a major player in development and manufacturing of specialty racing and performance products, announced today that RK Motors Charlotte is their newest Master Warehouse Distributor featuring Champion Classic and Muscle "Purpose-Built" Motor Oils as well as additional Champion Lubricants, Chemicals, Additives and Motor Oils. Press Releases12/17
Canyon Speedway AZ)Longtime supporter of Canyon Speedway and the USAC Southwest Sprint Car Series, E&K of Phoenix, will offer up a $5,000 bonus to the top five 2015 USAC Sprint Car Winter Challenge series point earners plus the Winter Challenge "Most Valuable Racer". The Winner of the E&K Winter Challenge five race series will pick up an additional $2,000 while second place will take home $1,000. The remaining of the top five will earn $750, $500 and $250 respectfully while the lowest point earner of the series who starts all five A-Features will be awarded the E&K Winter Challenge "Most Valuable Racer" award and $500. Press Releases12/17
Doug Day)November 26, 1945 to December 14, 2014 - Winder, GA – Funeral arrangements for retired sprint car racer Douglas Allen Day, 69 years of age will be held at Smith Funeral Home in Winder, GA on Monday, December 22nd. Visitation will be held from 10:00am – 11:00am. Doug Day's Life Celebration will follow at 11:00am. Smith Memory Chapel is located at 755 Atlanta Highway SE, Winder, GA 30680 The Smith Memory Chapel phone number is 770)-867-4553. Doug Day died Sunday, December 14, 2014. Doug was born November 26, 1945 in San Diego, California but spend most of his life in Georgia, most recently in Winder. Doug was well-known in the racing world and will be remembered for mentoring many young drivers to success. He loved traveling the country to compete on different tracks and spreading his knowledge of racing to others. In lieu of flowers, donations may be made to Parkinson Research Foundation, www.parkinsonhope.org, 5969 Cattleridge Blvd., Suite 100, Sarasota, FL 34232 12/17
POWRi)NASCAR Sprint Cup driver Rickey Stenhouse Jr. will return to his short-track, open-wheel roots Saturday to race in the fifth annual Great Clips Battle at the Center presented by K & N Filers on the one-sixth Mini-Magic Mile at the Southern Illinois Center on the grounds of the De Quoin State Fair. Press Releases12/17
Isaac Schreurs)56 Inc., owned by Shane Hmiel and Levi Jones, is proud to announce that Isaac Schreurs will drive their No. 56 entry in the fifth annual Great Clips Battle at the Center at the Southern Illinois Center in Du Quoin, Ill. on December 20th. The pairing of Hmiel and Schreurs has special meaning to both men, both of whom suffered tragic accidents and have worked hard to overcome daunting challenges to find success in racing – Schreurs as a driver and Hmiel as a car owner. Press Releases12/17
Tuesday December 16th 2014

Women. They are a complete mystery. Stephen Hawking
5:00pm
PRESS...
Tracks/Sanctions/Drivers
Jonathan Allard)Over the last week in New Zealand, Jonathan Allard represented the USA with Kraig Kinser, as they took on Australia's Robbie Farr, and James McFadden as well as New Zealand's Dean Brindle and Jamie McDonald in the Porter Hire International Three-Race Series. "It was a tough week for us, but we showed some speed, we just did not get the results we were looking for," Allard said. Press Releases12/16
Cocopah Speedway AZ)Long-time sprint car fans Glen and Kim Hanson have stepped up to sponsor the Hard Charger Award at the Jan. 6 race during the inaugural Winter Heat Sprint Car Showdown. The driver who passes the most cars in the main event that night will receive a $2,000 bonus thanks to the Hanson's generosity. "(We wanted) to help Greg make this a successful premier event," said the Hansons, who own Here 2 Wire Inc. - an electrician business in Lake Stevens, Wash. "It provides the opportunity to bring together some really great talent to one venue. What a great way to start the new racing season, seeing an awesome field of 410 sprints that includes quality drivers and race teams. It doesn't get much better than that." Press Releases12/16
360 Winged Power Rankings)Fresh on the heels of a fifth career ASCS National championship, Louisiana native Jason Johnson escaped with the top spot in Rod End Supply Winged 360 Sprint Car Power Rankings for the second year in a row. After taking the number one ranking by just 26 points over Johnny Herrera in 2013, it once again came down to the final weekend of racing action. Press Releases12/16
Trone Outdoor Motorsports)Trone Outdoor Motorsports is pleased to announce theirreturn to the local speedway circuit, (home of the PA Posse) and to the start of their 2015 schedule for the 410 Sprint Car Season. John Trone had experienced some major health issues during the 2013 season, and decided it was best to take a year off, to get his health stabilized. The Trone Outdoor Motorsports #39 will kick off the season on February 21st for the Icebreaker at Lincoln Speedway, located in Abbottstown, PA. Press Releases12/16
Dirt Classic)After a stunningly successful event in 2014, it should come as no surprise that The Dirt Classic will be returning to Lincoln Speedway in 2015. The marquee event has been scheduled for Saturday, September 26, 2015 with a rain date of Sunday, September 27th. "The success of the inaugural Dirt Classic had quite a bit to do with Alan Kreitzer and the entire Lincoln Speedway team," Jarrod Adams said. "That's why we're really excited to return to Lincoln in 2015, and announce some exciting improvements to the event." Central PA 12/16
United Racing Club)The United Racing Club will join in on the fun during this years running of the $3,000 to win 'Turnpike 25' on Thursday June 11. Last years very successful 'Turnpike 25' was won by Davie Franek. Davie won over a field of 25 360 sprint cars that turned out to compete on the racy 7/16th-mile D-Shaped New Egypt Speedway. The United Racing Club will work closely with Lucas Oil Empire Super Sprints official Dean Reynolds, who guided the 2014 version of the 'Turnpike 25'.
Lucas Oil Chili Bowl)As construction of Tulsa Expo Raceway begins, the entry list for the 29th annual Lucas Oil Chili Bowl Nationals presented by General Tire has swelled past the 200 mark with 206 entries confirming 194 drivers. Among the latest wave of drivers are half-dozen Golden Driller winners as four-time champion, Kevin Swindell, has entered along with five-time champion, Sammy Swindell, in what could possibly be the Tennessee veteran's final Chili Bowl appearance. The elder Swindell's 25th Chili Bowl appearance, Sammy leads the list of feature starts with 21 to his credit. ASCS 12/16
Drouin Speedway AU)Drouin Speedway came alive for the last time before Christmas & under a beautiful blue sky, visiting divisions Wingless Sprints & SDAV Hot Rods joined club divisions for all levels of Standard Saloons along with VSC Open Sedans with Tony Moule driving a Wingless Sprint owned Drouin Speedway Club President Larry Evans taking a win in his division whilst Phil Jenkins won the 'Legends Cup' for the Hot Rods that was postponed from last season. Press Releases12/16
Monday December 15th 2014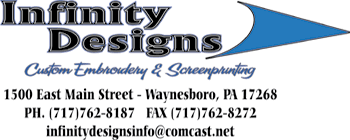 Self-education is, I firmly believe, the only kind of education there is. Isaac Asimov
9:00pm
PRESS...
Tracks/Sanctions/Drivers
Joe Hunt Series)After a very successful run under Roger Gleason and the Joe Hunt Magnetos staff, the Joe Hunt Magnetos Sprint Car Series will move forward under the direction of the Prentice Motorsports Group for 2015 and beyond, and PMG is excited to unveil an 11-race schedule for the popular series. King of the West 12/15
WAR)As the Impact Signs Awnings & Wraps WAR Sprint Car Series looks to their 4th season in 2015, they're beginning to attract a lot of attention. With 83 different drivers competing with the series in 2014 at 9 different tracks throughout the Midwest, it's safe to say non wing sprint car racing is alive and well!! Series Director Andrew Korte announced today in a broadcast from the Keizer Wheels booth at PRI in Indianapolis, IN that not only would WAR be expanding their reach in 2015 by starting a new region in IL, but were also happy to announce a partnership agreement with the nations best LED display manufacturer NEXT LED. Press Releases12/15
Tyler Thomas)Tyler Thomas will race on the one-sixth Mini-Magic Mile at the Southern Illinois Center for the fourth time Saturday in the fifth annual Great Clips Battle at the Center presented by K & N Filters, a non-points event organized by the POWRi Lucas Oil National Midget Series. The 18-year-old from Collinsville, Okla., will be attempting to continue the considerable success he's had on the indoor track at the Du Quoin State Fairgrounds. Press Releases12/15
Perris Auto Speedway CA)Are you still looking for a Christmas present for that special racing person in your life? Why not get them a package with the Kenny Wallace Dirt Racing Experience at Perris Auto Speedway. The longtime NASCAR racer has booked the famous Riverside County clay oval for two dates, April 4th and April 19th, in 2015. Press Releases12/15
King of the West)The King of the West 410 Sprint Car Series has officially released its schedule of events for the upcoming 30th anniversary season, which showcases 18 full point events at 10 different venues, along with a pair of co-sanctioned weekends for the first time ever with the World of Outlaws STP Sprint Car Series. King of the West 12/15
USAC)The USAC Western Banquet will be held February 7th at the Woodland Auto Display in Paso Robles, California. The Amsoil USAC/CRA Sprints, USAC West Coast Sprints, USAC Western Classic Sprints, Honda USAC Western Midgets, and the USAC Western HPD Midgets will be honored. Details and information are on the attached flyer.12/15
2:00pm
PRESS...
Tracks/Sanctions/Drivers
Ian Madsen)After his scheduled opener was rained out just one week ago, Ian Madsen and his G&B Goodyer Developments team hit the track on Saturday night at the Brisbane International Speedway, and ended their night in victory lane. "It's the best you can start," Madsen said with a smile. "We still have a little bit of work to do, but to start the way we did, and improve as the night went on, is a huge testament to this team." Press Releases12/15
Civil War Series)After a very competitive 2014 season, the first with under the guidance of the Prentice Motorsports Group, The Civil War Series and PMG are pleased to announce a 14-race schedule, at eight different tracks, on tap for what looks to be another exciting season. "We are really pleased with the way the schedule came out for 2015," John Prentice, President of PMG said. "We have the traditional Civil War dates fans have grown accustomed to seeing, and we also have a couple of new events we are excited about." King of the West 12/15
Cocopah Speedway AZ)Pennsylvania will be well represented during the inaugural Winter Heat Sprint Car Showdown. Several teams based in the land of the PA Posse will trek across the country to tackle the five-race event at Cocopah Speedway Jan. 2-3, Jan. 6 and Jan. 9-10. Press Releases12/15
Danny Reidy)It certainly wasn't Danny Reidy's strongest run of the 2014-15 season, but he managed to fight his way through what was a frustrating night at Brisbane's Archerfield Speedway. After a poor start, where he qualified 23rd out of 32-car field in time trials, Reidy had his back up against the wall for the remainder of the night. By virtue of winning both of his heat races, he managed to qualify for the feature race out of position nine. Press Releases12/15
Doug Day)Sad news today as retired United Sprint Car Series racer and friend Doug Day from Winder, Georgia has passed away. Day raced for over a decade with the United Sprint Car Series on dirt and paved ovals. Doug Day had previously raced sprint cars in Central Pennsylvania and South Florida. He also campaigned midgets and had raced as a driver and car owner in the Chili Bowl midget event in Tulsa. He was one of the founding owners of PRO Shocks in Atlanta. "Doug had been battling with Parkinson's disease. United Sprint Car Series founder and President, Pete Walton said. Doug Day was one of a kind. He was a talented driver and suspension man. He actually drove my cars as a team mate when I raced on several occasions with success on pavement. He especially did well on pavement where he his style in later years seemed to fit in well. He also joined me teaching several pavement driving and set-up clinics to help young drivers get started in the right direction" concluded Walton. Day was a friend to many in the Southeastern racing community. His health kept him away from the track most of the time over the last year. He will be missed by many. As soon as arrangements are made known to us we will let everyone know. God Speed Doug and Rest in Peace.12/15
Sunday December 14th 2014
Take time to deliberate, but when the time for action has arrived, stop thinking and go in. Napoleon Bonaparte
11:00pm
PRESS...
Tracks/Sanctions/Manufacturers
Premier Speedway AU)If you're a Sprintcar Fan we certainly hope you don't have your Christmas Party booked for this coming Saturday night, because with a Red Hot 60 car field all headed for Sungold Stadium, Premier Speedway, Warrnambool along with nearly 40 Formula 500's, the only place to be for some festive cheer is right here at the races! Press Releases12/14
National Sprint League)The latest three drivers to sign up with the National Sprint League in its Minnesota headquarters include seven-time IRA champion, Bill Balog, 410 newcomer Brandon Stevenson and seventeen year old, Chris Martin. NSL member benefits include reduced pit passes, contingencies and much more! National Sprint League 12/14
Port Royal Speedway PA)Season passes and seats for the 2015 Port Royal Speedway racing season continue to be on sale. And you still have time to get your orders in before Christmas in order to give that special race fan in your life a gift that will last the entire 2015 racing season. A season reserve seat for all oval racing events on the 2015 schedule including the exciting fairweek races in 2015 will again cost just $50.00. This pass reserves seats only and is not good for general admission to any events during the upcoming season. Central PA 12/14
CRASH PAD) A Gift for your Back! Besides absorbing crash impacts, it just makes your seat more comfortable. It makes sense to Reduce your Risk of Spinal Injury, there's no reason not to. Put a CRASH PAD on your Christmas List or get one for your driver. Find lots of Dealers at www.802solutions.com or order online. 12/14
SA Sprintcars)Last night the South Australian Sprintcar drivers hit the highway for the longest road trip on the 2014/15 QSS SA Sprintcar Shootout tour but it was a driver who travelled no more than 10 mins to the race track who emerged the victor as Dylan Jenkin won this third feature event of the five rounds contested. Press Releases12/14
Saturday December 13th 2014
Never interrupt your enemy when he is making a mistake. Napoleon Bonaparte
11:45pm
RESULTS...
Bubba Raceway Park FL)Top Gun Sprints....1 6 82 Matt Kurtz 2 2 24 Danny Martin, Jr. 3 3 83 Mark Ruel, Jr. 4 5 14 Tyler Clem 5 1 38 Tony Agin 6 9 11 Brett Odonnell 7 10 28 Bryan Eckley 8 13 36 Ken Laureno 9 8 17C Aileen Collins 10 7 02 Gene Lasker 11 12 44A Mike Steinruck 12 11 G6 Brandon Grubaugh 13 4 22 Shawn Murray 12/13
PRESS...
Tracks/Sanctions
USAC)USAC National driving champions Kody Swanson, Brady Bacon and Rico Abreu shared the spotlight along with other 2014 USAC champions and special award recipients at Friday night's 59th USAC "Night of Champions" celebration at the Indiana Roof Ballroom in downtown Indianapolis, Ind. USAC 12/13
USAC)The United States Auto Club and Loudpedal Productions, based in Southern California, have announced an association which will involves all video assets of USAC and provides unprecedented access to USAC's current and historical video archives beginning in 2015. A new distribution portal will be provided in February of 2015 which will contain not only historical footage but weekly next-day coverage and selected pay-per-view live events. USAC 12/13
OCRS)If you would like to be involved with an exciting sprint car racing organization, the Tulsa Oklahoma based "AmeriFlex Hose & Accessories / Oil Capital Racing Series" has sponsorship opportunities available for the 2015 racing season. There are programs available for all types of exposure and budgets. If you would like to make an inquiry about being a part of our growing series in 2015, contact us for available options. ALL inquires will be confidential. OCRS is entering it's 14th year of sanctioning sprint car racing with events being held in Oklahoma, Kansas, Missouri and Texas. AmeriFlex Hose and Accessories is entering their 6th season as a sponsor of the OCRS series. 2015 will be AmeriFlex's first year as the title sponsor for OCRS. Inquires can be made by contacting: John Lemon Phone: 918 850-5341 Email: ocrsracing@gmail.com 12/13
PPB Motorsports 2015)The Ms. Motorsports Pageant, a major part of the Pioneer Pole Buildings Motorsports 2015 Presented by Sunoco Racing Fuels Distributed by Insinger Performance Race Car and Trade Show, is taking on a new sponsor. Oliver Construction Enterprises, owned by Modified stock car racer P.J. Oliver, will be the primary sponsor of the very popular pageant. Press Releases12/13
PPB Motorsports 2015)Two of the most famous race cars that were part of Richard Petty's outstanding NASCAR racing career will be part of the Pioneer Pole Buildings Motorsports 2015 Presented by Sunoco Racing Fuels and Distributed by Insinger Performance Race Car and Trade Show set for January 23rd through January 25th at the huge Greater Philadelphia Expo Center conveniently located in Oaks, PA. Press Releases12/13
Friday December 12th 2014
Peter: Oh my god, Brian, there's a message in my Alphabits. It says, 'Oooooo.'
Brian: Peter, those are Cheerios.
Family Guy
10:30pm
PRESS...
Drivers/Tracks/Sanctions
National Sprint League)The National Sprint League is proud to welcome Brown & Miller Racing Solutions as their partner in the "3 for 3 Award" in 2015! Any driver finishing in the top three in three consecutive races is eligible for the award, and will receive a $333 gift certificate from Brown & Miller Racing Solutions! National Sprint League 12/12
Jason Johnson)Jason Johnson Racing (JJR) is excited to fulfill a dream, by competing with the World of Outlaws STP Sprint Car Series for the upcoming 2015 season. In order to attack the challenge of racing against the BEST in the business, Jason and the team have partnered with their committed sponsorship partners: Priority Aviation Services LLC; Mesilla Valley Transportation (MVT); Fischer Body Shop; Waco Metal; Saich Family and Dissolvalloy Frac Ball Revolution to kick off this journey of competition and success against the most formidable sprint car competition in the world. Press Releases12/12
Cocopah Speedway AZ)NASCAR sensation Kasey Kahne is giving sprint car fans a rare gift soon after the holidays. Kahne has confirmed that he will compete throughout the inaugural Winter Heat Sprint Car Showdown at Cocopah Speedway on Jan. 2-3, Jan. 6 and Jan. 9-10. Kahne will pilot the Kasey Kahne Racing No. 9 sprint car sponsored by Great Clips. "It means a lot to sprint car racing to have a guy like Kasey Kahne involved," Cocopah Speedway Director of Operations Greg Burgess said. "To have him backing the Winter Heat Sprint Car Showdown is a big deal and we can't wait to see him back in a sprint car for five nights." Press Releases12/12
Renegade Sprints)Teams are busy building new race cars and enjoying rare family moments as the offseason is in full swing throughout the country.
Things are no different in the cold region that includes Ohio, where a dozen drivers are preparing to compete full time with the Renegade Sprints next season.
"Everyone knows the names Tim Shaffer, Greg Wilson and Chad Kemenah, but we are very excited about the young and upcoming drivers who are committed to the series," Renegade Sprints President Shane Helms said. "The future of the sport looks bright." Renegade 12/12
Oswego Speedway NY)When Oswego Speedway celebrates its 65th anniversary on August 8 of the coming racing season, not only will fans be invited into the grandstands for only $5, they will also be treated to two former Oswego Supermodified traditions – semi-final qualifying, and the 45-lap feature event. Press Releases12/12
Thursday December 11th 2014
"We couldn't get played on FM rock or country radio. Now the Burritos are more popular than ever. Who knew?" -Chris Hillman
11:50pm
PRESS...
Drivers/Tracks/Sanctions
Lucas Oil ASCS)The Lucas Oil ASCS 2015 schedule is out and starts with 5 nights of action in the state of Florida.ASCS 12/11
Premier Speedway AU)Two of Oklahoma's finest Sprintcar exports have both signaled their intentions to be at the 43rd Lucas Oil Grand Annual Sprintcar Classic with both men determined on greeting the chequered flag when it falls on the 40 lap Classic final! Despite there being a gulf in experience between both Daryn Pittman and Christopher Bell, both have amazing respect for each other, with Pittman in particular all to aware of the talent that Bell possesses. Press Releases12/11
Eagle Jet Top Gun Sprints)Top Gun Sprints will be at Golden Isles Speedway in GA on February 14th & 15th paying $2,000 to win each night.12/11
Bubba Raceway Park FL)The Lucas Oil ASCS sprint car series has been added on February 27th & 28th. 12/11
PPB Motorsports 2015)A large number of auto racing fans just happen to be fans of the National Football League and in the Philadelphia area the majority of attention is focused on the Philadephia Eagles who are enjoying an outstanding season. Press Releases12/11
Christopher Bell)Christopher Bell of Norman, Okla., will be going for his 28th victory to close out a remarkable year in the fifth annual Great Clips Battle at the Center presented by K & N Filters on Dec. 20 at the one-sixth Mini-Magic Mile in the Southern Illinois Center on the grounds of the Du Quoin State Fair. Press Releases12/11
All Stars)The University of Northwestern Ohio All Star Circuit of Champions has released its 2015 Schedule featuring nearly 50 events in 11 states. The UNOH All Star 2015 season begins with the Florida Winter Nationals which features five $5,000-to-win races at just two tracks over 8 days. Bubba Raceway Park in Ocala, FL starts the UNOH All Star season with three shows, Thursday, Feb. 5, Friday, Feb. 6 and Saturday, Feb. 7. Then the All Stars head to Volusia Speedway Park in Barberville, FL on Wednesday, Feb. 11 and Thursday Feb. 12. Each show pays the standard UNOH All Star purse of $5,000 to win with a breakdown to $1,000 for 10th and $400 to start the A-Main. All Stars 12/11
Florida Open Wheel)"Year on Dirt: Winding Down the 2014 Season, and Looking to 2015's Speedweeks" by Richard Golardi Florida Open Wheel 12/11
3:00pm
PRESS...
Drivers/Tracks/Sanctions
Non-Wing 410 Sprint Car Power Rankings)Robert Ballou emerged from a heated battle for the top spot to come away with the number in ranking in the 2014 edition of the Keizer Wheels Non-Wing 410 Sprint Car Power Rankings. Winless until June 21, the Rocklin, CA, native closed out strong by racking up 11 wins over the last half of the season including a sweep of Perris Auto Speedway's Oval Nationals to secure the number one ranking with a 72-point margin over second. Press Releases12/11
Eagle Jet Top Gun Sprints will close the 2014 season at Bubba Raceway Park on Saturday, December 13th. In appreciation to the drivers, Bubba Raceway Park will be giving each driver a free pit pass. This season has seen a close points race between leader Danny Martin and Mark Ruel, Jr. with only 24 points separating them going into the last race. Ocala driver, Brandon Grubaugh is third followed by Matt Kurtz and A.J.Maddox rounding out the top 5. Pit gates open at 4pm with warmups at 6pm and races starting at 7:00.12/11
Robbie Farr)Robbie Farr has developed a hankering for wins in New Zealand. With two race events already run from the scheduled three Robbie has been undefeated in the Hi-Tec Oils / ECP Racing Maxim and comes into this Saturday night's finale at Western Springs Speedway Auckland sky high with confidence.Press Releases12/11
Tribute To Trostle)Midwest sprint car fans are invited to a celebration for the legendary career of sprint car builder, mechanic, and owner Bob Trostle on Saturday, Jan. 31 at Knoxville Raceway. Bob will be joined by many of his former drivers for an evening of bench racing and interviews at the Tribute to Trostle, a benefit to celebrate the racing career of Bob Trostle. Press Releases12/10
Trenton NJ)With a full field of seventy Three Quarter Midgets ready to 'Battle' in 'Trenton' on Friday and Saturday, December 19, and 20, 2014, Len Sammons Motorsports Productions (LSMP) has decided to fill the grandstands to capacity as well by offering an advance purchase discount ticket sale that kicked off today, December 10, and will last through Saturday, December 13. Press Releases12/10
31st Annual Sioux Falls SD. Swap Meet Sat.Jan.10,2015 Hours 8 am to 3 pm Booths 10x10 north room $60, 10x10 south room $40, car corral $20. Set up Fri. 9 am to 8 pm Sat. Starting at 6:30 Questions call or text Bill Lev 605-201-4545 Send payment to Lev Promotions PO Box 1578 Sioux Falls SD. 57101-1578 12/11
Brent Marks Racing)Don't forget the 2nd annual BMR fundraiser is January 10th from 6-11pm at the American Legion in Dillsburg, PA.12/11
Wednesday December 10th 2014
Cruel leaders are replaced only to have new leaders turn cruel. Che Guevara
3:00pm
PRESS...
Drivers/Tracks/Sanctions
National Sprint League)A busy Fair Week for the National Sprint League just got a little busier! Tuesday, July 21 will see the NSL invade the Hancock County Speedway in Britt, Iowa. The 4/10-mile oval has seen some great sprint car racing in the past and promises to offer the same in July!
Florida Open Wheel)Link for race video from Richard Golardi: http://youtu.be/tb7WsNlTT9I "YouTube video - Top Gun Sprint Series at East Bay Raceway Park, 12-6-2014", feature race video from Gibsonton, FL" 12/10
Column)Camisha Miller has an interview with Kristen Knab Woodring.National Sprint League 12/10
Frontrow Challenge/NSL)An already prestigious event just got a lot bigger! In honor of its 20th Anniversary, the Casey's General Stores/Musco Lighting Front Row Challenge presented by Don Long's Searsboro Telephone Company at the Southern Iowa Speedway in Oskaloosa, Iowa will now pay $20,000 to win! In addition, a number of bonuses and contingencies could make the winner's share much more! The event will be held on Monday, August 10. Press Releases12/10
Heffner Racing)As friends and family are gathering together to celebrate the holidays Mike Heffners team, Heffner Racing Enterprises, are working hard getting two cars ready for the 29th annual Lucas Oil Chili Bowl Nationals. "I'm confident with the team combination we have for this year," said Heffner. "We're going out there to win and have some fun." Press Releases12/10
Oswego Speedway NY)Oswego Speedway is pleased to welcome back Corr/Pak Merchandising as a partner in 2015, joining on as a presenting sponsor of the highly anticipated Port City 160 'Super Spectacle' featuring a Supermodified double header with the winged ISMA Supermodifieds and the non-winged Novelis Supermodifieds competing on the same night at the 'Home of the Supermodifieds' on Saturday, May 23. Press Releases12/10
Ohsweken Speedway NY)Ohsweken Speedway officials are proud to announce the return of Nathan Ackland State Farm Insurance in 2015 as official sponsor of the $150 "Top Gun" award, given to the Corr/Pak Merchandising 360 Sprint Car driver with the highest heat race passing points total each night. Press Releases12/10
360 Power Rankings)Make it two in a row for R.J. Johnson, as the Phoenix racer captured the number one spot in Beaver Stripes Non-Wing 360 Sprint Car Power Rankings for the second year in a row.RJ NW360 Champ After battling for the top ranking with fellow USAC Southwest competitors Josh Pelkey and Charles Davis, Jr., over the first half of the season, Johnson broke away from the pack to ultimately take the top ranking with a 114-point margin. Press Releases12/10
Oswego Speedway NY)Seven-time Oswego Speedway Novelis Supermodified track champion Otto Sitterly will be appearing in the SPEED SPORT booth to sign autographs and greet fans on Friday at 11 a.m. as a part of the Performance Racing Industry trade show in Indianapolis, IN. National Speed Sport News is America's trusted motorsports news source since 1934, and is often described as "The Bible of Motorsports." Press Releases12/10
NMDOTY)"Midget Racing History "Talk" scheduled during Chili Bowl" Event again slated on Thursday January 15 Eighty-two years of midget auto racing history, lunch and door prizes, highlight the 2nd annual Midget Auto Racing Historical Lecture taking place during the Lucas Oil Chili Bowl Midget Nationals on Thursday morning January 15, 2015. The event will again be held in the Media Room located inside the credentials office, at the main entrance to the River Center Expo Center (by the Golden Driller).Press Releases12/10
Tuesday December 9th 2014
It's not whether you get knocked down, it's whether you get up. Vince Lombardi
11:00pm
PRESS...
Drivers/Tracks/Manufacturers/Sanctions
1:00pm
PRESS...
Drivers/Tracks
Ryan Jones)After spending the last couple of weeks racing in Western Australia Ryan Jones returned to his home track at Murray Bridge on Saturday night to contest the South Australian Sprintcar Championship and for the second time in his career he recorded a podium result in the event. Having previously finished third in the State Title, behind Steven Lines and American Craig Dollansky, Jones went one better as he finished a close second to eventual winner Brad Keller. Press Releases12/9
Chad Boespflug)Confirmed earlier this week, Chad Boespflug is pleased to announce he will pilot the Bill Ecker Owned R.A.B. Racing #57 midget for the second consecutive year at the 2015 Chili Bowl Nationals. The opportunity to return behind the wheel of a midget and compete with the best across the world in midget competition at the most prestigious race of the year for them is an opportunity you can't pass up. Boespflug quickly replied yes when he was asked to return with R.A.B. Racing again this year. Press Releases12/9
Oswego Speedway NY)As Christmas time draws near, Oswego Speedway is offering several 'Steal Palace' holiday savings specials including savings options on merchandise and discounted rides in the Speedway's 2-Seat Supermodified through December 23. Press Releases12/9
Monday December 8th 2014
I hate leaving home. I love what I do, but I'd love to go home every night. Charlie Watts
11:00pm
PRESS...
Drivers/Tracks/Manufacturers/Sanctions
3:30pm
PRESS...
Drivers/Tracks/Manufacturers/Sanctions
Sunday December 7th 2014
"Yesterday, December 7, 1941 — a date which will live in infamy — the United States of America was suddenly and deliberately attacked by naval and air forces of the Empire of Japan." Franklin D. Roosevelt
11:30pm
PRESS...
Drivers/Tracks/Manufacturers/Sanctions
Trail Way Speedway PA)A full house of drivers, crew members, and personnel gathered to celebrate the conclusion of a successful 42nd racing season at Trail-Way Speedway. "Some of you have been racing for a year, others for 30 years. You will look back on the fun times you had at the races." said Brad Hostetter, Trail-Way Speedway's secretary and race coordinator, "Thank you for your support." Central PA 12/7
Williams Grove Speedway PA)Williams Grove Speedway has announced its 2015 schedule of events with Opening Day races set for Friday, March 27 at 7:30 pm, featuring the 410 sprint cars and the exciting super late models. The season will be bookended with visits by the super late models as the once-regular Williams Grove division takes part in the opener and than again in the season finale in October. Central PA 12/7
AL Drive Line) For those of you attending PRI this year, be sure and stop by the BR Motorsports booth #1909 and check out our latest coated 32 spline fabricated titanium drive shafts. For more information on the finest drive shafts available for sprint car racing, go to www.ALdriveline.com 12/7
Sprintcar All Stars AU)The Mainline DynoLog Dynamometers All Star Series was once again beaten by rain at Heartland Speedway but this time teams didn't even get on the track. After what was shaping up to be a great night with 26 cars lined up in the pits for the final round of the King of the River the storm clouds rolled in and put an end to the night before it even got started.Press Releases12/7
Column)Ron Rodda has some history and facts about the home of Winter Heat this January, Cocopah Speedway AZ. From the Grandstand 12/7
USCS)Engler Machine and Tool fuel injectors powered five of the top ten United Sprint Car Series presented by K&N Filters sprint car drivers to the top echelon in the USCS National point standings during the 2014 season including eleven-time and 2014 USCS National Champion, Terry Gray. Additionally six different drivers used Engler fuel injectors to win twenty-one of the thirty five USCS sprint car main events or 60% of the time. The top five drivers in the USCS Southern Thunder Tour regional series point standings also all used Engler fuel injection. USCS 12/7
Davey Heskin)B&D Promotions The finishing touches have been put on a deal for Davey Heskin to drive for B&D Racing during the peak season of international races in Australia. Heskin was contacted by Brodie Tulloch via Facebook where discussions commenced about arrangements for Davey to come and race for the team. The details were finalised after a few messages and phone calls shortly after followed by the purchase of airfares and travel arrangements.Press Releases12/7
AHG Sprintcars AU)PLAYING his Joker card at the start of the night proved handy for Daniel Harding when he contested round 6 of the AHG Sprintcar Series at the Perth Motorplex on Saturday night. Harding, along with Lee Nash and Darren Mewett signalled they wanted to play the Joker at the drivers meeting, meaning they double their points for that round of racing. Press Releases12/7
3:00am
RESULTS...
WA Sprintcars AU)JASON Kendrick is the WA Sprintcar Champion for the 2014-15 season after winning the prestigious event at the Perth Motorplex on Saturday night. Kendrick started from pole position and led all 30 laps to win his second championship, this time from the fast-finishing Californian Kyle Hirst and Brooke Tatnell. Race Results 12/7
East Bay Raceway FL)At East Bay Raceway on Saturday night feature winners on the 1/3-mile clay oval it was Danny Martin, Jr. winning the Eagle Jet Top Gun Sprints,Race Results 12/7