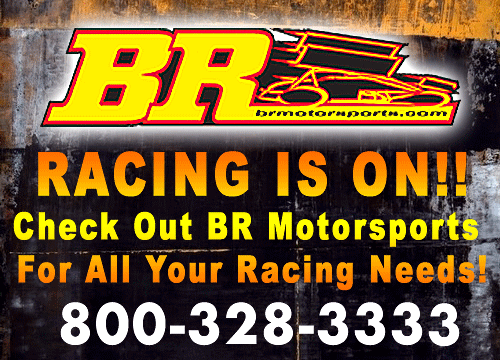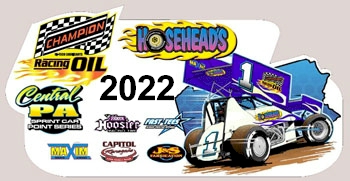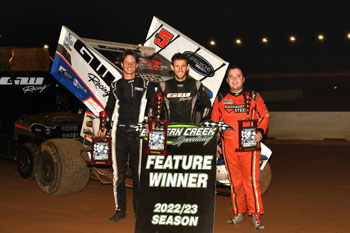 Carson Macedo won the Speedcar A Main at Eastern Creek Speedway on December 3, defeating Michael Stewart and Kaidon Brown. Brock Hallett (centre) won the Sprintcar A Main at Eastern Creek Speedway on December 3, defeating Jackson Delamont (right) and Sammy Walsh. Gary Reid photos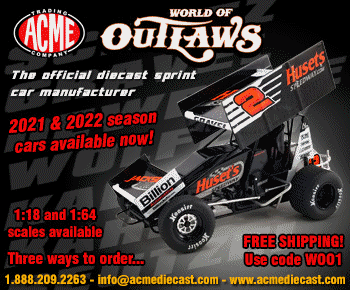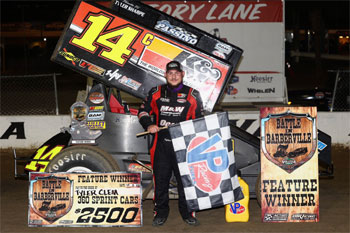 Tyler Clem wins the Battle In Barberville at Volusia Speedway Park FL Friday
.Latest News and Race Results
If you don't see it here yet, check the Message Board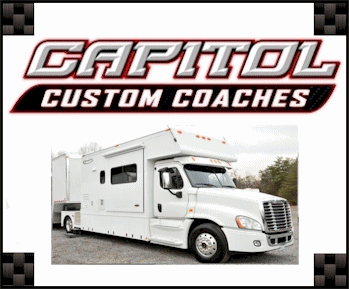 Tuesday December 6th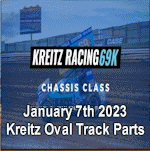 I installed a skylight in my apartment... the people who live above me are furious! Steven Wright
8:00pm
PRESS...
Monday December 5th

Sticking with a marriage. That's true grit, man. Jeff Bridges
10:30pm
PRESS...
Sunday December 4th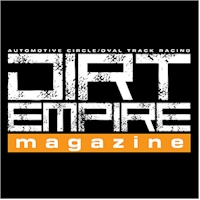 There are so many things that pop up. If you are paying attention, you can learn every second of the day. Life is my guru. Jeff Bridges
10:30pm
RESULTS...
Saturday December 3rd

I knew it was time to get off of reality TV when someone asked me if I sang as well as acted. Ozzy Osbourne
11:30pm
RESULTS...
East Bay Raceway Park FL)5th annual Don Rehm Classic – Shane Butler (14B), A.J. Maddox (3A), Andrew Griffin (32), Brandon Grubaugh (G6), Justin Webster (21), Bryan Eckley (12B), Sheldon Kinser Jr. (17c), Chase Wood Sr. (6), Chase Wood Jr. (27), Scott Baldwin (4), David Kelley (46), Danny Jones (14), Troy Thompson (T15), Johnny Alexander (113). DNS – Steve Diamond (20c), Skip Ferianc (2M) 12/3

Maddington Toyota Series AU)Dayne Kingshott is the new WA Sprintcar Champion. He won the 61st running of the event that took an eternity to complete and had plenty of drama over the 35 lap journey in the fourth round of the 2022-23 Maddington Toyota Sprintcar Series at the annual John Day Classic. Kingshott sat in the shadows of paceman James Inglis for much of the contest at the Perth Motorplex on Saturday night, only to pounce on a late restart and set sail for home, taking the popular win in the Krikke Motorsport W2. Race Results12/3
PRESS...
Grant Sexton)Nine months after it opened the season at the Imperial Valley Raceway, Sexton Gatlin Racing brought the curtain down on its 2022 campaign when Grant Sexton competed in the USAC West Coast Sprint Car Series portion of the 81st Turkey Night Grand Prix at the Ventura Raceway. The historic race was contested in front of a near-sellout crowd and watched by others around the world on the Flo Racing Network. Press Releases 12/3

Chase Johnson)Penngrove, California's Chase Johnson recently wrapped up his 2022 season that was highlighted by multiple wins and several consistent finishes across Winged Sprint Cars, Wingless Sprints and Midgets in the Golden State. Johnson competed in a total of 92 races this season with nine different teams including CB Industries, McClish Motorsports, Quinn Motorsports, May Motorsports, Josh Ford Motorsports, Johnson Racing, Price Vintage Cars, MC Motorsports and Yeley-Petty Racing. Press Releases 12/3

Rumble In Fort Wayne)With less than a month before the 24th running of the Rumble in Fort Wayne presented by Jason Dietsch Trailer Sales (Dec. 30/31), race teams are making final preparations and putting the finishing touches to their machines. For the Midget teams, a $250 incentive has been put forth to put extra car into their presentation. Press Releases 12/3
3:30pm
PRESS...
Western Springs Speedway AU)Midgets...1 #54A Michael Pickens 2 #4A Jack Low 3 #35A Aaron Hodgson 4 #34A Jordan McDonnel 5 #21M Campbell Stewart 6 #12A Mitch Osborne 7 #33A James Cossey 8 #87A Leon Burgess 9 #9M Peter Hunnibell 10 #7A Ben Mathews 11 #9A Trent Way 12 #99A Cole Robertson 13 #97P Karl McGill 14 #95K Mitch Fabish 15 #24A Morgan McHugh 16 #22A James Earl 17 #84A Ben Cometti 18 #16A Ryan Barry 19 #73A Jayedan Basalaj 20 #91M Hayden Guptill 21 #11A Brad Mosen 12/3

Perth Motorplex AU)Wingless Sprints...1 #84 Daran Humfrey 2 #52 Bailey Nash 3 #45 Heydon Hicks 4 #15 Justin Wragg 5 #13 James Bissaker 6 #42 Kodi Clayden 7 #18 Harry Phillips 8 #31 David Worall 9 #76 Blake Scarey 10 #43 Chris Clark 11 #23 Kate Walsh 12 #22 Matthew Fitzgerald 13 #27 Zayne Martin 14 #48 Bradley Howell 15 #24 Brandon Sharpe 16 #73 Darryl George 17 #56 Brendon Wedge 18 #89 Mick Reynolds 19 #32 Kahn Cutts 12/3

Toowoomba Speedway AU)Sprints...1 #17 Luke Oldfield 2 #7 Lachlan McHugh 3 #27 Cody Maroske 4 #66 Ryan Newton 5 #91 Taylor Prosser 6 #54 Randy Morgan 7 #2 Ben Atkinson Jr 8 #51 Tim Farrell 9 #Q10 Adam Butler 10 #49 Cody O'Connell 11 #90 Anthony Lambert 12 #16 Jack Bell 13 #21 Nicholas Whell 14 #97 Tarhlea Apelt 15 #3 Karl Hoffmans 16 #47 Erin Vanderreyden 17 #D40 Josh Fort 18 #24 Tony Bridge 19 #43 Alex Orr 20 #NQ10 Jy Corbet 21 #41 Daniel Bridge Midgets...1 #35 Michael Kendall 2 #22 Scott Farmer 3 #39 Tim Devine 4 #58 Rusty Whittaker 5 #71 Troy Ware 6 #51 Boyd Chaffey 7 #81 Brad Dawson 8 #12 Kody Stothard 9 #17 Brodie Tulloch 10 #15 Darren Dillon 11 #82 Jack Bell 12 #10 Chris Moor 13 #46 Dylan Menz 14 #43 Kaleb Currie 15 #45 Tom Clauss 12/3

Gulf & Western Speedway AU)1 #T 35 Adrian Redpath 2 #T 48 Nick Penno 3 #T 9 Chris Johns 4 #T 55 Jamie Bricknell 5 #T 14 Mark House 6 #T 15 Ethan Wyllie 7 #T 33 Brody Appleby 8 #T 53 Jack Crossin 9 #T 16 Adam Alexander 10 #T 5 Mahtia Bissett 11 #T 20 Tony Clasener 12 #T 25 Jarrod Kent 13 #T 45 Chad Gardner 14 #T 71 Taylor Johnson 15 #T 6 Adam Garwood 16 #T 29 Robin Dawkins 12/3

Eastern Creek Speedway AU)Midgets...1 #N99 Carson Macedo 2 #N51 Michael Stewart 3 #V97 Kaidon Brown 4 #N78 Troy Jenkins 5 #N6 Matt Geering 6 #N97 Matthew Jackson 7 #N11 Jay Waugh 8 #N28 Dean Meadows 9 #N32 Daniel Paterson 10 #N7 Monique Matherson 11 #N63 Mitch Brien 12 #N2z Alan Day 13 #N15 DJ Raw 14 #N40 Dave Lambert 15 #N8 Richard Malouf 16 #N34 Jeffrey Burns 17 #N31 Ethan Brown 18 #N42 Nathan Smee 19 #N47 Ayden Elliott Sprints...1 #Q5 Brock Hallett 2 #N48 Jackson Delamont 3 #N92 Sam Walsh 4 #Q7 Aaron Kelly 5 #N56 Michael Saller 6 #N55 Jessie Attard 7 #NS42 Zac Pacchiarotta 8 #N20 Troy Little 9 #N32 Warren Ferguson 10 #N9 Lachlan Caunt 11 #S98 Chad Ely 12 #N16 Daniel Sayre 13 #N53 Alex Attard 14 #NS57 Brendan Scorgie 15 #Q28 Allan Woods 16 #N54 Grant Tunks 17 #N15 Luke Thomas 18 #N99 Carson Macedo 19 #N10 Luke Stirton 20 #T22 Jock Goodyer 21 #NS65 William Lucas 22 #N57 Matt Dumesny 23 #NS3 Kaidon Brown Wingless Sprints...1 #N41 Jason Bates 2 #V2 Todd Hobson 3 #N59 Brayden Shute 4 #N13 Scott Fitzgerald 5 #N58 Andrew Sayre 6 #N75 Bailey Goodwin 7 #N22 Joel Buettel 8 #N4 Jason Davis 9 #NX37 Jaidyn Boulding 10 #N84 Jarrad Rust 11 #NX48 Tyson Williams 12 #N23 Jamie Dicker 13 #VX50 Luke Weel 14 #NX9 Andrew Seery 15 #N64 Blake Darcy 16 #N14 John McRae 17 #V20 Thomas McDonald 18 #V64 Brittany Schmidt 19 #NX26 Bradley McCarthy 20 #NX47 John Egan 21 #N10 Brian Briton 22 #N63 Peter Granger 23 #NX22 Kyle Ionn 24 #N27 Parker Eveleigh 12/3

Blue Ribbon Raceway AU)Sprintcar All Stars...1 #D26 Todd Moule 2 #V18 Chris Temby 3 #V29 Michael Tancredi 4 #V78 Chris Campbell 5 #V65 Kane Newcombe 6 #V10 Steven Loader 7 #V93 Travis Millar 8 #NT52 Jason Bolitho 9 #VA75 David Donegan 10 #V47 Jeremy Kupsch 11 #VA2 Boyd Harris 12 #V46 Jordan Abbott 13 #V88 Jett Bell 14 #V44 Angus Hollis 15 #SA11 Scot Enderl 16 #NS22 Jarreth Argus 17 #V71 Marcus Green 18 #V73 Charles Hunter 19 #S33 Mark Caruso 12/3

Wangaratta Speedway AU)Eureka Series...1 #VA36 Ashley Cook 2 #VA29 Terry Rankin 3 #V37 Grant Anderson 4 #D7 Matthew Reed 5 #V83 Chris Solomon 6 #T7 Tim Hutchins 7 #V28 Andrew Hughes 8 #V8 Bobby Daly 9 #V7 Paul Solomon 10 #N36 Eddie Lumbar 11 #V63 Kevin Reeves 12 #V15 David Dennison 13 #V75 Mitchell Smith 14 #VA33 Brett Clark 15 #V64 David Aldersley 16 #V9 Jordan Rae 17 #V77 Brayden Parr 18 #V60 Jordyn Charge 12/3

Perth Motorplex AU)Sprints...1 #2 Dayne Kingshott 2 #25 Taylor Milling 3 #26 James Inglis 4 #S52 Matt Egel 5 #V40 Rusty Hickman 6 #79 Kris Coyle 7 #22 Daniel Harding 8 #19 Trent Pigdon 9 #14 Jason Pryde 10 #8 Andrew Priolo 11 #3 Callum Williamson 12 #94 Matthew Cross 13 #11 Jason Kendrick 14 #S60 Steven Lines 15 #55 Darren Mewett 16 #13 Myles Bolger 17 #17wx George Eaton 18 #44 Ryan Lancaster 19 #9 AJ Nash Open 20 #67 Jaydee Dack 21 #97 Mitchell Wormall 22 #18 Kye Scroop 23 #8wx David Priolo 24 #77 Bradley Maiolo Midgets...1 #4 Kaiden Manders 2 #7 Tom Payet 3 #U38 Logan Seavey 4 #U4 Alex Bright 5 #17 Daniel Golding 6 #88 Matt Watkins 7 #51 Beau Doyle 8 #23 Glen Mears 9 #9 Vaughan Manders 10 #30 Aron Sharp 11 #97 Gary Mann 12 #95 Lee Austen 13 #6 Alfonso Guadagnino 14 #71 Daniel Harding 15 #3 Travis Armstrong Wingless Sprints...1 #2 Blake Iwanow 2 #49 Cameron McKenzie 3 #W1 Matt Iwanow 4 #56 Brendon Wedge 5 #84 Daran Humfrey 6 #9 Tom Britton 7 #78 Matty Fellowes 8 #52 Bailey Nash 9 #45 Heydon Hicks 10 #43 Chris Clark 11 #27 Zayne Martin 12 #20 Craig Watts 13 #76 Blake Scarey 14 #42 Kodi Clayden 15 #23 Kate Walsh 16 #30 Jason Worrall 17 #55 Cody Nash 18 #73 Darryl George 12/3
Friday December 2nd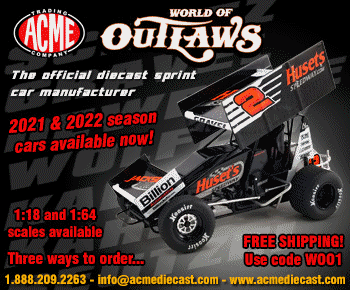 Being sober on a bus is, like, totally different than being drunk on a bus. Ozzy Osbourne
11:00pm
RESULTS...
Volusia Speedway Park FL)Battle In Barberville 360 Sprint Cars Feature (25 Laps): 1. 14C-Tyler Clem[1]; 2. 24-Danny Martin Jr[2]; 3. 3A-AJ Maddox[5]; 4. 82-Garrett Green[6]; 5. 6S-Brandon Grubaugh[3]; 6. 22-Shawn Murray[7]; 7. 32-Andrew Griffin[11]; 8. 7E-Eric Gunderson[9]; 9. 34-Darren Orth[17]; 10. 4X-Scott Baldwin[14]; 11. (DNF) 20K-Matt Kurtz[15]; 12. (DNF) 99-Tanner Witherspoon[12]; 13. (DNF) 41-Luke Hill[10]; 14. (DNF) 83-Mark Ruel Jr[4]; 15. (DNF) 43-Terry Witherspoon[8]; 16. (DNS) 5-Hayden Campbell; 17. (DNS) 32T-Kurt Taylor 12/2

Column)Ron Rodda has his column about the closing of Arizona's Canyon Speedway Park. From the Grandstand 12/2
PRESS...
Thursday December 1st

"If I can get Me out of the way, I can do anything. Steve Earle
2:00pm
PRESS...
All Stars)With much anticipation, the Tezos All Star Circuit of Champions presented by Mobil 1 is pleased to unveil a 50-race slate for the 2023 season, all of which kicking-off in traditional fashion with their annual southern swing through Georgia and Florida on February 3-14. Diverse as well as competitive, the 2023 All Star agenda boasts a travel plan that features 33 different facilities across 11 states. In addition to the visits to Georgia and Florida, America's Series will trek through Ohio, Pennsylvania, New York, Wisconsin, Iowa, Illinois, Missouri, Michigan, and New Jersey during the new year. All Stars 12/1

Sprintcar All Stars AU)"Finally we are about to kick off the 16th season of the Mainline DynoLog Dynamometers All Star Series this Sat night – Dec 3rd. I can't wait to see all our old teams, meet our new teams and be back at Blue Ribbon Raceway again for our opening night. Unfortunately we lost our first 2 rounds but everything looks good for this Saturday. Weather is good and we are all pretty keen to start." Mandy Searle says.Press Releases 12/1

Rumble In Fort Wayne)NAPA Auto Parts of Bryan, OH wants to see how loud the Rumble in Fort Wayne presented by Jason Dietsch Trailer Sales can get at this year's December 30 and 31 event. To put the fans' vocal cords to the test, the northwest Ohio auto parts supplier is anteing up a $250 bonus to the best appearing car in the North Baltimore Custom Cuts winged 600 Midget division; to be determined by the loudest response from the fans in a three-car showdownPress Releases 12/1
Wednesday November 30th
If you want to stay young-looking, pick your parents very carefully. Dick Clark
8:30pm
PRESS...
Tuesday November 29th
To make democracy work, we must be a nation of participants, not simply observers. One who does not vote has no right to complain. Louis L'Amour
8:00pm
PRESS...
Monday November 28th
Some people wonder all their lives if they've made a difference. The Marines don't have that problem. Ronald Reagan
8:00pm
PRESS...
POWRi)Returning to the indoor action of DuQuoin Illinois in the speedy Southern Illinois Center on December 17th, POWRi will carry on the legacy of one of the region's most adorned racing legends with the renewal of the Junior Knepper 55. Continuing to build their own legacy while adding more distinction to the competition will witness the 2021 POWRi Privateer Award recipient throw their name in the mix. Press Releases 11/28

USAC)Justin Grant had a special season on the USAC trail in 2022, and along with it comes the special awards. For the second consecutive year, the Ione, Calif. native captured the Mike Curb USAC National Drivers Championship. For Grant, it's his third such title, having earned the reward in 2017, 2021 and now 2022. USAC11/28

Xtreme Outlaw)The Xtreme Outlaw Midget Series presented by Toyota has named Tyler Bachman as Series Director. Bachman is a respected long-time official and safety director within the World of Outlaws and DIRTcar Racing family. He included the role of Competition Director with the Xtreme Outlaw Series in 2022 and aims to expand the Midget tour in 2023. World of Outlaws 11/28
Sunday November 27th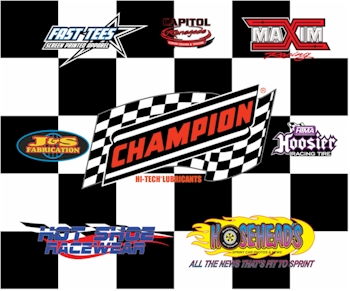 We can't help everyone, but everyone can help someone. Ronald Reagan
2:00am
RESULTS...
USAC)"It's a dream come true to win the Turkey Night Grand Prix." Justin Grant's dream became a reality at California's Ventura Raceway as he charged, withstood, battled, banged and tussled for 98 laps en route to victory during Saturday night's tumultuous 81st running of the ARP TNGP featuring the USAC NOS Energy Drink Midget National Championship. USAC11/27

Showtime Speedway FL)Non-Winged Sprints A Feature 1 (30 Laps): 1. 14-Davey Hamilton Jr[3]; 2. 33-Robert Yoho[6]; 3. 99X-Tyler Porter[5]; 4. 7-Bill Boyd[1]; 5. (DNF) 32-Bo Hartley[4]; 6. (DNF) 88A-Sport Allen[2] 11/27
Saturday November 26th
Life is like a ten speed bicycle. Most of us have gears we never use. Charles M. Schulz
11:50pm
RESULTS...
USAC)West Coast Sprints...Ventura CA....1 #5T Ryan Timms 2 #6 Logan Calderwood 3 #51T Mitchell Moles 4 #37 Matt Mitchell 5 #8W Chase Johnson 6 #4D Charles Davis Jr. 7 #51 Brody Fuson 8 #57 Jake Swanson 9 #38 Colby Johnson 10 #11 Troy Rutherford 11 #32 TJ Smith 12 #98 Verne Sweeney 13 #17A Thomas Dunkel 14 #20 Shon Deskins 15 #39 Kyle Edwards 16 #21K Nathan Byrd 17 #8M Brody Roa 18 #21B AJ Bender 19 #10K Gage Rucker 20 #35 Albert Pombo 21 #13 Austin Grabowski 22 #98P Michael Pombo 23 #21T Carson Macedo USAC11/26

Western Springs Speedway NZ)Sprints...1 #1NZ Michael Pickens 2 #82A Jamie Larsen 3 #84P Dean Cooper 4 #73AUS Robbie Farr 5 #98A Ryan O'Connor 6 #2AUS Jamie Veal 7 #3NZ Daniel Thomas 8 #78C Matthew Leversedge 9 #51M Rodney Wood 10 #21A Kerry Brocas 11 #47A Zackary Sokol 12 #92A Chris Kernohan 13 #11A Raymond Griffin 14 #35A Rob Vazey 15 #9A Havard Daniels 16 #9M Holly Williams 17 #76A Steve Smith 18 #79M Max Guilford 19 #71A Jamie McDonald 20 #22K Dean Brindle 21 #23A Adam Child 22 #0USA Jonathan Allard Midgets...1 #35A Aaron Hodgson 2 #10A Brad Mosen 3 #24A Morgan McHugh 4 #34A Jordan McDonnel 5 #4A Jack Low 6 #95K Mitch Fabish 7 #84A Ben Cometti 8 #21M Campbell Stewart 9 #71A Alec Insley 10 #9A Trent Way 11 #16A Ryan Barry 12 #22A James Earl 13 #87A Leon Burgess 14 #99A Cole Robertson 15 #78A Kent Palmer 16 #33A James Cossey 17 #43A Matt Watson 18 #7A Ben Mathews 19 #9M Peter Hunnibell 20 #8M Shayden Austin 11/26

Eastern Creek Speedway AU)1 #A1 Marcus Dumesny 2 #Q5 Brock Hallet 3 #Q66 Ryan Newton 4 #N92 Sam Walsh 5 #NS3 Kaidon Brown 6 #Q7 Aaron Kelly 7 #Q83 Steven Lines 8 #N20 Troy Little 9 #Q54 Randy Morgan 10 #S98 Chad Ely 11 #NS97 Luke Geering 12 #NS57 Brendan Scorgie 13 #NS44 Jake Baines 14 #NS6 Matt Geering 15 #N15 Luke Thomas 16 #N10 Luke Stirton 17 #N55 Jessie Attard 18 #N32 Warren Ferguson 19 #NS21 Jordyn Brazier 20 #N9 Lachlan Caunt 21 #N88 Jimmy Matchett 22 #N56 Michael Saller 23 #N93 Mick Turner 24 #S4 Lisa Walker 11/26

Carrick Speedway AU)Wingless Sprints...1 #T 7 Wade Lello 2 #T 42 Chad Gardner 3 #T 87 Bradley Walkley 4 #T 16 Jeremy Smith 5 #T 22 Kaleb Sims 6 #T 14 Cooper Wilson 7 #T 17 Kyle Bagorski 8 #T 36 Nathan Lovell 9 #T 57 Troy Donald 10 #T 15 Ricky Tarrant 11 #T 26 Daniel Percy 12 #T 33 Kiara McKercher 13 #T 46 Shane Rose 14 #T 9 Luke Wilson 11/27
PRESS...
Knoxville Raceway IA)Knoxville Raceway drivers, owners, officials and fans gathered Saturday night at Prairie Meadows Racetrack and Casino in Altoona, Iowa. Guests witnessed over $300,000 in cash and contingencies handed out in an event emceed by track announcers Tony Bokhoven and Kris Krug. The contingency package was headlined by a giveaway of eight chassis. Each owner in all three sprint car classes was awarded a contingency (see prize list with winners below). The Knoxville Raceway Charitable Organization (KRCO) again will provide insurance for all 2022 Knoxville point eligible drivers. Drivers who intend on competing in weekly racing at Knoxville Raceway in 2023 will also have fire suppression bottles purchased by the KRCO. Press Releases 11/26

Column)Danny Burton has Chapter 53 of his story about a racer. Hoosier Race Report 11/26
1:00am
RESULTS...
USAC)Jacob Denney not only recorded the fastest single lap during Friday night's practice for the USAC NOS Energy Drink Midget National Championship at California's Ventura Raceway, he turned the fastest three laps! The Don Basile Turkey Night Grand Prix Rookie from Galloway, Ohio timed in as the fastest overall of the 50 cars which hit the track for the open session in preparation for the 81st running of the ARP Turkey Night Grand Prix at Ventura on Saturday night, November 26. USAC 11/26

USAC)West Coast Sprints...Ventura CA...Friday Turkey Trot Dash 1 #5T Ryan Timms 2 #6 Logan Calderwood 3 #37 Matt Mitchell 4 #4D Charles Davis Jr. 5 #51T Mitchell Moles 6 #8M Brody Roa 7 #39 Kyle Edwards 8 #51 Brody Fuson 9 #8W Chase Johnson 10 #73 Tony Gomes USAC 11/26
Friday November 25th
I think I've discovered the secret of life - you just hang around until you get used to it. Charles M. Schulz
11:45pm
PRESS...
World of Outlaws)When Noah Gass announced his intention to join the World of Outlaws NOS Energy Drink Sprint Car Series full-time back in January, he knew there already naysayers who thought he couldn't last all season - but he also knew he would prove them all wrong. It was a sudden, yet calculated decision to take the Ran-No-Gass Racing #20G on the road with The Greatest Show on Dirt - with only a handful of 410 Sprint Car stars prior - but it was never a one-year pipe dream. This is a team with the heart and the desire to prove they belong long-term racing with the greatest Sprint Car drivers in the world. World of Outlaws 11/25

Brody Roa)Southern California racing veteran Brody Roa will close out another successful season tonight and Saturday, November 25th and 26th, in the USAC West Coast Sprint Car Series at the 81st running of the Turkey Night Grand Prix at Jim Naylor's Ventura Raceway. The veteran driver will be back behind the wheel of Jayson May's gorgeous #8M sprint car that has already carried him to a pair of victories in 2022. Press Releases 11/25
Thursday November 24th
Happy Thanksgiving
Most of the important things in the world have been accomplished by people who have kept on trying when there seemed to be no hope at all. Dale Carnegie
2:00am
RESULTS...
USAC)When all else fails, head to the top! Buddy Kofoid successfully put this theory to the test en route to victory during Wednesday night's penultimate round of the USAC NOS Energy Drink Midget National Championship season at California's Merced Speedway. After making a charge from 14th to 2nd one night prior at Merced, the prevailing thought became 'What could he have done if he started closer to the front?'USAC 11/24

Merced Speedway CA)KOT...360 Sprints A Feature 1 (30 Laps): 1. 9-Chase Randall[5]; 2. 2X-Justin Sanders[9]; 3. 14M-Corey Day[1]; 4. 83T-Tanner Carrick[8]; 5. 0-Cole Macedo[7]; 6. 28-Chase Johnson[16]; 7. 88A-Joey Ancona[18]; 8. 16A-Logan Seavey[10]; 9. 38B-Blake Carrick[15]; 10. 2L-Logan Forler[14]; 11. 5T-Ryan Timms[4]; 12. 14-Mariah Ede[22]; 13. 02-Ashton Torgerson[21]; 14. 21-Carson Macedo[6]; 15. 15-Cody Key[23]; 16. 7-Jake Morgan[13]; 17. X1-Michael Faccinto[11]; 18. 12J-John Clark[24]; 19. 38N-Kyle Rasmussen[17]; 20. 41-Dominic Scelzi[3]; 21. 1-Chance Grasty[2]; 22. 55D-Dawson Hammes[19]; 23. 17-Rickey Sanders[12]; 24. 33H-Eric Humphries[20] 11/24
Wednesday November 23rd
I won't insult your intelligence by suggesting that you really believe what you just said. William F. Buckley, Jr.
10:00pm
PRESS...
Kalib Henry)Turning heads in California and on the West Coast for the past few seasons, Kalib Henry is pleased to announce a new opportunity. In 2023 he will relocate to South Dakota and turn his main focus on running at Huset's Speedway in car owner Shane Liebig's No. 10 Maxim. Press Releases 11/23

Jordyn Charge)AFTER being a minor sponsor in previous years, Supa F Series Spares has upped the ante for the upcoming 2022-23 season in 410 Sprintcars by jumping onboard with youngster Jordyn Charge as his family-owned team's naming right's sponsor. Press Releases 11/23

USAC)The ARP Turkey Night Grand Prix annually presents the Don Basile Rookie of the Race Award, honoring the top performance by a first-time feature starter in the 98-lap classic each year. This year's crop of 30 Turkey Night Rookies arrive to stake their claim and make their initial mark on the great race featuring USAC's NOS Energy Drink Midget National Championship, which will take place for the 81st time this Saturday night, November 26, at California's Ventura Raceway. No Rookie has won the race since Warren Mockler's last lap heroics in 1986. Mitchel Moles topped all others making their Turkey Night debuts in the 2021 race, finishing third to round out the podium. USAC11/23
2:00am
RESULTS...
USAC)An Australian team, a New Zealand chassis and an American driver. Those three ingredients combined to make up the perfect formula for Carson Macedo's first career USAC NOS Energy Drink Midget National Championship feature victory on Tuesday night at California's Merced Speedway. Macedo had run a full season of USAC National Midgets in 2016 where he captured Rookie of the Year honors. That same season, the Lemoore, Calif. native collected a USAC Midwest Regional Midget title as well. For this year's leading feature winner on the World of Outlaws Sprint Car tour, one thing that had long eluded him was a USAC National Midget feature win. USAC11/23

Merced Speedway CA)KOT 360....A Feature 1 (30 Laps): 1. 21-Carson Macedo[3]; 2. 57W-Tyler Courtney[9]; 3. 9-Chase Randall[5]; 4. 16A-Logan Seavey[8]; 5. 41-Dominic Scelzi[12]; 6. 83T-Tanner Carrick[1]; 7. 10-Buddy Kofoid[16]; 8. 2L-Logan Forler[4]; 9. 14M-Corey Day[15]; 10. 5T-Ryan Timms[2]; 11. 3-Kaleb Montgomery[14]; 12. 0-Cole Macedo[13]; 13. 28-Chase Johnson[17]; 14. 88A-Joey Ancona[20]; 15. 72W-Kurt Nelson[21]; 16. 02-Ashton Torgerson[24]; 17. 38N-Kyle Rasmussen[19]; 18. 9L-Luke Hayes[18]; 19. 12J-John Clark[22]; 20. 14-Mariah Ede[23]; 21. 2X-Justin Sanders[6]; 22. 5V-Colby Copeland[10]; 23. 38B-Blake Carrick[7]; 24. 7-Jake Morgan[11] 11/23
Tuesday November 22nd
Change is the law of life. And those who look only to the past or present are certain to miss the future. John F. Kennedy
11:30pm
PRESS...
Monday November 21st
If you wouldn't write it and sign it, don't say it. Share this Quote Earl Wilson Read more at https://www.brainyquote.com/authors/earl-wilson-quotes
PRESS...
Sunday November 20th
A homeless veteran should not have to stand at a freeway exit with a cardboard sign. That's not okay. Joe Walsh
PRESS...
Greg Hodnett Apparel is on sale and Free Shipping now through the holiday season at www.greghodnettmotorsports.com. Head over and check out the discounts on GH27Forever tees, Classic race tees, beanies, hats, flags, decals and koozies. Christmas is just around the corner so get yours today while supplies last! 11/20

USAC)Starting this Friday, November 25th, the USAC West Coast Sprint Cars will return to Ventura Raceway for two nights of action. Promoted by Jim Naylor, the prestigious "ARP 81st Running of the Turkey Night Grand Prix" will begin with a special Friday program for the traditional 360 Sprint Cars and practice sessions for the NOS Energy Drink USAC National Midgets. On Saturday, the Sprints will return with their Consolation, Semi-Mains, and 30-lap feature while the Midgets will run a complete show. The Pit Gates at the "The Best Little Dirt Track in America" will open at 11:00am, the Driver's Meeting will be held at 2:45pm, the Spectator Gates open at 3:00pm, and practice starts at 3:15pm.USAC 11/20
1:30am
RESULTS...
USAC)Buddy Kofoid pocketed the biggest payday of his USAC NOS Energy Drink Midget National Championship career on Saturday night at California's Placerville Speedway. The Penngrove, Calif. native pocketed a total of $32,000 by virtue of scoring both the 100-lap feature victory worth $20,000 as well as the overall Hangtown 100 Presented By Matt Wood Racing points championship, which added $12,000 more for his efforts. USAC 11/20

SSSS)Davey Hamilton Jr. captured Saturday night's 40-lap BG Products Southern Sprint Car Shootout Series victory at 417 Southern Speedway in Punta Gorda, Florida. Polesitter Steven Hollinger led the opening 22 circuits and it appeared he could be a contender for his first series win after building a sizeable lead. At one point he had nearly half lap lead on the field. A lap 22 caution changed the complexion of the race. Race Results 11/20
Saturday November 19th
Music bypasses the brain and goes straight to the heart. I wish my life had more of it. Dick Cavett
2:30pm
RESULTS...
Lismore Speedway AU)Wingless Sprints....1 #NX71 David Eggins 2 #N1 Jacob Jolley 3 #NX23 Ray Eggins 4 #NX42 Seiton Connor Young 5 #Q52 Jayden O'toole 6 #Q73 Chris Catchpole 7 #NX17 Ben Hull 8 #NX33 Errol Campbell 9 #Q17 Lance Dawson 10 #Q74 Stuart Jefferies 11 #Q6 Brett Russo 12 #Q40 James Grady 13 #Q22 Anthony Jayce 14 #N80 Trent Martin 15 #NX34 Mason Cattell 16 #N28 Allan Woods 17 #Q91 James Barton 18 #Q12 Ben Manson 19 #NX20 Ian Otoole 20 #N2 Robert Mazzer 11/19

Archerfield Speedway AU)1 #17 Luke Oldfield 2 #NQ10 Jy Corbet 3 #91 Taylor Prosser 4 #54 Randy Morgan 5 #Q2 Brent Kratzmann 6 #66 Ryan Newton 7 #4 Brad Ayres 8 #Q10 Adam Butler 9 #67 Trent Vardy 10 #3 Karl Hoffmans 11 #96 Harry Stewart 12 #95 Tyler Stralow 13 #NQ2 Nathan Pronger 14 #44 Dan Murray 15 #59 Kevin Titman 16 #16 Jack Bell 17 #7 Aaron Kelly 18 #32 Mitch Gowland 11/19

Eastern Creek Speedway AU)Midgets...1 #V97 Kaidon Brown 2 #SA11 Hayden Williams 3 #N97 Matthew Jackson 4 #V39 Nick Parker 5 #N11 Jay Waugh 6 #N78 Troy Jenkins 7 #N6 Matt Geering 8 #V10 Travis Mills 9 #N43 Glen Arnold 10 #N15 DJ Raw 11 #N42 Gary Rooke 12 #N32 Daniel Paterson 13 #10M Caleb Mills 14 #N28 Dean Meadows 15 #V3 Dillon Ghent 16 #N7 Monique Matherson 17 #N10 Troy Wagstaff 18 #N26 Jamie Hall 19 #N41 Jordan Mackay 20 #N2z Alan Day 11/19

Maddington Toyota Series AU)James Inglis is the King He won the latest edition of the Scardifields Smash Repairs King of Wings at the Perth Motorplex on Saturday night – in what was a big night of sprintcar racing, with more than 70 sprintcars featured across three divisions. The event was round three of the 2022-23 Maddington Toyota Sprintcar Series, with Inglis and Diamond Bay Motorsport winning the 40-lap feature race from Jason Kendrick and Dayne Kingshott. Race Results 11/19
PRESS...
POWRi)Returning to the Southern Illinois Center on December 17th will witness POWRi salute the memory of one of the region's most accomplished car owners with the renewing of the Junior Knepper 55 as another Illinois talent eyes the $5,000 to win top paying prize. Press Releases 11/19

Fremont Speedway OH)The top 10 in points for the Fort Ball Pizza Palace 410 Sprints, Fremont Federal Credit Union 305 Sprints and the Burmeister Trophy Dirt Trucks will receive their awards and point fund money at an informal gathering Sunday, Nov. 27 from noon to 3 p.m. in the Flower Building at the Sandusky County Fairgrounds. Drivers in the top 10 in points and the rookies of the year are encouraged to attend between noon and 3 p.m. to receive their trophy and point fund check. A photographer will be present. Light snacks will be provided. Press Releases 11/19

Rumble In Fort Wayne)Non-Winged 600 Midgets at this year's 24th running of the Rumble in Fort Wayne presented by Jason Dietsch Trailer Sales will again be under the sponsorship of the Laborer's International Union of North America (LiUNA). New to the sponsorship this year will be the LiUNA Achiever Award – a $250 bonus to the driver accumulating the most points over the course of the two-day event, December 30 and 31. Press Releases 11/19